Too funny not to share
---
We were grooming the ponies when I looked over my mom was practically underneath her mare! She was brushing the mud off her fetlocks and don't even think twice. As you can tell, Pebbles is a vicious beast. My mom nursed this mare back to health and they're each others soul mates, pebbles would die before hurting my mom (this I know because she used to kick EVERYONE but her!)
Note* this is NOT safe and I don't recommend it by any means, just had to share :)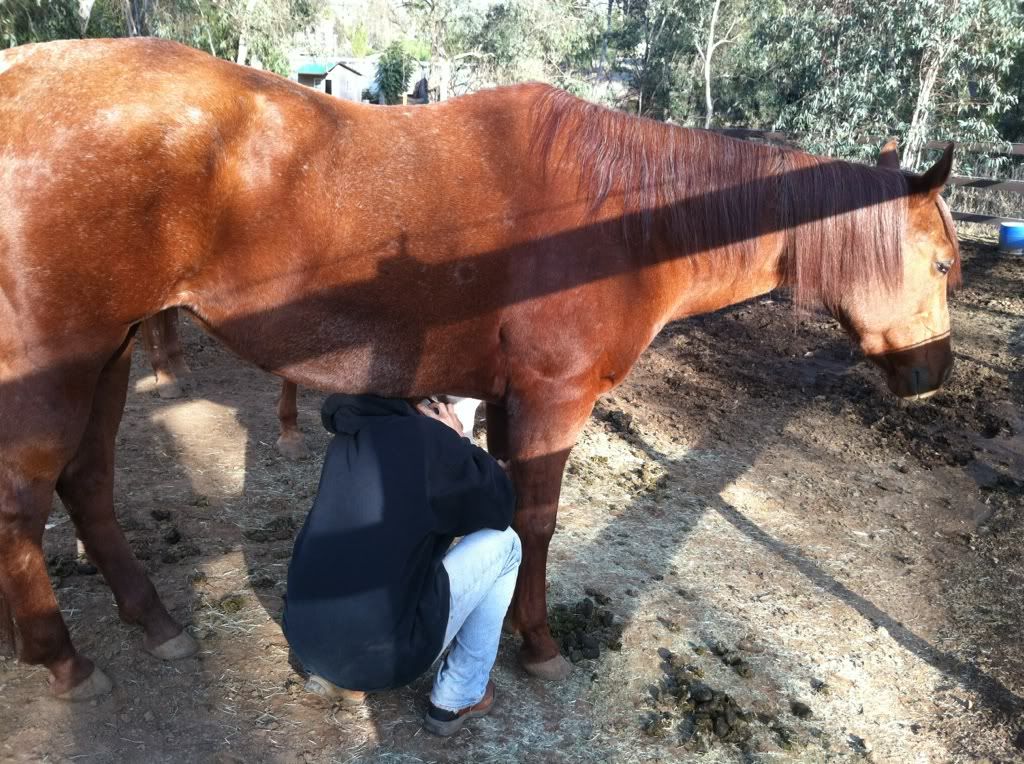 Posted via Mobile Device
LOL Cute. Guilty of this myself, sometimes I just forget and crawl right under to get those hard to clean places. Indie just goes on munching her grass.

Nope, not safe at all, but I certainly have no room (obviously) for condoning it on a grown adult.
Def not safe, but I am not by any means saying Ive never done this. Ill be the first to admit, Ive even done it on my now 19month old gelding...talk about unsafe!
Glad to see that she trusts her horse so much though
Haha that's funny =) Totally guilty of doing it myself.
Yep, guilty of this too!
When I was about three and in a showing class the judge asked us to show her how well behaved our ponies were, so off everyone went picking up feet etc me being me I just went and sat cross legged under my pony luckily he was extremely well behaved and the judge was rather suprised when she came over to find me sat underneath my pony grinning from ear to ear xD
---
'Life is not a journey to the grave with the intention of arriving safely in a pretty and well-preserved body, but rather to skid in broadside, thoroughly used up, totally worn out, and loudly proclaiming "Wow, what a ride!"'