A trail ride with Lacey!
---
So, today me and my girl went on a lovely trail ride. She did SO well. She didn't spook at all and I was even able to stop her in the middle of the ride and then ask her to keep going without having to fight her about continuing (that used to be a HUGE issue, she'd back up to kingdom come if I had her stop and tried to get her moving forward again).
We even had 4 large Lab-type dogs come running up to us, barking, and she just stopped when I asked her to (my thinking was that dogs are less worked up by something not in motion, my hope was to turn off the "prey" thing they had going on, and it worked!) and stood there watching them bark at her. One of them even came running right up to her and started going around her and stuff but all she did was sniff noses with him when he came to her face and then just stood quietly until his owner caught up to him and got him on leash.
There was one little boy that was maybe 4-5 years old that we came across, walking with his dad and dog. The dog was really excited by Lacey but Lacey just kinda looked at him like "you think you're cool, don't you?" Haha! The little boy loved Lacey. When we first came up to them I stopped Lacey so they could get their dog under control and the little boy came over and was looking at Lacey admiringly. So I said to him "You want to pet her? You can!" and so he kinda crept up to her in that way kids do and awkwardly petted her in the flank (I'm SO lucky that she adores kids and is very careful with them!). He then backed off and we walked away.
Then, on the way home, we came across them again (there are neighborhoods at the end of all the trails we were on, so they were probably going home) and the little boy came up to me again and said "can I please pet your horse again?" And of course I said sure. He petted her on the shoulder this time and commented about how big she was and how pretty. Then, he pointed at her butt and said "She has BIG muscles!" hahahaha! Then, as we rode away, he called after us "Bye big, good, pretty horse!" Kids are so darn cute!
I'm pretty sure Lacey thought she won at this trail riding business. She got petted by at least 3 people and all the people we saw told her she was gorgeous. Heeheehee! She didn't want to go home! :P
I was impressed about how much all the trail riding at camp seemed to improve her trail behavior. She used to be a little more iffy about things sometimes but this time was like riding a fully dead broke, spooks at nothing, perfect horse. She didn't even get her panties in a twist about the dog that popped out of the woods barking! O.o Trails are so what she was invented for, I'm glad I have the resources to make that happen for her. She loves it when I just leave her alone and let her figure things out for herself. She seems to want to take me places and git' 'er done with very little guidance from me.
She's so darn good! What did I EVER do to deserve her? For serious.
Anyway, picture time!
"Hi mom!"
A daisy!
Ready to go!
The beginning of the trail! This hill is deceptively steep and covered in gravel so she was taking the cutest careful tiny steps. I just wanted to hug her hardworking Lacey/Wallaby saving butt. :P
The intersection of the 3 trails. We went to the left.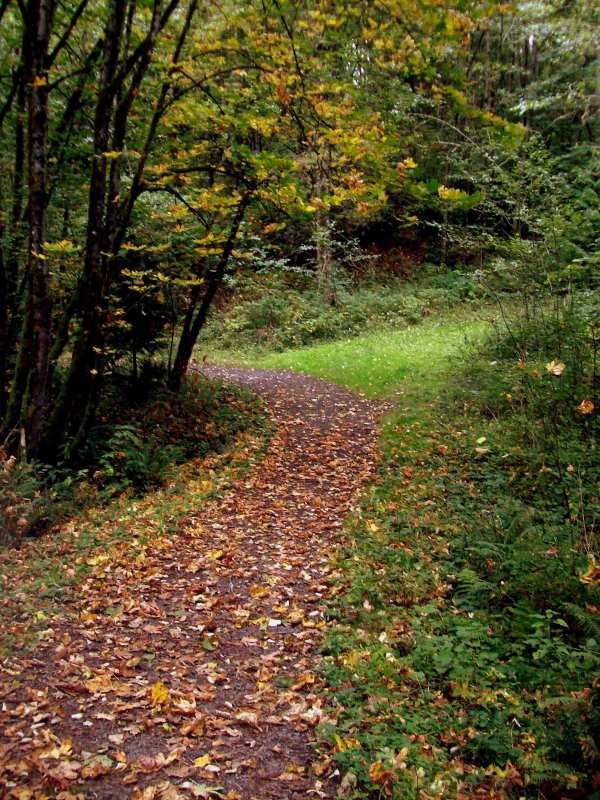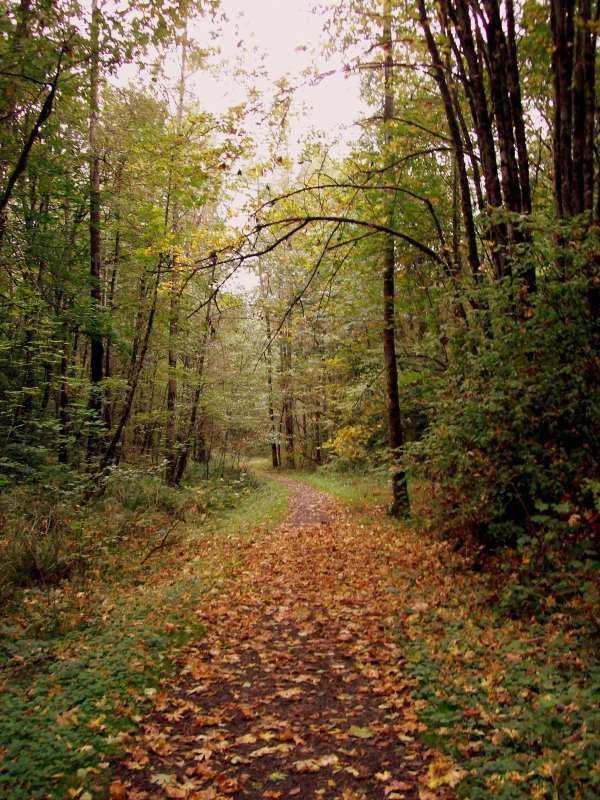 "Woods!"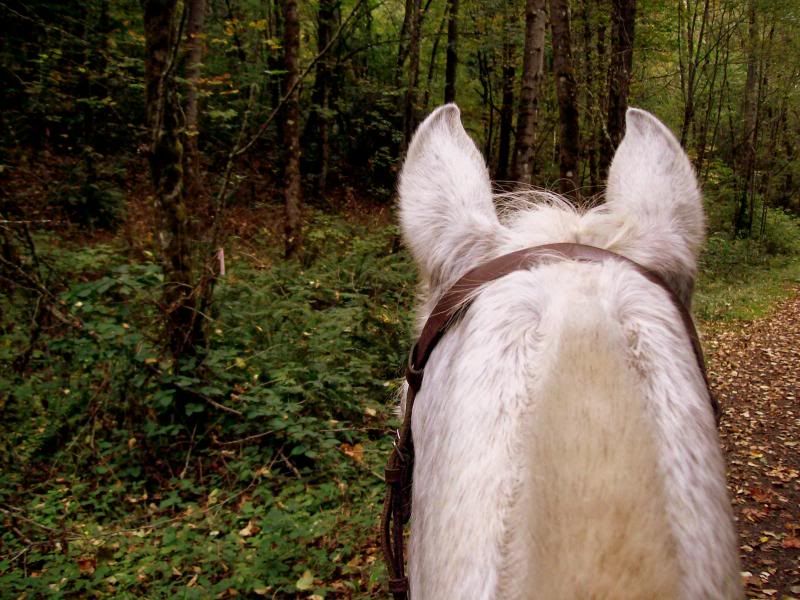 "Sup, yo"
Leaves!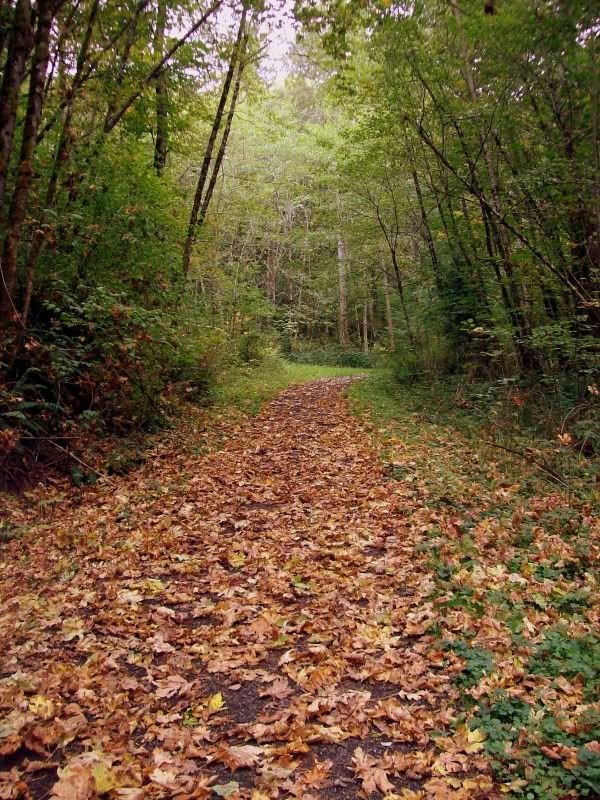 The massive hill we had to climb to get back home:
Do these rocks look like they would be hard for a horse to maneuver through? I thought so, Lacey, however, did not.
Almost home, about half a mile away.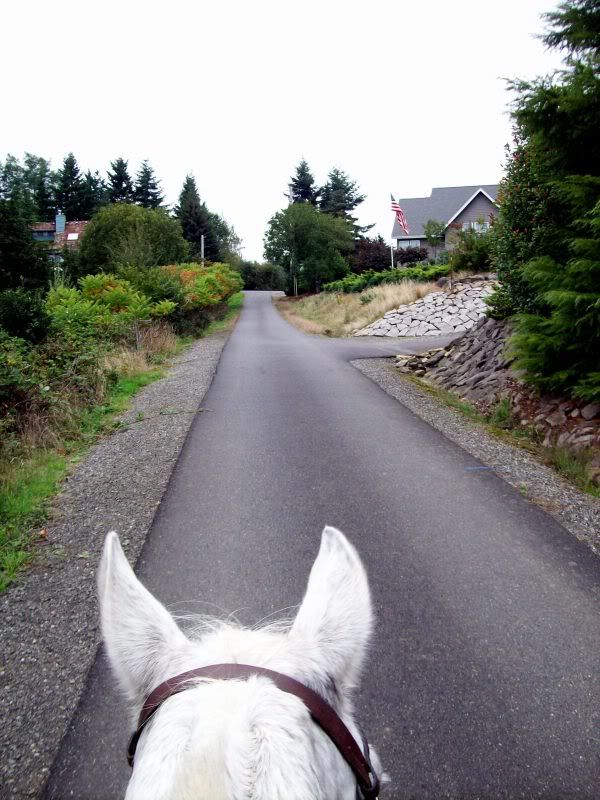 To the left of the last picture: Lacey's field!
She thought it might be advantageous to go straight through the blackberry bushes and fences so that we could be as efficient as possible with our getting home-ness. Silly girl!
More pictures to come in the next post!
---
Fabio - 13 year old Arabian/Lipizzan gelding

~
Rest peacefully, Lacey.

Finally home! What a good girl!
All sweaty!
SO tired.
Time to roll!
Gonna roll again?
Nah, time for munchies!
Happy girl:
Yup, we had fun in case you couldn't tell! Haha!
Thanks for looking!
---
Fabio - 13 year old Arabian/Lipizzan gelding

~
Rest peacefully, Lacey.

Awwwww, I love me some Lacey pictures.
She looks great and I'm glad you had such a good time! There's nothing in the world like a good trail ride!
Also, adore her mohawk! Claymore, Finn, and Misty are all sporting the roached look at my place right now.
Oh my gosh, the area you live in is so beautiful. It would be a dream to ride there. Lacey is such a cutie.
I'm really excited that I actually get to explore this area now that Lacey's here! I mean, I could have done it on foot but that can be kinda scary sometimes, being alone, on foot, in the woods and all. :/

Amir- That's such a bummer! The last place, before we went to camp, that I kept Lacey at only had roads to ride on and while that was pretty, they were roads. So I totally get what you mean. *hugs!* One day you'll end up in a place with great trails, I bet. :)

Indy- I so agree! There is nothing like a nice trail ride. Today was perfect weather for one too, there was that fall nip in the air that made it so much more perfect to be looking at yellow/orange leaves!
Haha! Haven't you heard? Mohawks are all the rage for couture horses these days. :P
I'm actually trying to grow Lacey's out a bit so she has a little neck protection for winter. I plan to cut it off again in the spring though!

JenC- Thanks! I'm really blessed. :)
---
Fabio - 13 year old Arabian/Lipizzan gelding

~
Rest peacefully, Lacey.

I love Lacey, she really is beautiful. And what great trails!

Just a note on the dogs though, I wouldn't let any dog you don't know get that close. I usually yell "GO HOME!" in the biggest voice I can muster and every dog has stopped in it's tracks. I've never stopped Ricci and I've never had a dog get within twenty feet.
Posted via Mobile Device
I never get tired of seeing Lacey pics. I love her mohawk!
---
RIP Minnie, 1981-January 15, 2010
RIP Maggie Mae I miss you
I love Lacey, even though I don't know her. haha.

I swear she's the cutest horse ever.
---
Red Money Maker (Red) - 2004 Sorrel QH Gelding