Trip to the pasture! *pic heavy*
---
Soo.. Me and my family drove all the way to the pasture where 10 of our little horses are. I of course had to take some pictures!
Tindri and his older brother Seifur. Seifur is 7 years old this week!
Or little filly Hviša, Can you tell if she has a decent looking back?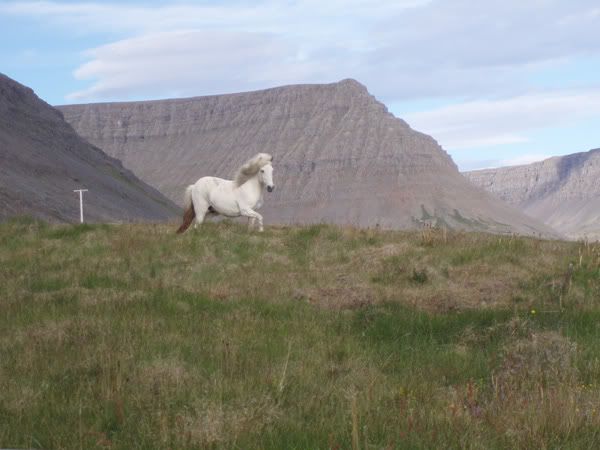 This is Skeifa, Tindri and Seifur's mommy lol. she came running when she saw we had alfalfa cubes. But Skeifa and her two boys didn't get any since they jumped over the fence
Skeifa (her name means horseshoe lol.) stuck her tongue out at me since I didn't give her treats :Ž Also, sorry if this pic is huge.
Skeifa, Tindri and Seifur (name meaning Zeus.) standing on the WRONG side of the fence.
Hviša (name meaning wind or breeze) and her grumpy mother.
Little Snerpa, a 4 year old mare. She's a sweet girl.
Sorry if this pic looks ginormous. I tried making it smaller grrrr...
Aaand my camera ran out of battery so I didn't get pictures of all the little horses we have.
Cute horses!
Are they Icelandics?
Quote:
Originally Posted by
A knack for horses
View Post
Cute horses!
Are they Icelandics?
Thank you! and yes they are =)
Beautiful horses.
---
RIP Minnie, 1981-January 15, 2010
RIP Maggie Mae I miss you
What a bunch of beauties! Love the filly foal...she looks well built, but of course, she's young yet. They are all very nice looking
---
"The ideal horseman has the courage of a lion, the patience of a saint, and the hands of a woman..."
They are young but kicking....
this is irrelevant..but the land in the background is gorgeous! iceland looks really pretty!
Thank you so much for the nice comments everyone!