Two New Rescues plus an update
---
So at the ranch we got in two new rescues on Thursday. we got a 21 year old mare, breed unknown, and a 20+ year old Donkey. They came from the counties fire chief. He got prostate cancer and has been hospitalized for the past month and he had his sister taking care of his animals. His fire-buddies noticed that they weren't properly being taking care of, and since the fire chief is slowly dieing, they brought them to the rescue. The chief has had the mare for 17 years and she's not techinally abused but she is really really obese, might be due to the fact that she has been on straight alpha her whole life. The donkey he has had few years. She is a true rescue. He first rescued her from a couple of 'Mexican Cowboys' who literally beat the **** out of her every single day. she was thin when the fire chief took her in and she was put on alpha straight away, bad move. But they are now settling in and getting weaned off of alpha. The more donkey though, I just want to cry whenever I'm around her. You can't get within 20 feet of her without her trotting away. Since she's been here I've been haltering and gentling grooming her everyday and it each day it takes less and less time to catch her. So meet the new girls!
Meeting the neighboring horses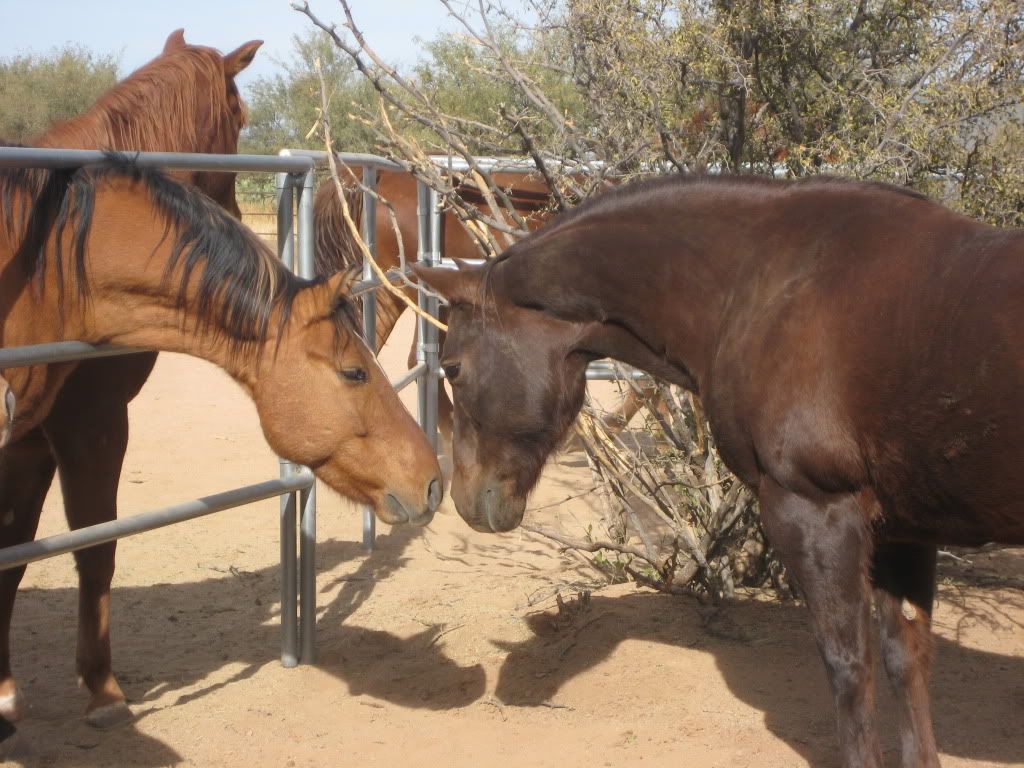 Once she slims down she is going to be stunning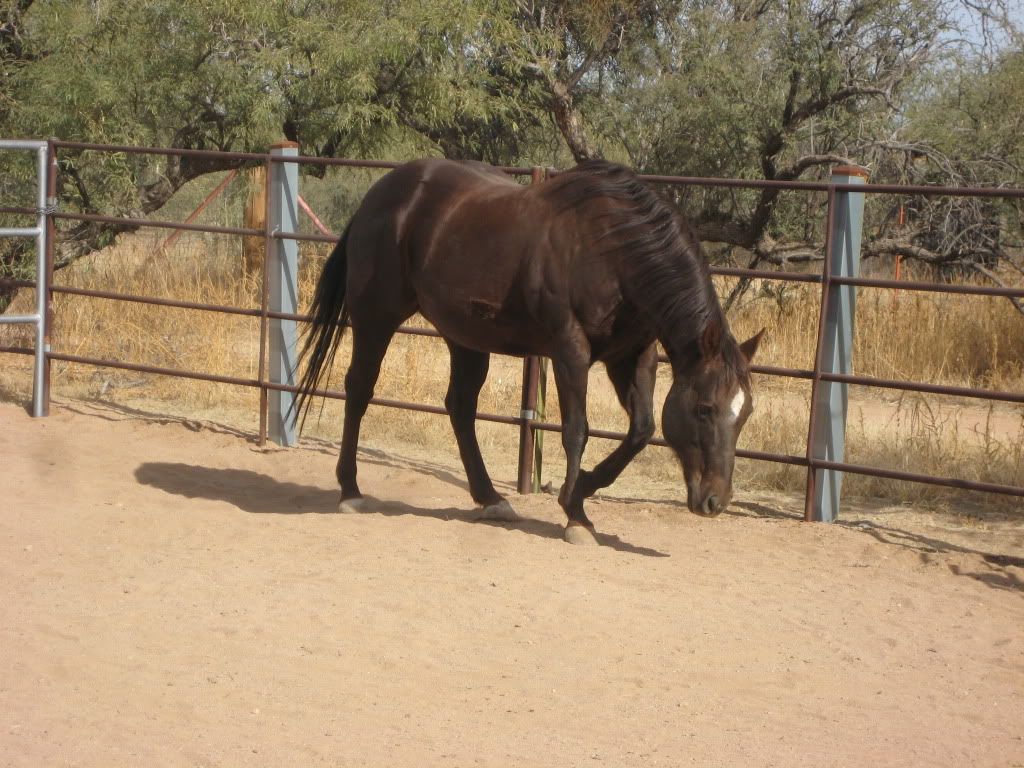 Silly faces



Hiding from me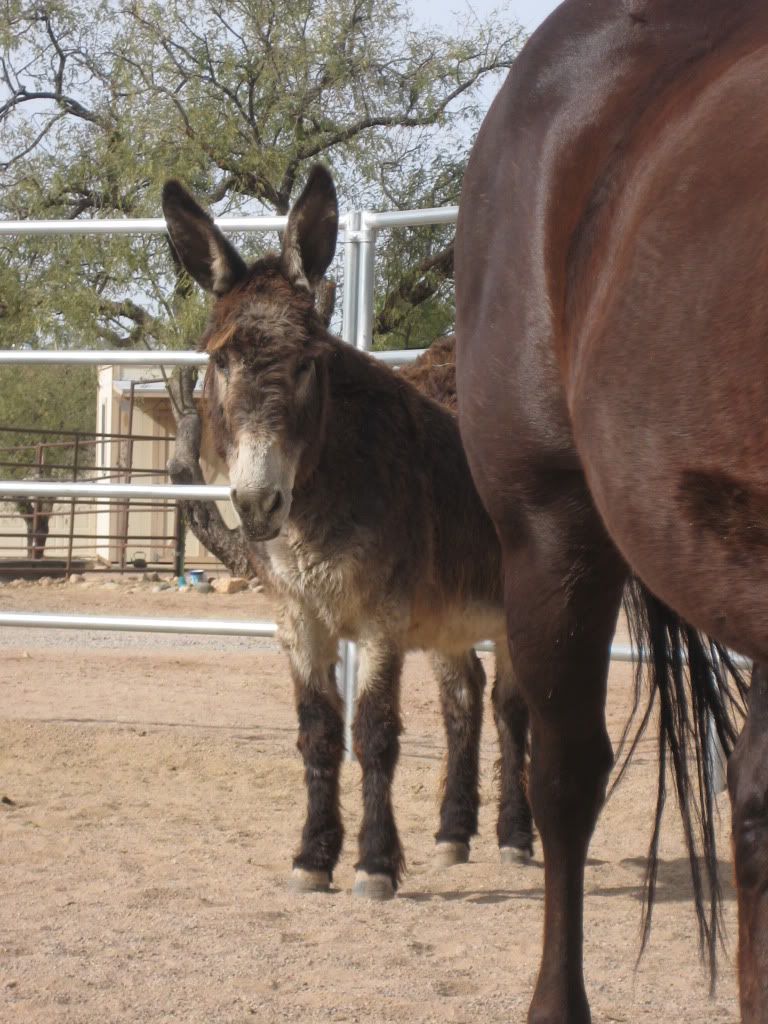 She so pretty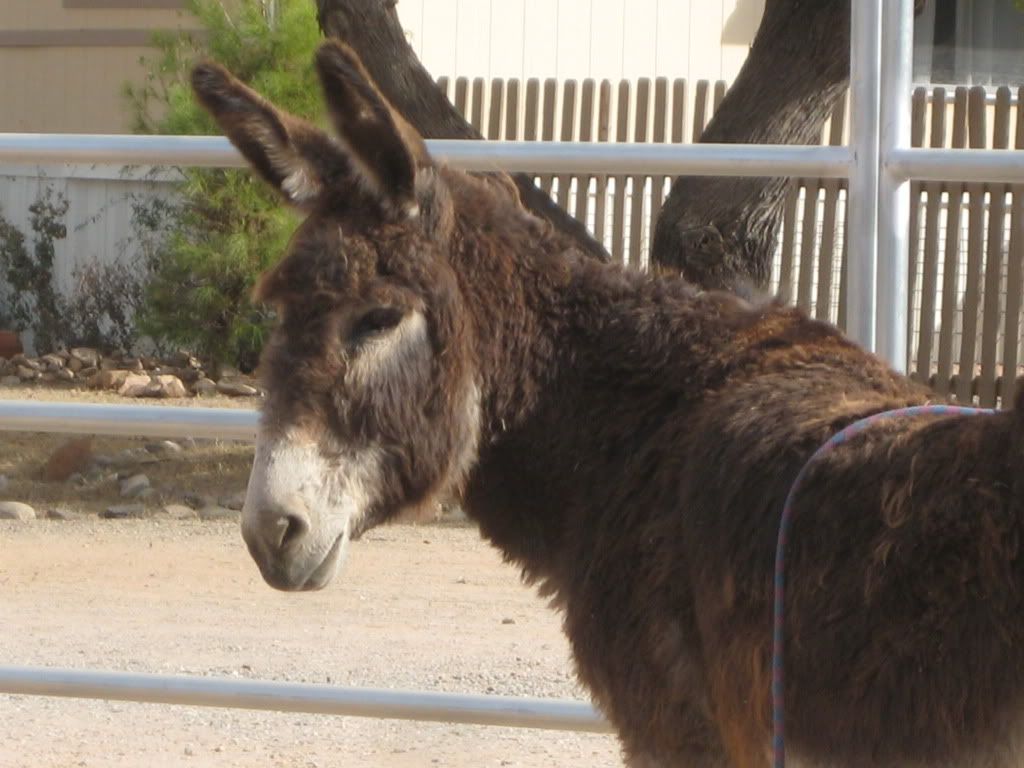 Her back is horrible. The vet is coming out to look at her soon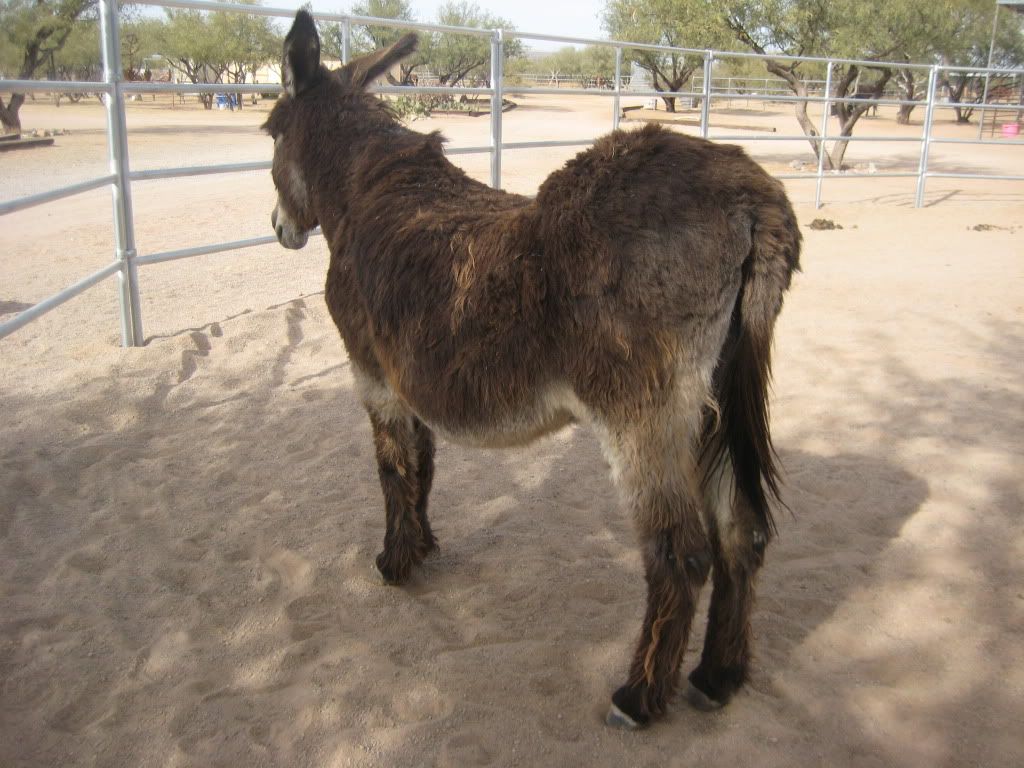 Finally caught her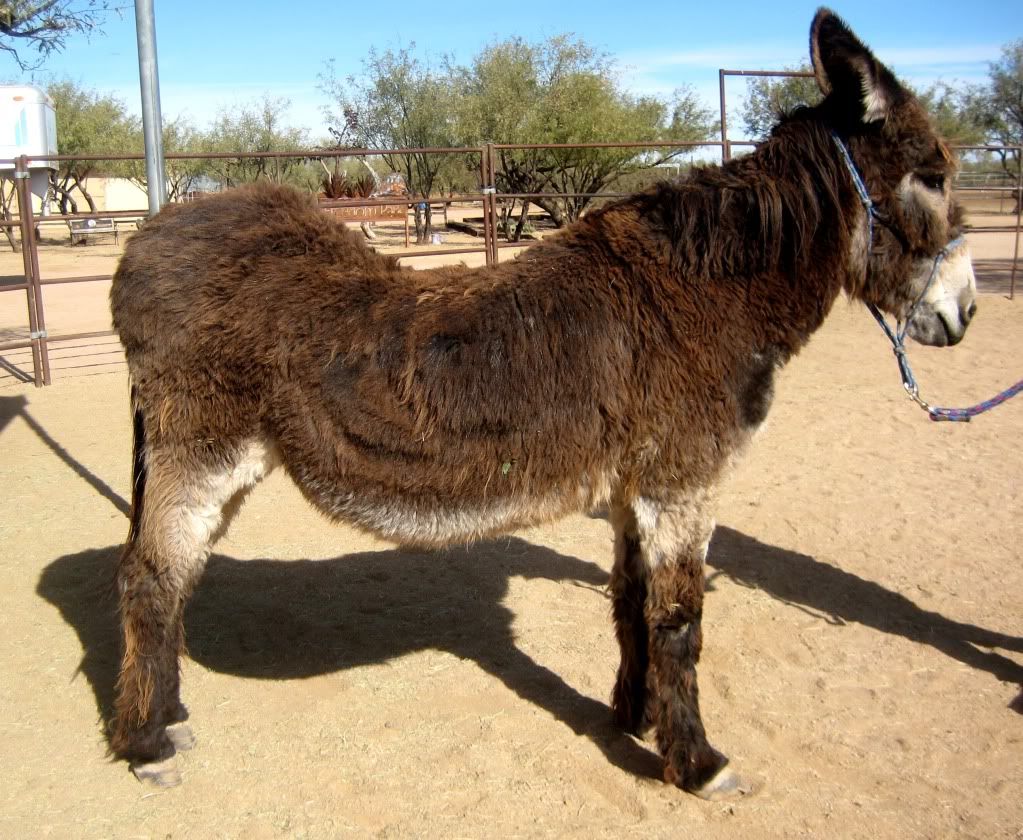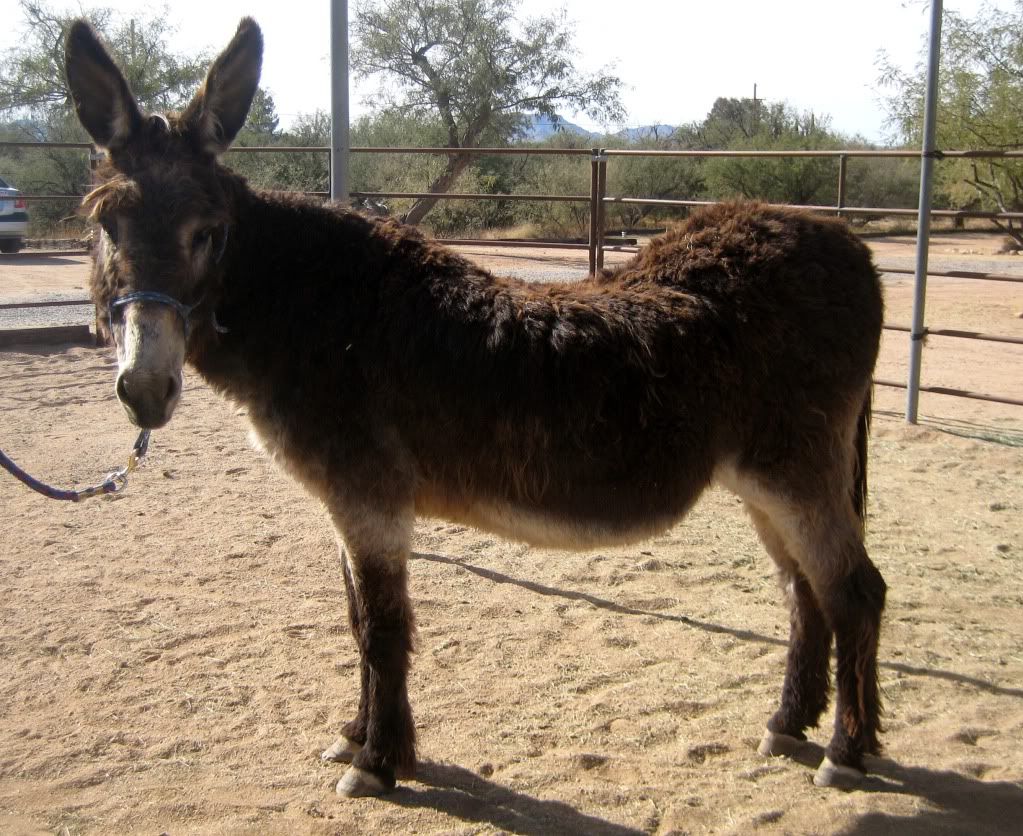 Me and her, she wasn't very happy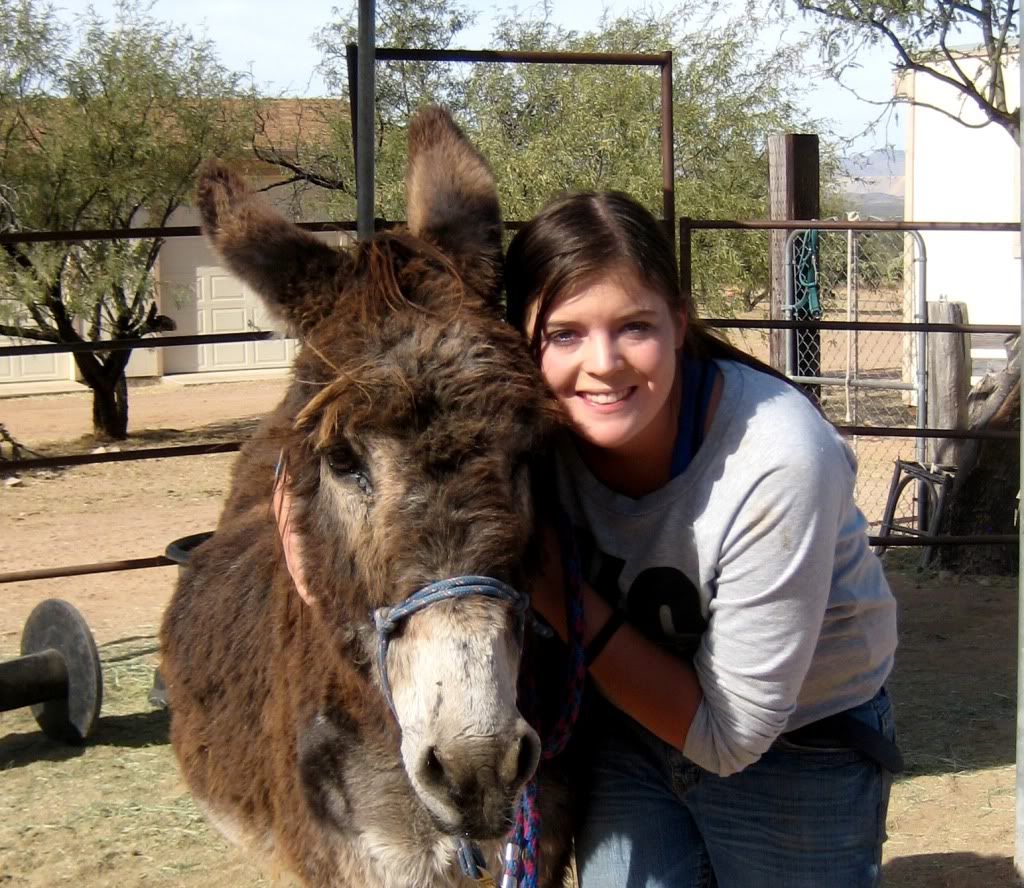 In other news. I'm heading back to Alabama for a whole month! I'm leaving Thursday and coming back on Jan. 6. I'm so excited! I'm going to be working with my Paw Paw and cousin and at a small racetrack in Florida. I'm even going to ride at least twice while I'm there. I'm also going to be visiting my old mare and I'm going to go to Georgia for a couple of days to visit old friends. In Georgia we're going to go on an all day trail ride and then camp out in the woods then ride back to the stable, talk about exciting. So I'll probably have a butt load of photos to share.
Also I've made my first payment on my new filly and I should be bringing her home in March of next year. I measured her yesterday and she's already 15hh and she;s only a year and half!! Heres a photo of her from yesterday.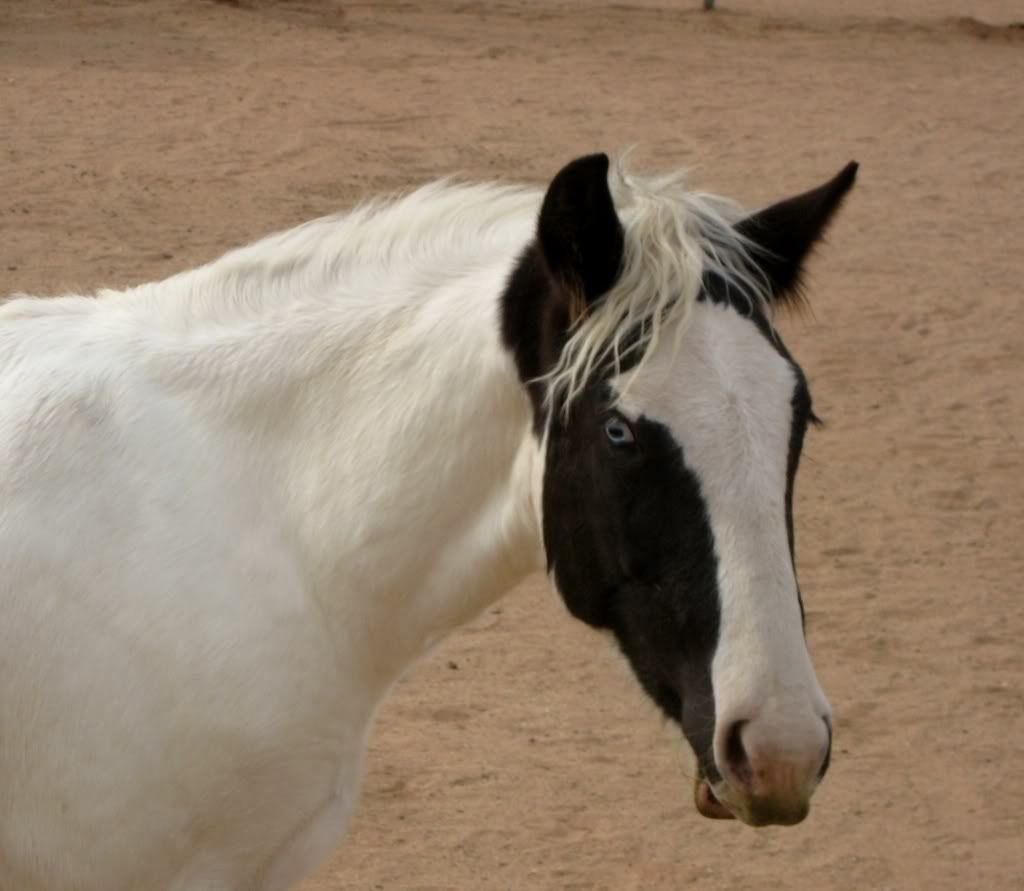 So thats my news I hope everyone has a save and fun holiday!
---
-Horse racing is my passion-
Athena:15y Palomino QH & Shirley's Brittney:8y Bay OTTB
Yearling
Join Date: Nov 2010
Location: Rocky Mountain House, Alberta
Posts: 781
• Horses:
1
poor donkey his back is so swayed :( but atleast hes in a good home now
Yeah I hope she looks a lot better when I get back from my trip.
---
-Horse racing is my passion-
Athena:15y Palomino QH & Shirley's Brittney:8y Bay OTTB
Nice looking mare. Poor donkey : ( What is your new filly? She's very pretty!
---
100% Anti-Slaughter and PROUD of it!

Ill take the mare! In a heartbeat! Shes lovely!

That poor donk. Our donks were never abused but had that aloof/standoffish attitude.
Shut Up Joe: She is a draft cross, not quit sure of her actual breed.

corinowalk: Yeah I've noticed that about the other donkey's we've had in. I wonder why that is.
---
-Horse racing is my passion-
Athena:15y Palomino QH & Shirley's Brittney:8y Bay OTTB
That mare will be pretty when she's in shape for sure. As for the donkey -- how odd. I wonder if that's just a sway back or something else. Let us know what the vet says.

Donkeys are very loyal animals. You need to develop a relationship and consistency with them. With you going away for a month that wouldn't happen even with a donkey without her sad history. If you let donkeys tag along with you everywhere you go, but just kind of ignore them -- on a long leash basically -- as soon as they start to get comfortable with their new environment they will get curious about you. They have to see a person as their secure and constant place in order to really be friendly. If you can manage that, she'll follow you everywhere, even when you don't want her to.
Good luck with the poor lady..
Yeah the mare is going to stunning! Yeah I hope once i get back we can start working on a relationship cause for some reason I'm just really really drawn to her.
My boss called me today and said that she walked up to her today, which is huge, but wouldn't let her touch her. So she's starting to settle in which is good.
---
-Horse racing is my passion-
Athena:15y Palomino QH & Shirley's Brittney:8y Bay OTTB