This thread is awesome lol.
This is Vinny. He is my rescue that will live with me until his last day!
Why he's ugly: these pictures don't do his full ugliness justice at all. When he stands square he has quite an impressive little sway back and pot belly. He reminds me of a body builder (without the muscle) with his tiny little hip and butt, yet his huge girth and thick neck. He also has a very large sheath..people ask me all the time if I bean him because it looks swollen lol. He also can't gallop to save his life, looks all strung out and awkward.
Why I love him: He is super smart. He's the king at opening almost any gate, lock, latch, you name it. He doesn't have a mean bone in his body toward other horses and is THE best babysitter I've ever had. He is quick to correct the youngins, but is so gentle and patient. Wouldn't trade his big goofy self for the world!
Little bitty butt
Wallowing in the mud after a good rain.
How about an ugly mule? Lol
Why he's ugly: He has a really long back. Long ears that flop around when he trots and also tiny butt with a huge belly.
Why I still love him: Because he has an awesome personality and because he's so ugly he's beautiful!
---
R.I.P Duke <3
No hour of life is wasted that is spent in the saddle.~Winston Churchill

---
Last edited by WesternRider88; 10-30-2013 at

02:57 PM

.
Such uuuuuuugly horses. How do you people live with yourselves???
(If you can't see it on your computer screen, my words are oozing sarcasm.)
This is my mom's colt,, Reckless. (he's the bay). My older brother likes to call him BLOCKHEAD because he just had this horrible triangle-looking forehead that didn't fit his head at all. Not to mention really downhill and cow-hocked.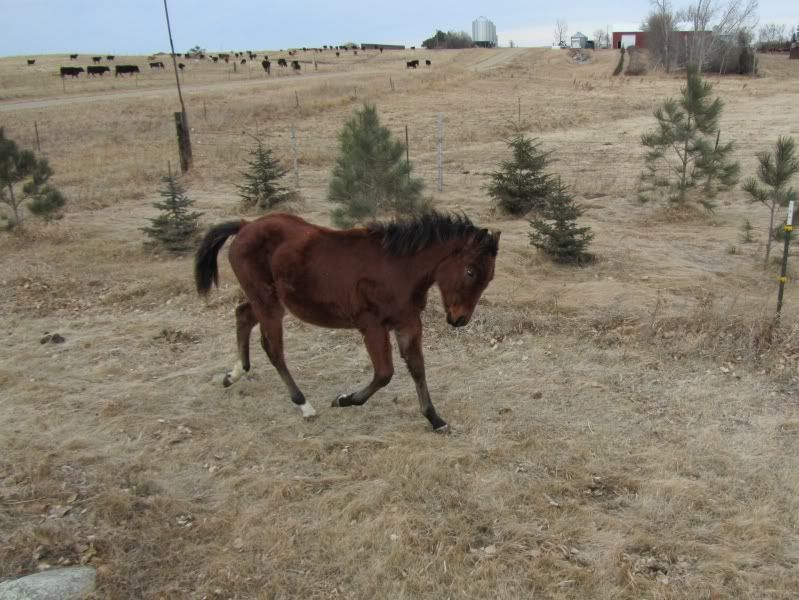 I don't have a recent picture of him, but his hocks are straigthening out, he's growing into his forehead (actually has a very cute and refined head now), and he's leveling out. The trainer had him doing flying lead changes in 30 days so he is as smart as a whip!!
---
∞•*˚ Βгįťţαňγ ˚*•∞
It is not enough to know how to ride; one must know how to fall.
My ugly mule... Candy is 13.2 hh and Diddly is 16.1hh.... Candy needs the bridle put down a couple of holes for the bridle to fit.
In simple language she has a big head.
Beau, sounds like he needed that big head to store all the brains LOL.


Gorgeous "ugly" horses everyone!
---
Always remember that feeling of looking at a big, open country over the ears of a good horse, seeing a new trail unwind ahead of you, and that ever-spectacular view from the top of the ridge!!! Follow my training blog:
http://robertsontraining.blogspot.com/
Quote:
Beau, sounds like he needed that big head to store all the brains LOL.
Haha, I think so. He's bred Frenchman's Guy and everyone's always said that you better train a Frenchman's Guy right the first time, because they are
smart
and will retain
everything
.
He's 100% AQHA but his nose is so petite it reminds me more of an Arabian head.
---
∞•*˚ Βгįťţαňγ ˚*•∞
It is not enough to know how to ride; one must know how to fall.
I love this!
This is one of my girls. This picture doesn't really show it much, but she has a HUGE head and short short neck which is just funky, but she is the best horse I've ever had, is one of my former barrel horses and totally kicked butt in her first year, and is always willing to do what is asked, even though she can't see. She's so good, even veterinarians that do not know her cannot believe she is an ancient blind horse. They always want to check her teeth and eyes lol
WOW, Fallen, that is one amazing horse in that picture, and BLIND! O_O
Quote:
WOW, Fallen, that is one amazing horse in that picture, and BLIND! O_O
Thanks! I can't find a good picture of her ugliness lol
She's been blind about 2 years. She's actually easier to ride now since she has to rely on me, but she still gets her old barrel horse hotness and tries to pull my arms out of my sockets
Quote:
Llama, Shoebox? I bought myself a warthog last year. This is my rescue, Merlin, not long after he arrived:
Attachment 309634
What do I love about him? Everything, naturally!
My god... he actually DOES look like a warthog!! He's not ugly, warthogs are awesome (come on... Pumba is a warthog and who doesn't love him
)!