Started
Join Date: Aug 2009
Location: In the barn whenever possible.
Posts: 1,910
• Horses:
2
Unexpected addition
---
This little guy was offered to me recently. After seeing him, I had to accept. I think I'm in love with him. His mama is a buckskin and his daddy's a grulla. Both gorgeous looking horses.
His sire:
Cool Shaded Garth
(who goes back to Hancock horses.)
His dam is:
Dustys Fancy Babe
(Who goes back to Zan Par Sun.)
Looking for some registered name ideas and some call names. Everytime I look at him a name pops to mind, but it's like it's just on the tip of my tongue and can't quite recall it. I want to say it starts with a G, but I can't think of anything at all. But if I just look at his photo..a name fades in and out so quick. Name help will be greatly appreciated!
Here he is about a month old: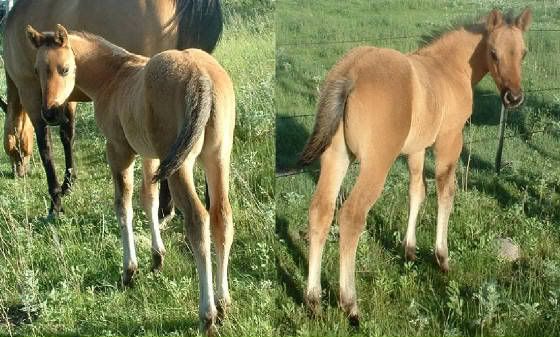 Now at 3 1/2 months old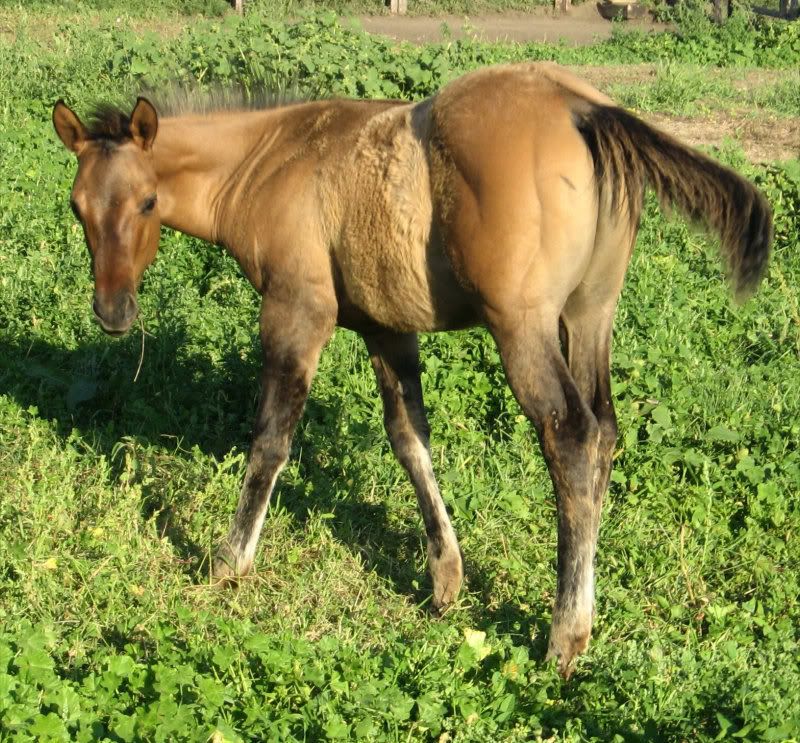 ---
"Riding a horse is not a gentle hobby, to be picked up and laid down like a game of solitaire. It is a grand passion. It seizes a person whole and, once it has done so, he will have to accept that his life will be radically changed." -Ralph Waldo Emerson
He is gorgeous! I want him. If he is gone tomorrow don't look at my stable!
*Starts hooking up the trailer*
---
RIP Minnie, 1981-January 15, 2010
RIP Maggie Mae I miss you
Gunner ;)
Posted via Mobile Device
you know.... a g name comes to mind as well but i can't quite pin point what it is... i do like gunner though!
---

Baby, Sparta, Carmen, Henry, Hooch, Mercedes, Butterscotch
How in the world do you manage to just stumble onto such wonderful horses? I am jealous!! Gosh, his angles are perfect, he's broad across the forehead, and he is the definition of a dunskin. Beautiful!!!

Registered name Cool Dusty Shade? Shades of Dust? Garth's Fancy Dustbuster? LOL

I can't really guess on barn names without a feel for personality, though.
---
Always remember that feeling of looking at a big, open country over the ears of a good horse, seeing a new trail unwind ahead of you, and that ever-spectacular view from the top of the ridge!!! Follow my training blog:
http://robertsontraining.blogspot.com/
Just beautiful! ( oh-sorry--**ahem**) I mean handsome, of course!
---
Signature undergoing edits. Please standby.......
LMAO!!!!!!!!!! I LOVE the Dustbuster one! That is GREAT!!! Call him Dusty for short? OOooOO or Buster!
---
*Dreams are within reach, you just have to go that extra mile to catch them*
your have one beautiful bunch of babies! i am moving over to wear you are.
---
quarter horses.....simply the best