Update on Little India *pics*
---
So I've had Little India for about 6 weeks now I guess. Slowly but surely she's coming along nicely. I've had her blanket on almost constantly since she's been here just to help. The less she has to work on staying warm the easier it is for her to gain weight. I feed her three times a day and she has her own round bale.
I had to share of course. She's nothing like the horse trader described her (wild, mean spirited, etc). We are doing a lot of ground work but she's only 2, I'm not rushing anything. When she's put a lot more weight on and filled out better I'll start worrying about muscle.
At any rate, here are some pics of when I first got her: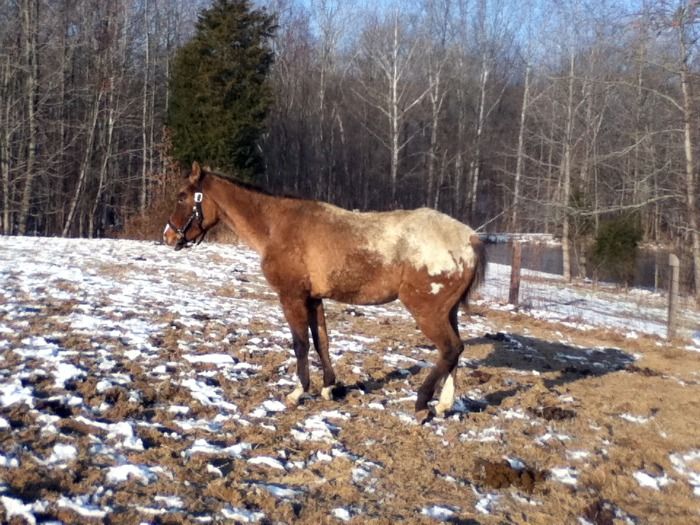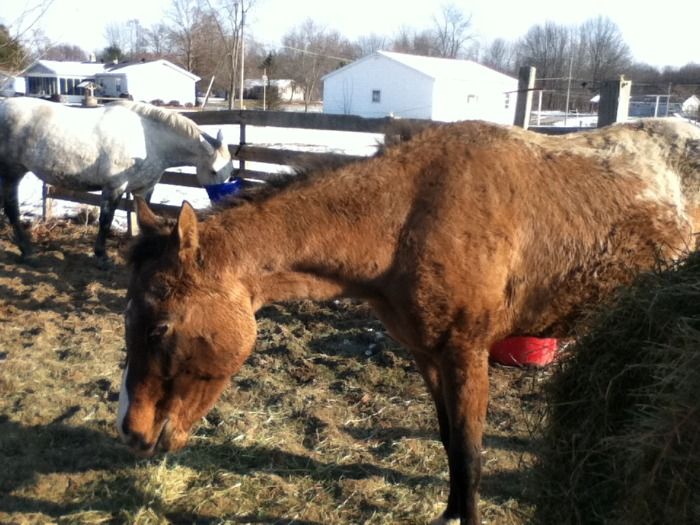 And this morning after I took her blanket off for her to roll around. Almost all of her rainrot is completely gone, she still has two patches of nasty on her hip bones and we're still fighting the chronic eye infections she seems to have.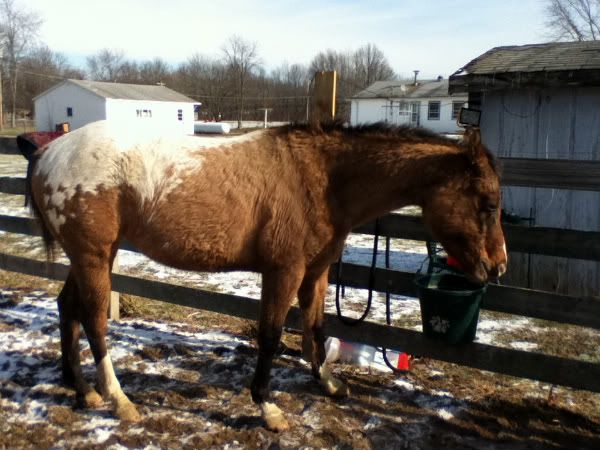 ---
Horses are like therapy ~ and almost as expensive
What a difference already! She looks great
She's looking much better! I can't wait to see her all shed out this summer. She's gonna be a stunner!
she also looks way less defeated than she did before.
Keep up the great work!
---
Fabio - 13 year old Arabian/Lipizzan gelding

~
Rest peacefully, Lacey.

Wow she is a pretty horse. You must post pics of her after she sheds out. She's going to be a stunner!
---
100% Anti-Slaughter and PROUD of it!

I know, her whole attitude is better. She knows she's safe and loved. I can't wait til summer too, I'm dying to see what her color will be!
---
Horses are like therapy ~ and almost as expensive
Cinder,
She is cute. There is an appy where we board who has the same domed forhead as India. This horse is very subordinant and picked on alot so has her ears back a lot. India is cuter. Looking good.

How are you? Morning sickness?
She is coming along great!!!
She is looking a lot better. You've been doing a great job with her. I can't wait to see how she looks without her winter fuzzies, and I agree that she looks much more alive and alert now than when you first got her home.
she is looking great now i looooooooooove her colouring!!!!
---
Pocket - 8 yr old, 15.1hh Thoroughbred Mare
~You know you're a horse person when you say 'whoa' to your dog~
I'm exhausted lol, and my morning sickness is an almost all day thing. As long as I have something to snack on I'm ok.
---
Horses are like therapy ~ and almost as expensive