Updated Peppin and TEMPEST pictures + the gang!
---
I went a little picture happy today ;)
Today I decided to do some major work with Peppin. He's getting to be such a big boy and as some of you know, he's had a lot to overcome and so is still a bit rope/halter shy. If you
havent
met Peppin yet, let me introduce him to you. Peppin is a 10 month old Thoroughbred colt. He, his dam and four other horses were taken up by our local horse rescue from a racing owner who had gone bankrupt and crammed all six horses into two stalls- shutting them out of the light and feeding them only moldy hay and water. We took them in as fosters in November, when he was three months old. Unfortunately Peppin had an accident (we still dont know what happened, but our guess is that it was a tree branch) and lost his eye about two months ago, which meant a long period of stall rest and him having to relearn a lot of things. All of the doctoring that we had to do also soured him to the lead rope and I've been spending the last month or so regaining his trust. He's turning into a big puppy and absolutely LOVES to have his ears rubbed. And remarkably...he's doing VERY well on his blind (left) side as well!
So here he is, 10 months- 14.3hh, and growing like a weed. For reference, the boy holding him is 6'2. He's definitely in the gangly stage right now, and he has very typical TB conformation including mile-long pasterns >.> but hopefully he'll make a good pleasure horse none the less :) I'm sort of sad that he ended up not being liver chestnut though...haha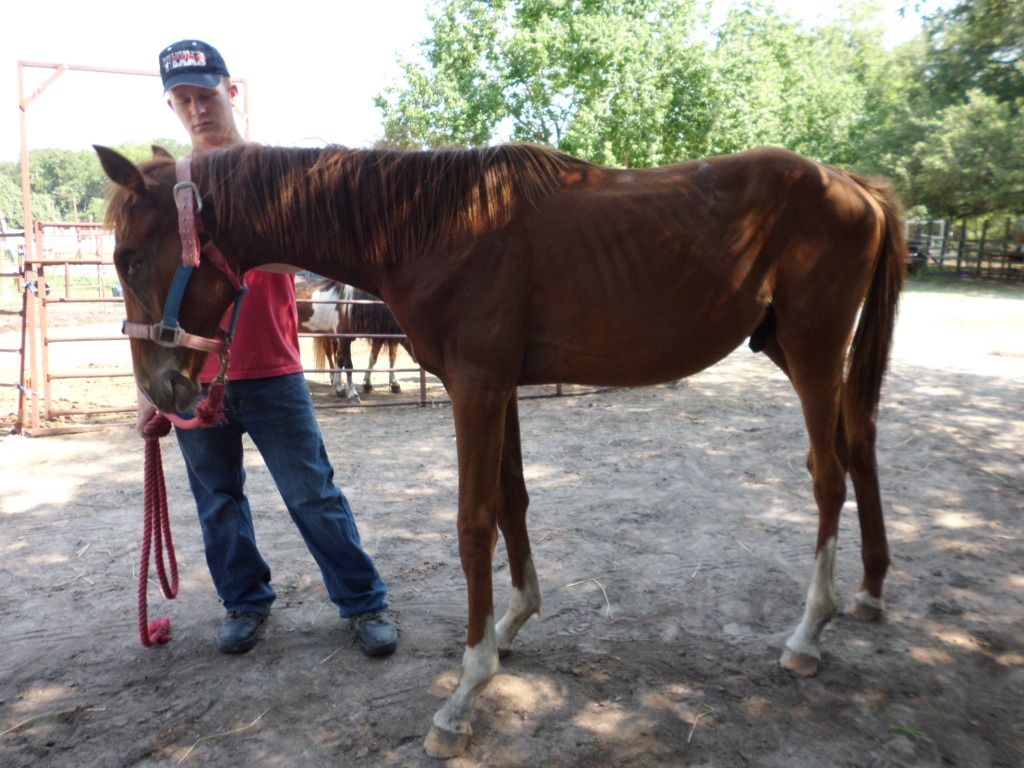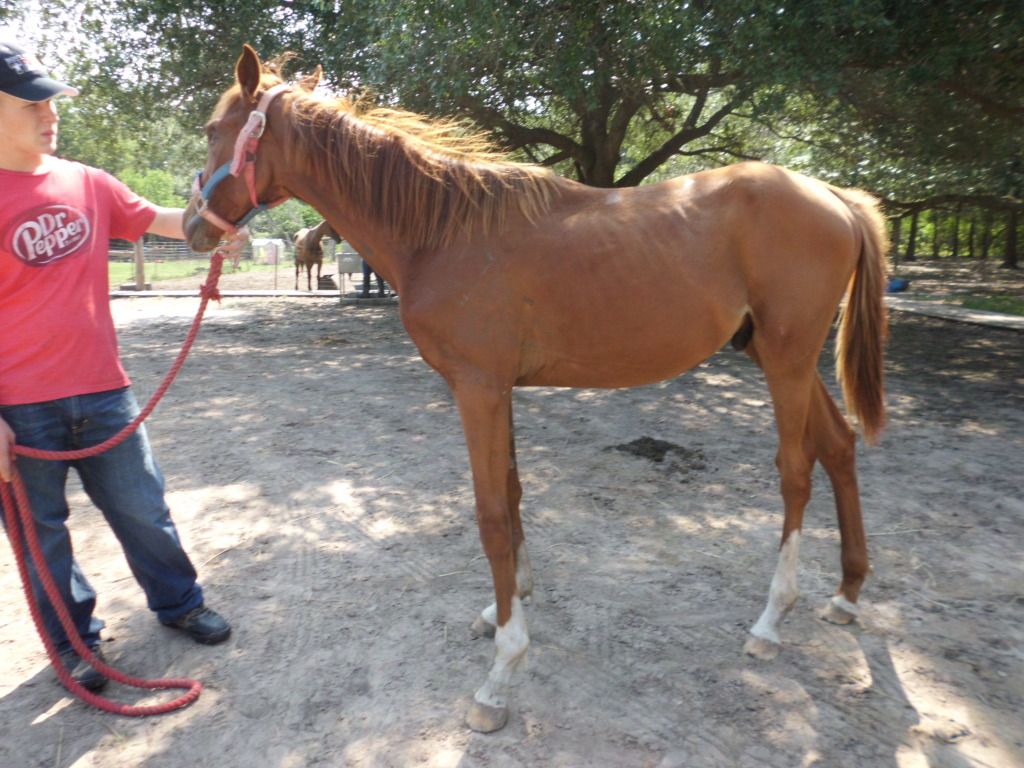 his pretty...eye xD we affectionately call him our 'pirate pony.' We're still leading him on the right side but he lets us handle him well on his left as well, so long as we talk to him as we're doing it to let him know where we are.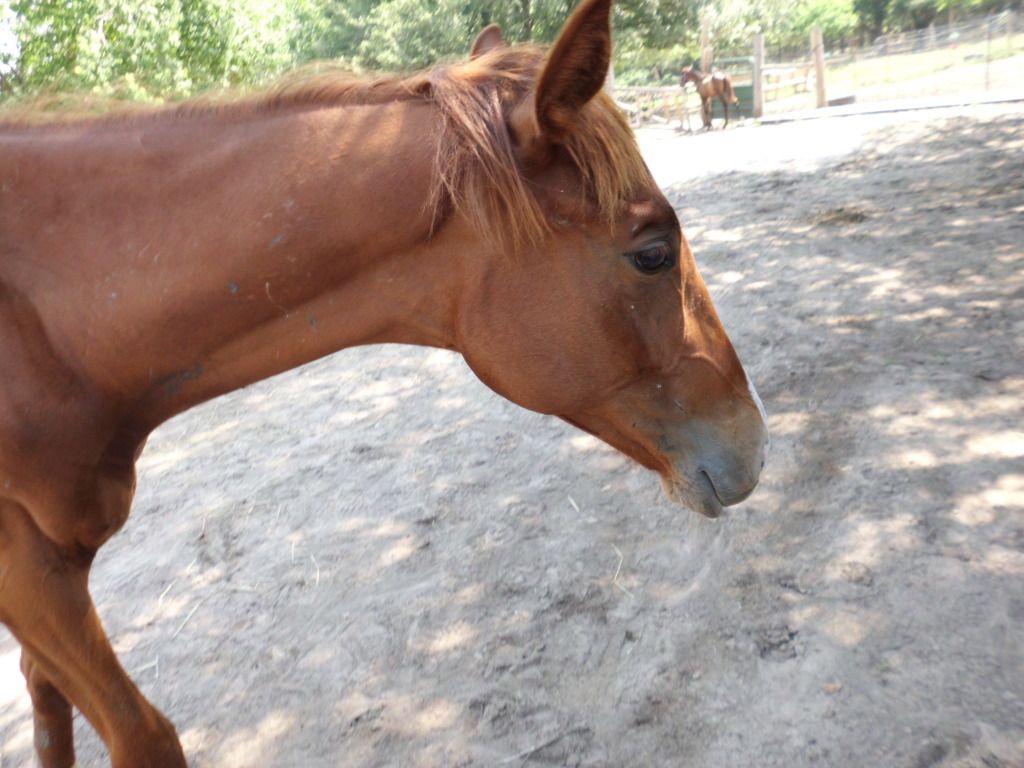 Then some preggo pictures of Sour ofcourse...who decided to do her own hair this morning by decorating it with burrs...I wasn't impressed ;)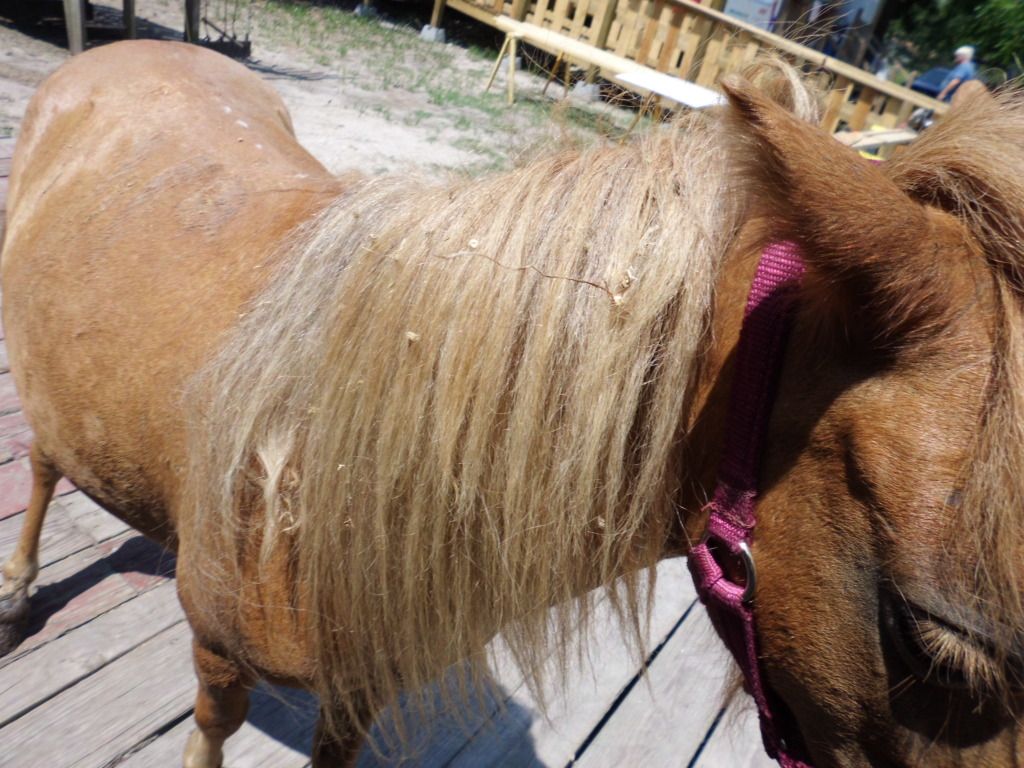 all bathed and fresh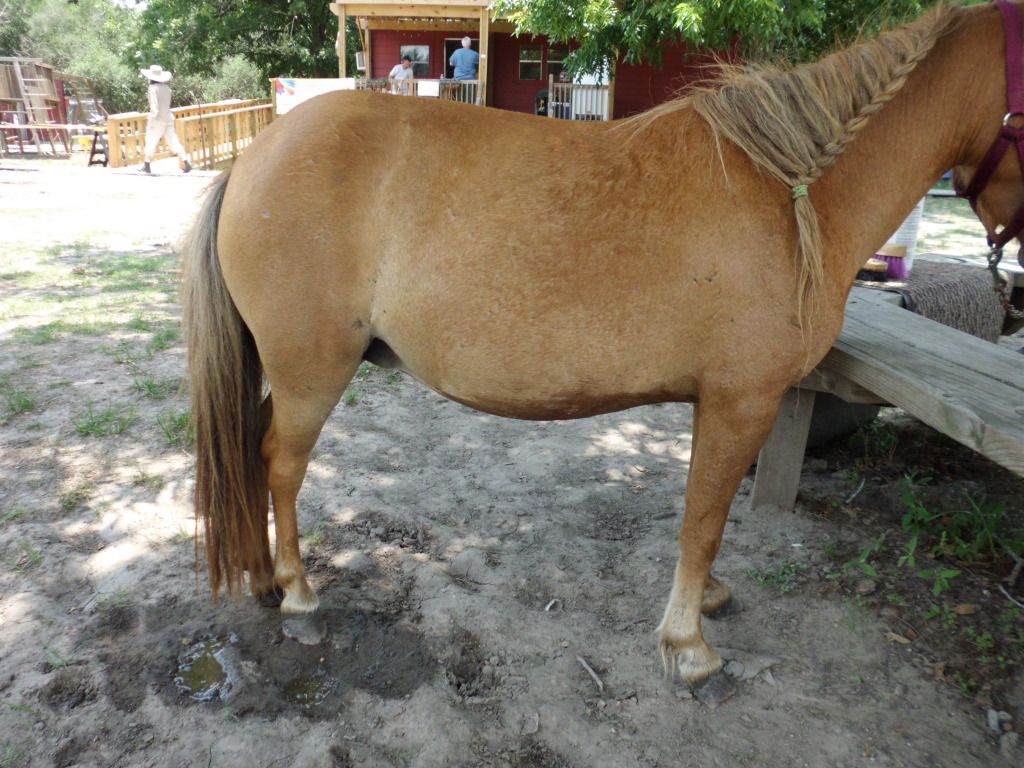 from above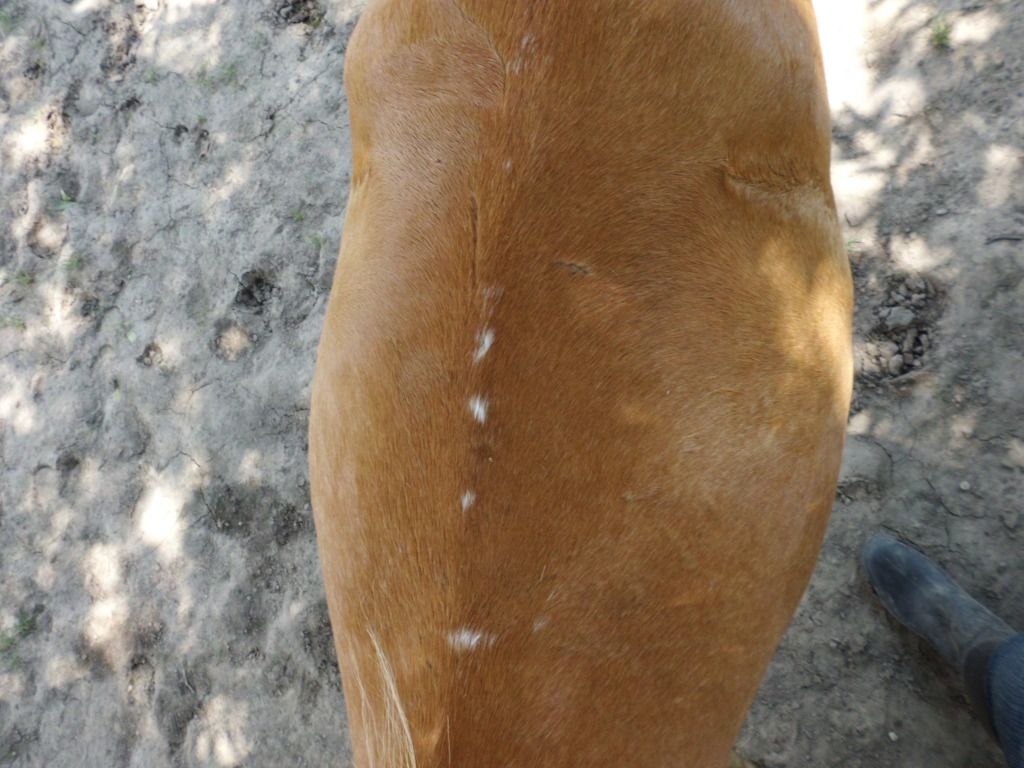 I was so excited
I got to feel the baby moving around a little bit today when I was leaning against her. So sweet <3 I'm telling you though, being pregnate in the summer is making Sour a VERY crabby mama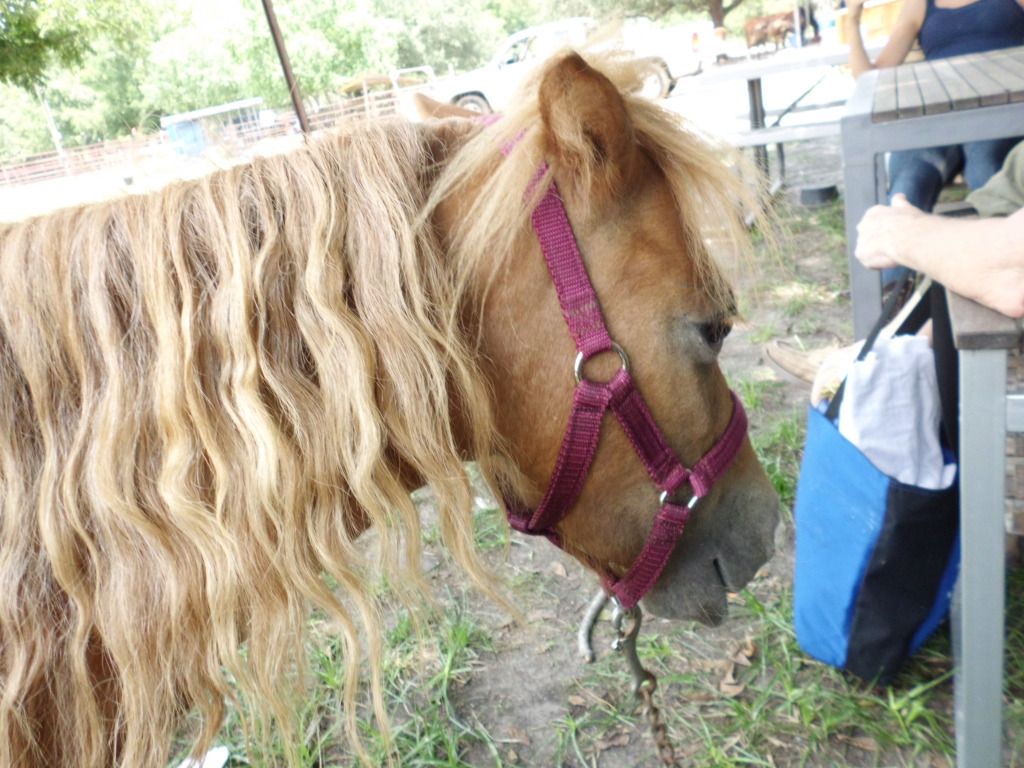 Myss Pony wondering why I didnt take her out today. Crazy girl!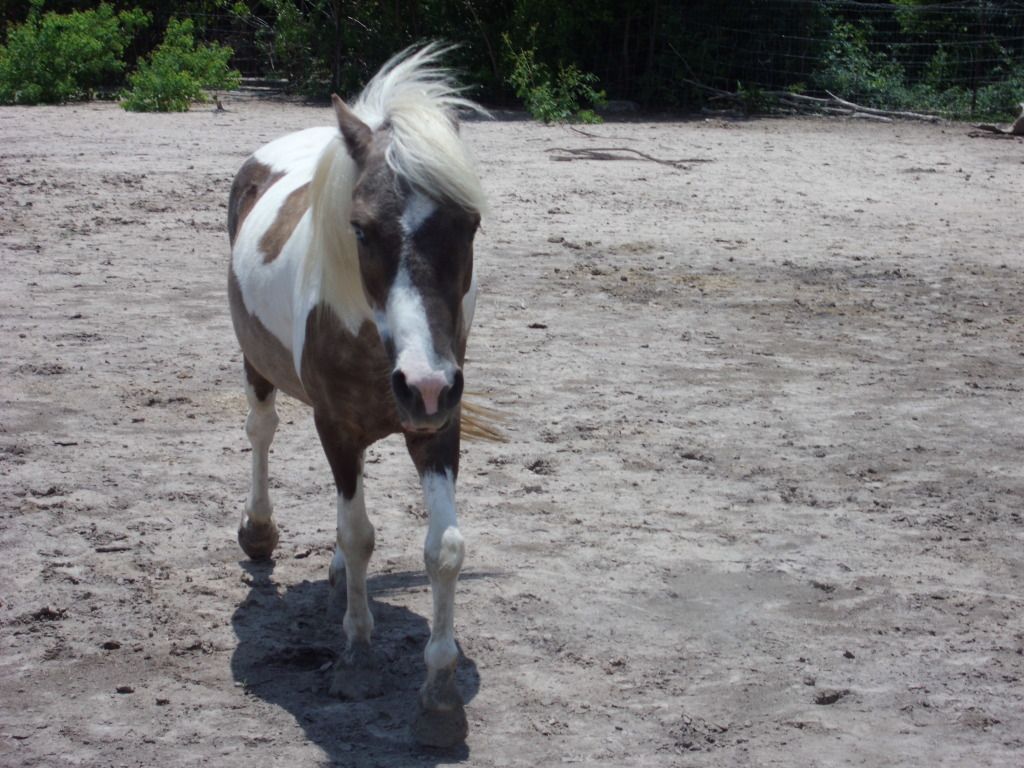 aaand TEMPEST, now two months old and mid-fugly foal shedding ;) she's as cute and mean as ever!
looking all cute and innocent-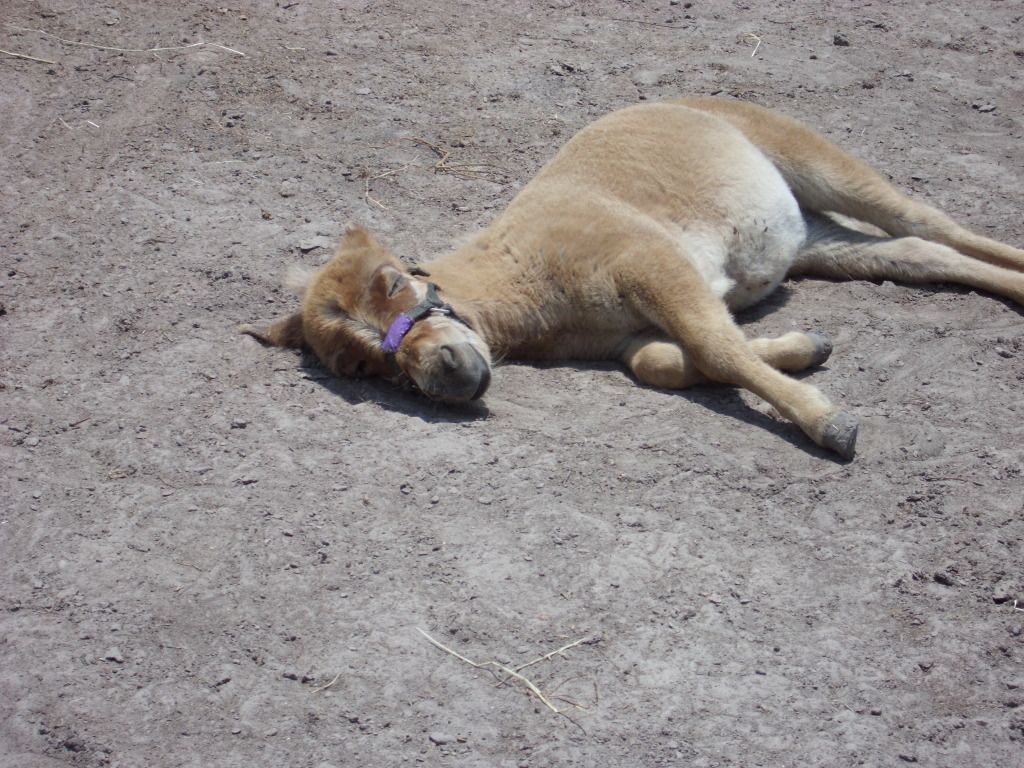 and this was halarious. I turned Sour out and she saw the baby sleeping so she went over to investigate, sniffing its huge ears like 'what IS this thing?!'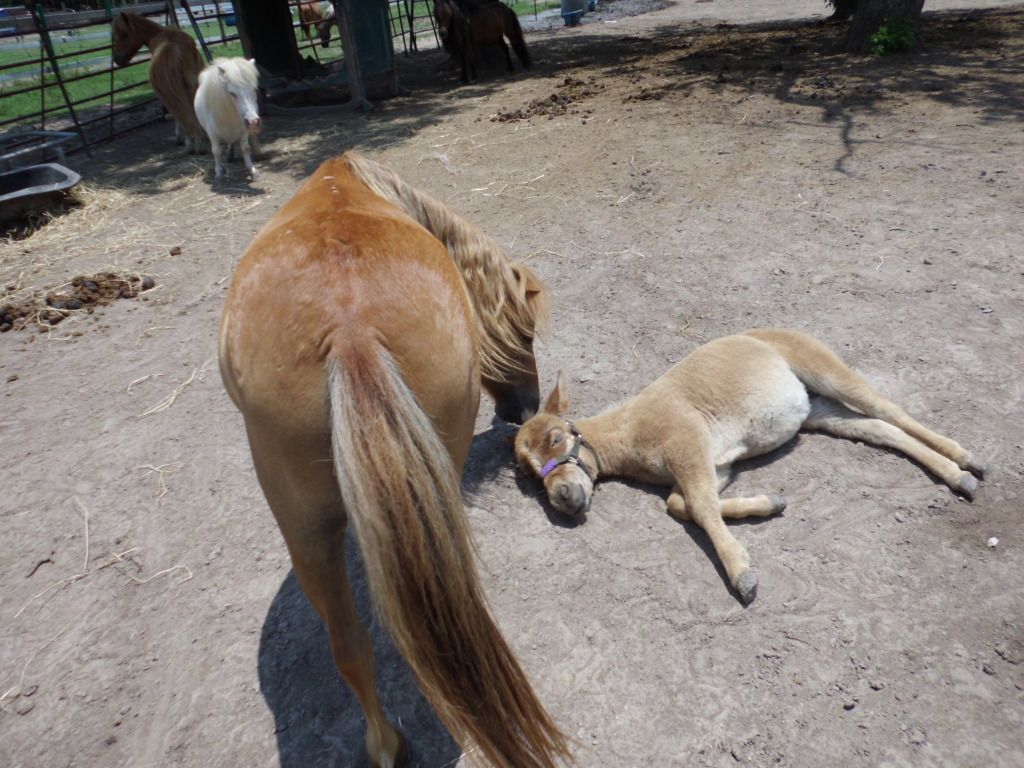 And then Tempest wakes up after being snotted on, and Sour's like "OH CRAP. Quick, look uninterested. Hey mom I think the little brat woke up...'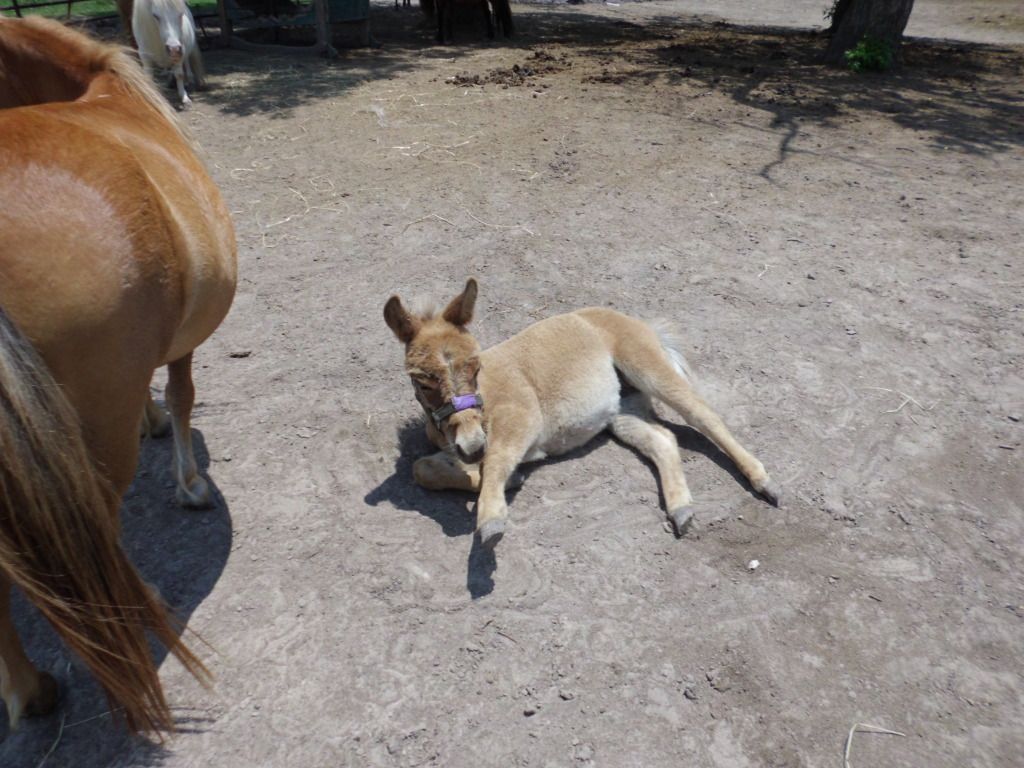 ---
Everyone in your life is meant to
be in your journey, but not all of
them are meant to stay till the end.
Tempest and her cutsey little mane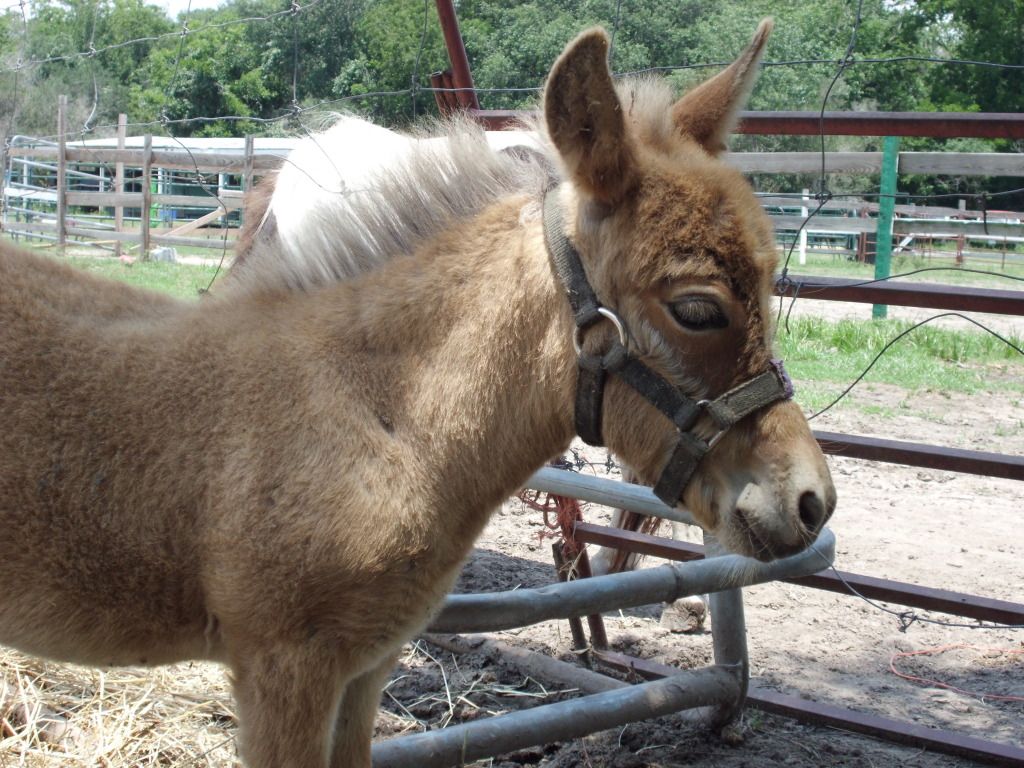 she sure is a stout little thing! *coughfatcough*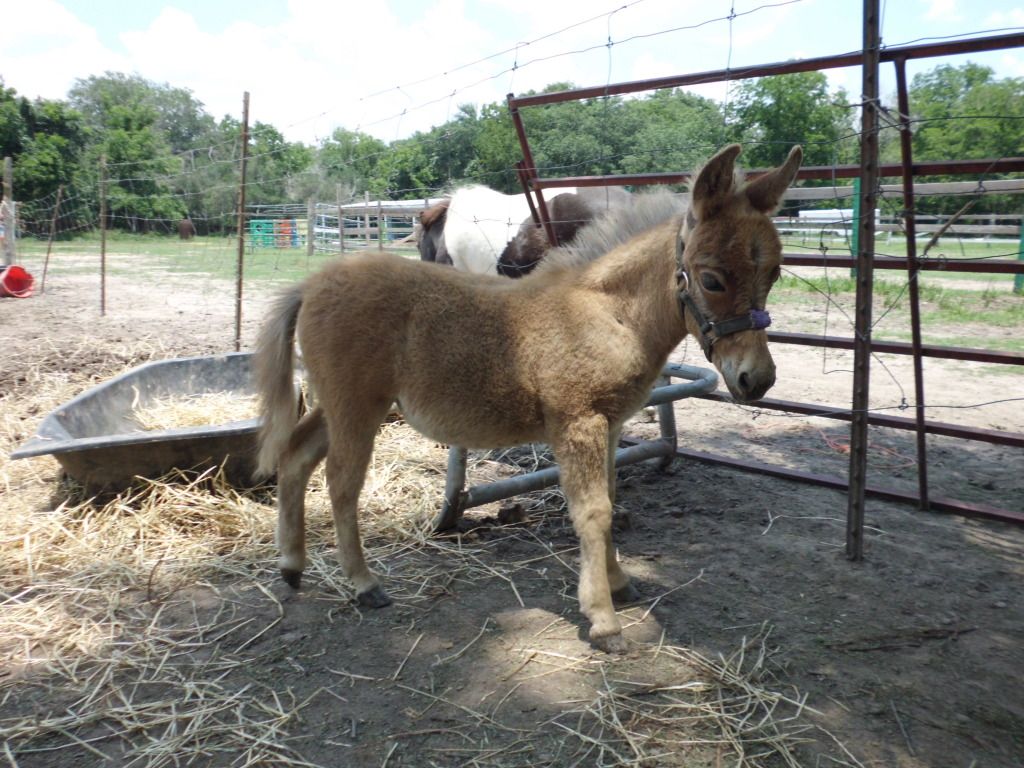 Sour being nosey again and earning a kick in the chest. She was quite annoyed after that xD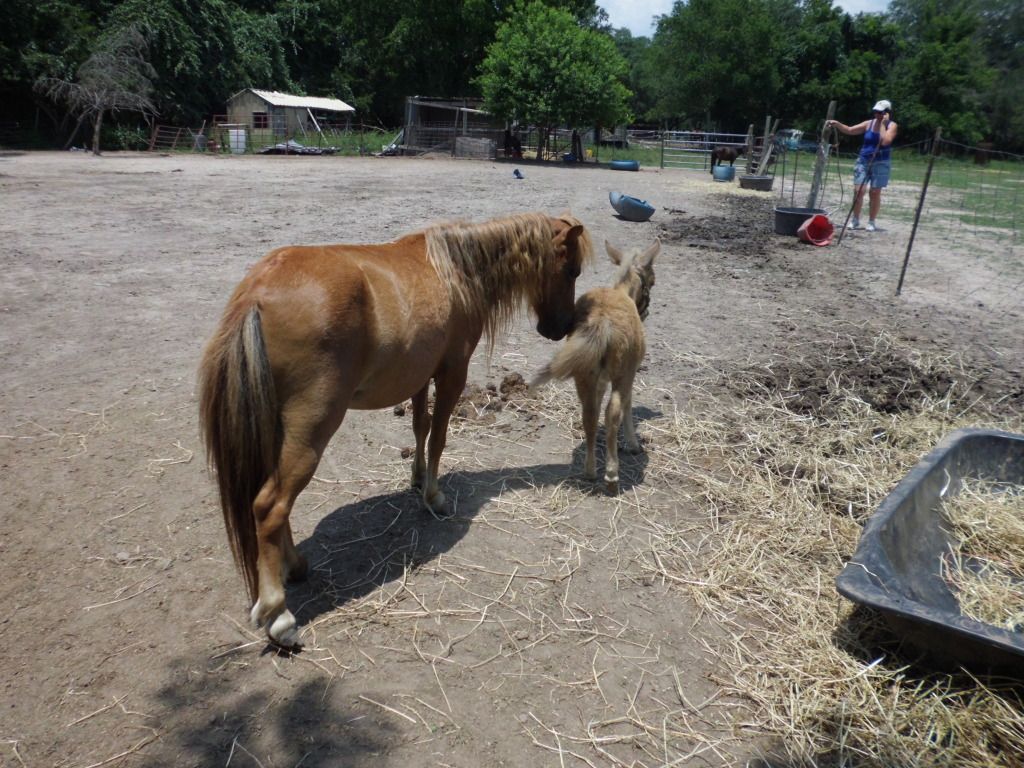 ---
Everyone in your life is meant to
be in your journey, but not all of
them are meant to stay till the end.
These are adorable pictures, but I laughed so hard when I read Sour sniffing the baby's tail and earning a kick in the chest xD That's just so mean haha.. she's going to make a fun momma xD
---
"Strength is the ability to use a muscle without tension"

XD I was almost crying after I saw that! And she had the most offended look on her face after that, as if she couldn't believe that anyone would even DARE try kicking the alpha mare. I'm thinking that she may of just met her match with Tempest! That little sucker is already bossing her momma around and is obviously queen of the pasture.

Ah well, its preparing Sour for motherhood I suppose xD I'm sure that any baby of hers isn't exactly going to be a submissive little angel ;)
---
Everyone in your life is meant to
be in your journey, but not all of
them are meant to stay till the end.
Oh my gosh! You gotta love minis don't you! Such personality! Sour is such a lovely girl, but that Myss is GORGEOUS! And Tempest is a CUTIE PA TOOTIE!!!!
---
RIP Minnie, 1981-January 15, 2010
RIP Maggie Mae I miss you
Oh yes, they might be tiny but they definitely have enough personality for a horse and a half xD and thanks! Myss is definitely the loudest colored horse we own, and she's quite the eye catcher with her blue eye and gorgous coat! She's a favorite therapy horse with the kids. I need to get some more pictures of her...every inch of her grullo coat is dappled right now and its absolutely beautiful
Also, forgot to mention in the beginning guys- if Peppin looks like he's standing funny, its because he is XD he was gelded on Wednesday and is still pretty swollen and ouchy down there ;) no more man jewels for pirate pony! He's a bit off his feed too, but all in all he's doing well.
---
Everyone in your life is meant to
be in your journey, but not all of
them are meant to stay till the end.
...Pirate Pony is reeeeeaally thin.
Posted via Mobile Device
I'm not one to start things Endiku, but that horse is really, really thin. Is there anything wrong with him or something you can do to start him on a weight gain plan? A young horse just cannot develop properly when they aren't getting the nourishment and nutrients that are needed.
---
I am Sparkly Meanie Doodie Head and I approve this message!
Goodness!
Why so thin when in your care for 7 months?
[quote=Endiku;1562637]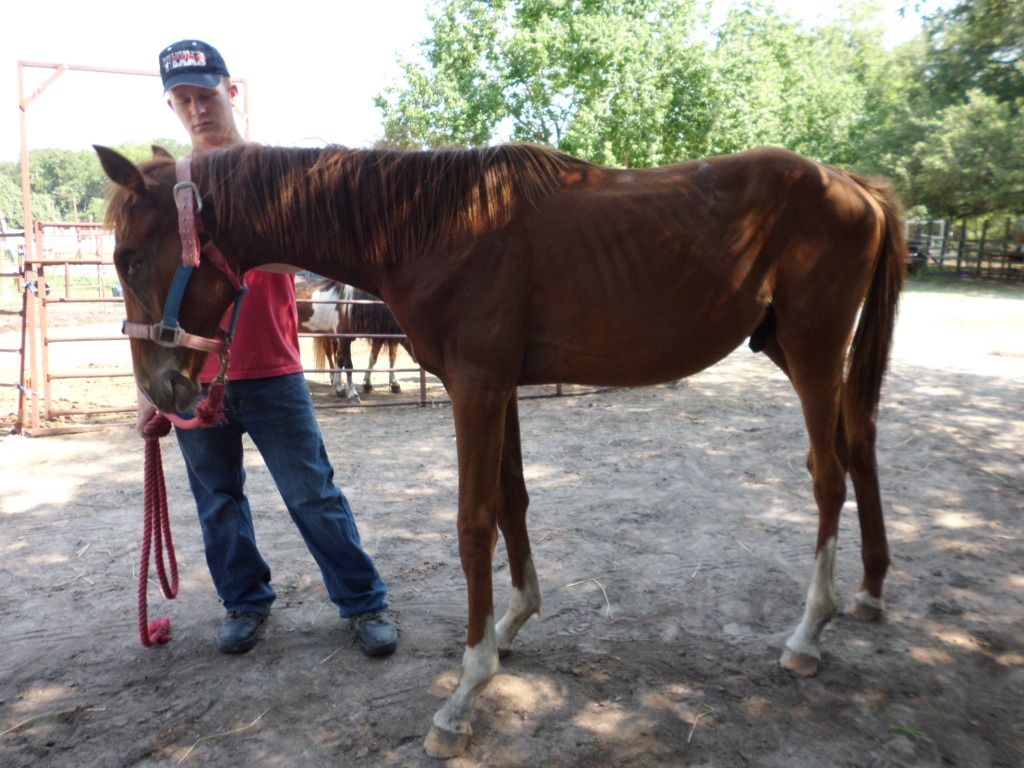 [/QUOTE ]
What's going on with her feet?
Quote: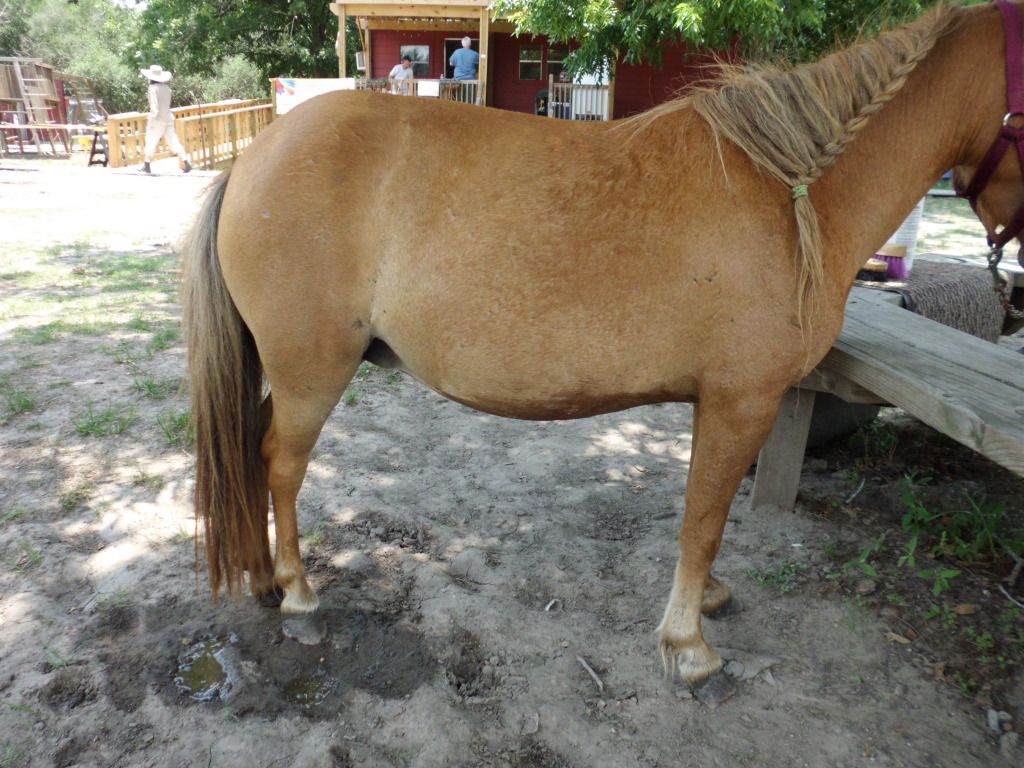 And why is the halter so tight on the foal? I can't quote those pics as it's in a second post, without making a second post myself.
Surely you've been around here for long enough to know a little better, I am shocked that a long time poster has pics that look like this.
I can't tell if the halter on the baby looks tight or just snug. I'm leaning towards just snug, I'm not too worried about it.

But I do agree with the feet of the pregnant mare. Looks like a trim on a severely foundered horse. Hopefully that is being monitored and seen to consistently.
Posted via Mobile Device