Use extreme caution: The Rare Black Mammoth!!
---
Things to keep on mind when around the rare black mammoth, though one might see him as just so adorable and squeezing him with all his mammoth fuzz might be thing to do it is not....(okay it really completely is!)
But beware!!! This rare breed of creature is sneaky! Seemingly harmful and you may even call him "helpful" stay on hour toes....this guy will grab Your hoodie and play peek a boo! You will be doing your own thing and suddenly have a ticklish warm feeling on your neck! Yes the rare black mammoth doesn't care for personal space and if you dare turn around or even make eye contact with him you will be malwed by the big lack hair nose of the black mammoth and it isn't to be assumed things in pockets won't go missing soon after!
Around 6pm is when you will here the Black Mammoths call, not for his mate, not for his heard but for what you may or may not be carrying around that time, when feeding the Black Mammoth beware he loves any and all (except the small four legged creature that jump around goat style and steal food) the Black Mammoth will share his dinner with you if he likes you....
This Rare breed of mammoth is not to fully trusted until he comes up to you with snuggles and cuddles ( happens every time...unless you ate a goat!)
Without further adu.....The Rare Black Mammoth!
Keep your eyes out for sightings!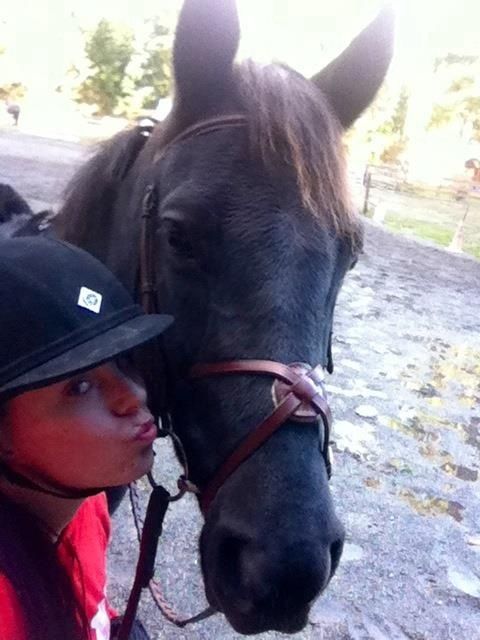 And beware of the black mammoths hair do's....may cause pointing and laughing!
Hope you found this cute and funny!
Just so glad to be back home and with my Ollie boy who has indeed turned into the rare Black Mammoth of the property!
More sightings of the black mammoth will come!
---
What a handsome mammoth you have there!!
---
Being horseless is the pits!!
He is :) he knows it too!
Some of those pictures are us in front of the arena mirrors and he saw himself and perked up like "Hey, he's hansdome!" LOL
Aww, I want one!
Watch out, there might be some mammoth kidnappings.
Hehe warning the mammoth doesn't load straight away into trailers and comes out a million mph haha
Posted via Mobile Device