We moved! -pictures!!-
---
Well, obviously theres pictures or I wouldn't post in the picture thread. I'm dumb tonight.
Anyways. We finally left Saturday. The new ranch is great. Were right in the valley and surrounded by mountains on all sides. We have three arenas, two round pens, a pasture and supposedly access to all the major trails on the mountains. SO, thats a plus. Cricket seems to like it very much. Her favorite part is the pasture with knee high grass. It's great.
I got the last of my things on tuesday and I talk to Cricket alot about the passing of Major. I think she understood because she was very gentle and had her muzzle in my lap the entire time, letting me pet her face and just standing there as I unwound and cried. She's a good listener. She's my 1,000 lb bottle of healing power. <3
So, here are the pictures from the new ranch. The two horse we are inbetween are Joaquin and Willy and they are in love with Cricket.
Were on a slope here so we look off.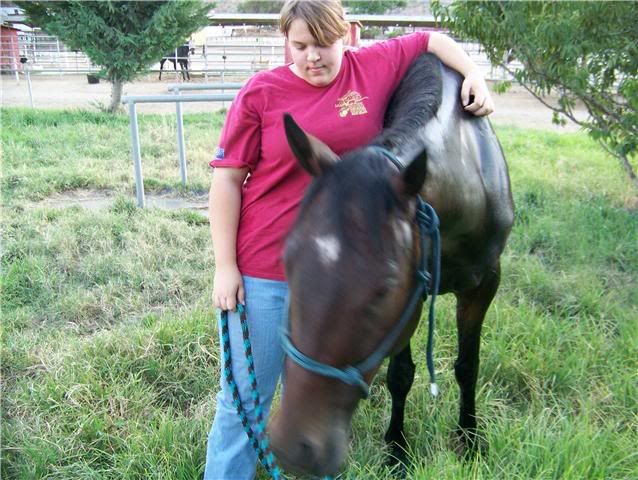 She says "GRASS!!!!"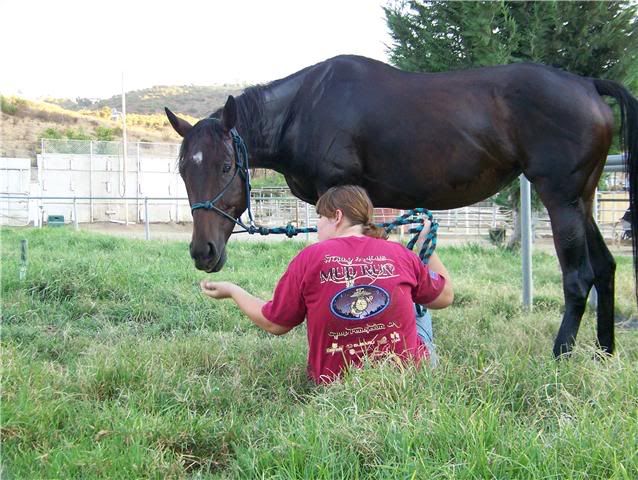 She got a hose down after getting lunged. What a life...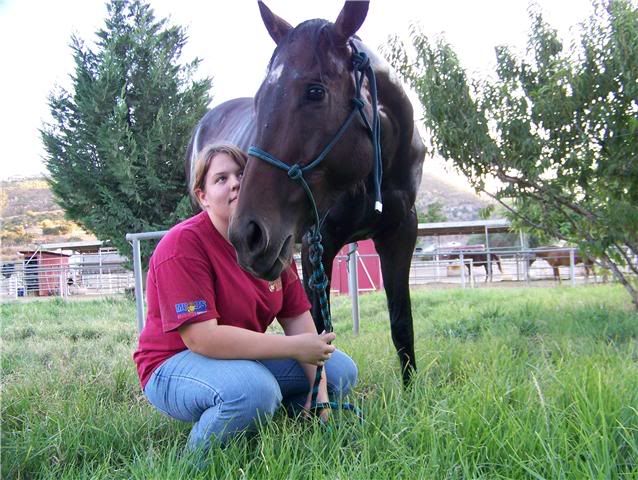 My favorite.
My other favorite.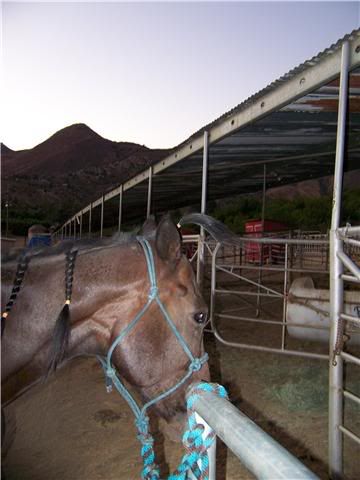 She's a troll!!!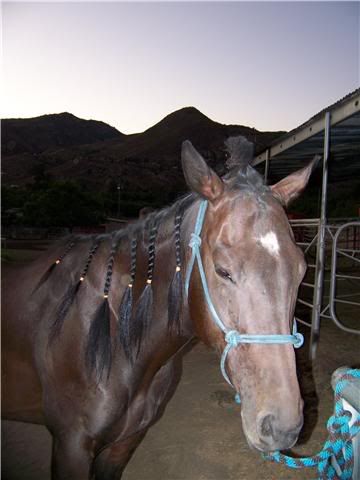 Hahahaha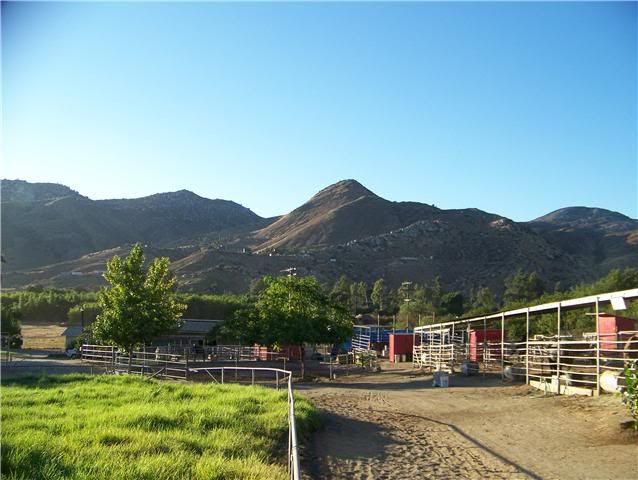 And THAT is our view!!! We're like a bowl surrounded by mountains on all sides. It's gorgeous, it's quiet, the boarders are nice and they don't invade your space. It's great and I'm hooked.
Lemme know what Y'all think! I can't wait to start riding. Stupid girth better come in the mail soon.
---
"I was eight years old, and I've never forgotten her face when she told me about watching you ride. She told me she saw you, and your horse was dancing in the moonlight."
-- A.C. Crispin's "Sylvester"
Wow, gorgeous pictures. :) Your horse is absolutely a doll, very kind eye. Haha, your like me. I can't live without a good rope halter. If you don't mind me asking, what state are you in? I love the view, I bet riding will be gorgeous around there.
---
"Horses Lend Us The Wings We Lack"
Hey! Thank you very much. Everyone I've met so far says that she's a sweet heart and she has very kind eyes. She is a sweet little mare, not marish at all, but can be quite the poop head.

I'm a halter FREAK. I have at least three nylon halters but most of the halters I use are rope. My favorites. You can do anything with them and she can FEEL me. She's not so keen in voice commands and I like to do my ground training in rope halters. If I need to lunge her, just tie it around her neck like a pair of reins. As for what state we're in, we're in California. Southern California. I hate it here. It's dry and there are no seasons. It's boring. But the great thing is that it's summer all year round, so you can ride all year round. During the spring everything gets super green and the creeks start flowing. It's great. I can't wait to start the trails.
---
"I was eight years old, and I've never forgotten her face when she told me about watching you ride. She told me she saw you, and your horse was dancing in the moonlight."
-- A.C. Crispin's "Sylvester"
Ugh, lol, I am in northern California, and I don't like the state at all. I was saying it was pretty because I seen green grass, haha. Up here there is NO grass because everything is SOOOO dry. I am originally from Texas where it was green grass all summer, haha. I miss Texas sooo much, but I am stuck here now in Cali with my hubby who is from here.

I just can't stand the dryness and ALL the rocks everywhere in the ground. All the star thistle and manzanita bushes everywhere. You're atleast lucky to have the green grass. Is it irrigated out there? I wish we had irrigation, we will try for it someday.
---
"Horses Lend Us The Wings We Lack"
If by irrigation you mean sprinkler system, then yes we have irrigation. And hoses every three horses. But, we have our own well. So were not using the city's water so it doesn't cost as much. The grass is only green because our amazing ranch hand (that we love very much,) David, waters it. Other than that, the pasture is the only thing thats green during the summer. Right behind us is an orange orchard, that might contribute to the green your seeing. I assure you, it's dry and it's hot and it's dusty. And it isn't green anywhere natural. Once you get up into the mountains all you get is sage brush, Manzanita and mustard weed. Along with other very ugly bushes and brush. I hate it here, I feel your pain.

Another thing I hate are the wild fires. My father is a fire fighter for the government. I think that has a special name... But anyways, so everyone in my family is pretty fire savvy. Now that I have my own horse, I think constantly about evacuation. I've been lucky that the last few fires that did the greatest damage, I've been old enough to help ebvacuate. Usually all the horses go to the rodeo grounds at my school. It's safe and were protected because we have the El Cap resevoir surrounding us. I've gone to help unload and take care of horses during fires and It's pretty flipping hectic. I've been handling one horse and someone comes up and tells me that they have a spot open, and as soon as a spot opens and one horse can go in, more horses arrive and were packed all over again. It's crazy and it's so sad because some horses that come in have no identification. Nothing. If another major fire starts and my dad has to go, then I know that things are going to get worse. I have an Id tag (like a dog tag) that I got from walmart that says Cricket's name and my name and number and it clips to her halter.

I've heard too many stories about their horses getting stolen. As I said before, I'm paranoid.

It also has a few numbers of close friends who told me they would take care of her if anything was ever to happen. Fires are very real here. It's scary.
---
"I was eight years old, and I've never forgotten her face when she told me about watching you ride. She told me she saw you, and your horse was dancing in the moonlight."
-- A.C. Crispin's "Sylvester"
Yah I can't STAND the wild fires here. I bet the worst part of them down there is the smoke afterwards. I say that because we get y'alls smoke and ash all the way up her it is crazy so I couldn't imagine it down there at all. That is a really smart idea about the I.D. especially since there are so many fires down there.

Yah my hubby just got a job offer for Cal Fire in the Yuba/Nevada area so I think he is going to take it. Right now he is a paramedic but Cal Fire (previously CDF) has great pay and GREAT retirement. Fires are very scary. That is my biggest fear, being burned alive and not having anywhere for my animals or family to go!! That is why I get paranoid about it being so brown around us. Believe it or not we water 4 times a day for an hour each time and with the 110 degree heat here, the grass just can't keep up. We are actually not allowed to water in the middle of the day because the water gets so hot it boils on the ground and ruins the grass. :( Yep, uh, I definitely miss Texas, haha.
---
"Horses Lend Us The Wings We Lack"
Lovely barn and yay for the view!
Similar Threads
Thread
Thread Starter
Forum
Replies
Last Post
Moved Skittles in!

barefoot

Horse Training

6

08-10-2009

01:51 AM

How many times have you moved?

WildHeartsCantBeBroken

General Off Topic Discussion

20

02-18-2009

03:15 PM

I moved!

irisheyes12

Meet the Community

6

10-16-2008

10:27 AM