We went on a BIG trail ride today...
---
We went to the Columbia River Gorge Scenic Area with two people from my barn and we rode for 3, almost 4, hours!
Lacey was absolutely stunningly amazing. She was a really good girl. I just can't get over how she is so exactly what I need. I mean, in the arena, I'm more confident and she's more of a poo face. But on the trail where I'm way less experienced and less confident, she couldn't be more of a confidence builder.
She was a little sensitive with her front feet since the ground was a little rocky in places and she was trimmed just last week (and at home she's basically standing in mud so her frogs aren't tough at all), but she did well. Just some stumbling here and there whenever we went over rocks.
I was impressed with myself too because I decided to take my crop, just to be safe, in case she decided she wasn't going somewhere (she didn't have an issue so now I know for next time), but since I don't have a wrist strap for it, I wasn't sure where to put it. I ended up sticking it under my thigh and hoping that I wouldn't drop it. And you know what? I was able to keep it solidly under my leg at the walk, posting trot, canter, AND GALLOP.
I was proud. There were a few times at the canter that it kinda shifted but (another thing I'm proud of) I was able to reach down and fix it without stopping. That's something I've always struggled with, I get kinda locked in at the canter and I can't think about anything other than "Oh my, we're cantering!"
Also, I've never galloped Lacey until today and boy, that old girl can move! Geez. I had tears streaming down my face she was going so fast. It was amazing! She was going at an all out canter and then I kissed to her again and vroom! Off to the races! She is SO smooth too, her trot isn't so awesome but her canter and gallop are definitely something I could handle on a daily basis. Heehee I guess she should be fast, I mean, on her dad's side, basically everyone was a racehorse.
Then, it was super funny. We kept getting left behind because she was walking slowly and I figured, why rush her if she's happy? But there came a point where we were so far behind that to be safe we really needed to catch up. So I asked Lacey to start trotting and then I figured, whatevs, howza 'bout cantering? Then she absolutely took off. She stuck her head in the air so I had no control and I was sure I was a goner. I tried using the reins but she was tuning me out and I was afraid to one rein stop because of how fast she was going. So I growled "Lacey!" at her, in a really angry way. And you know what? She did the "Arab head flip" and immediatly started slowing down and listening to me.
Like "Aw, shucks! I'm in trouble!" Lacey cracks me up.
Now, what you've all been waiting for, the pictures!
At the trailer, getting ready. I was on top of things and groomed Lacey before we left but the other two people with me didn't get their horses beautiful until we were at the trail.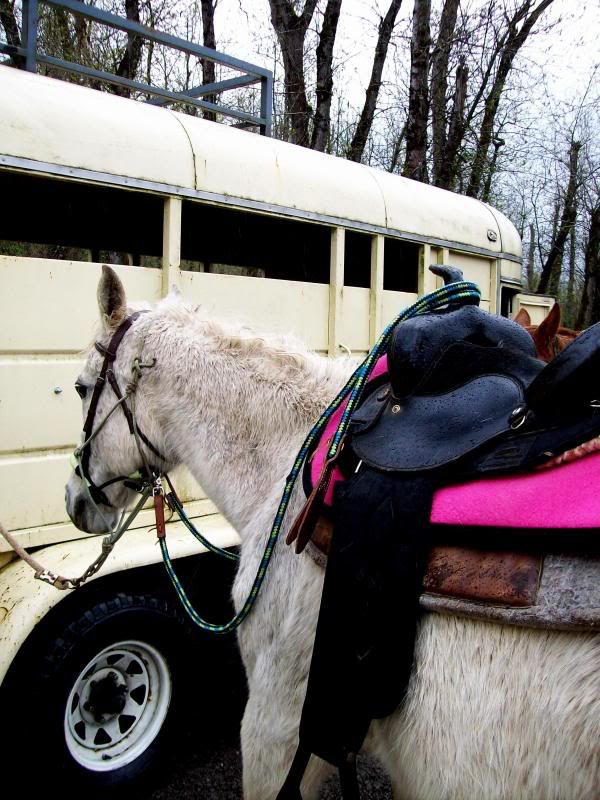 Heading out: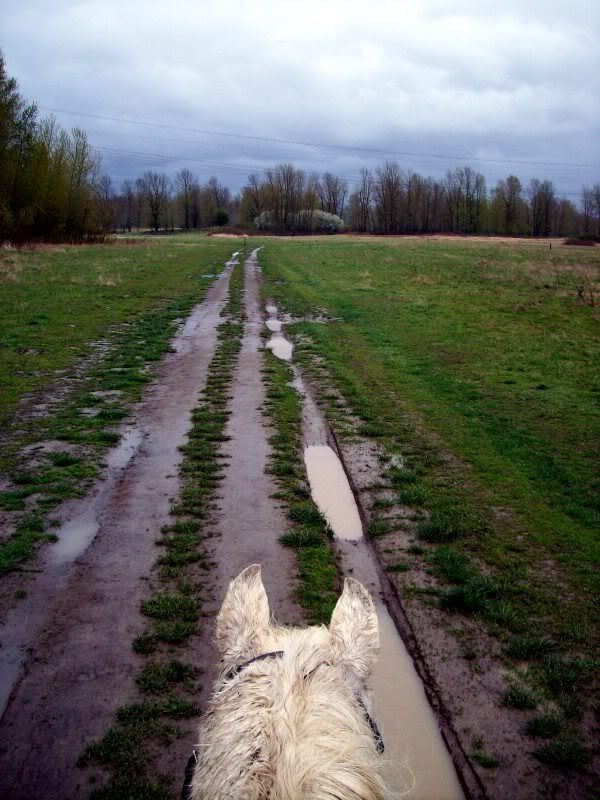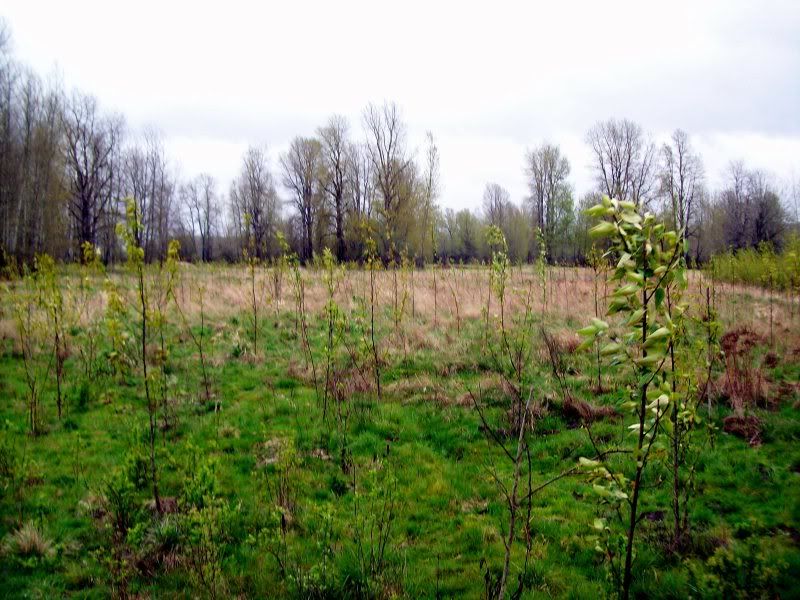 The river was somewhere over there...down a really steep ditch thing. So we had to figure out another way to get down there...
We had to turn around kinda so Lacey got kicked to the back. She is not a fan of the back, just so ya'll know. Heehee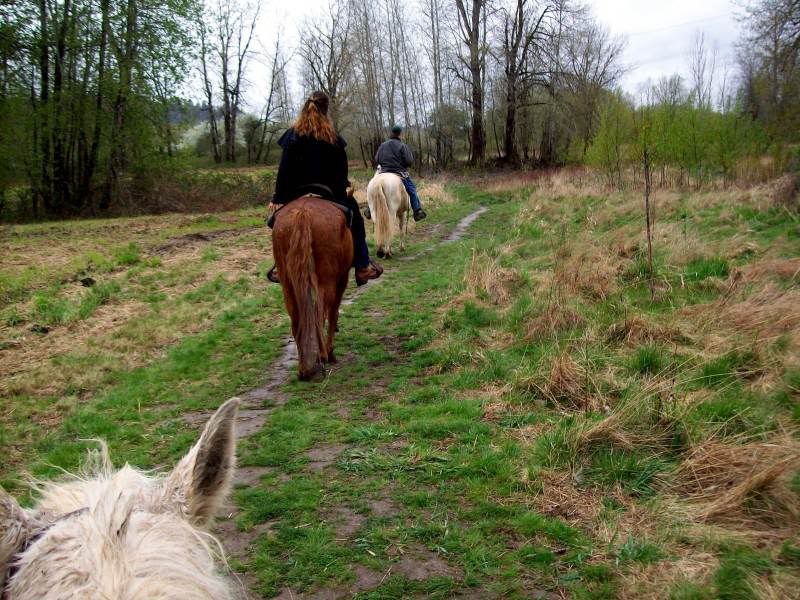 It was REALLY windy.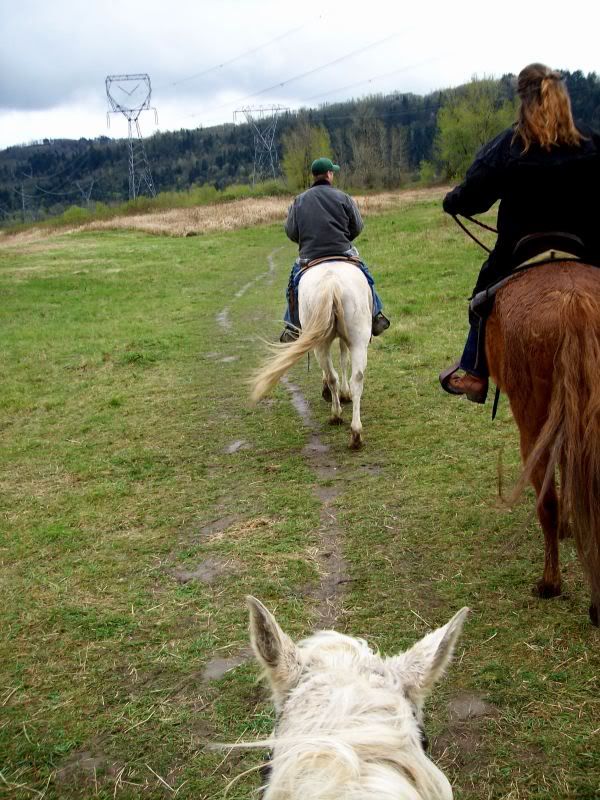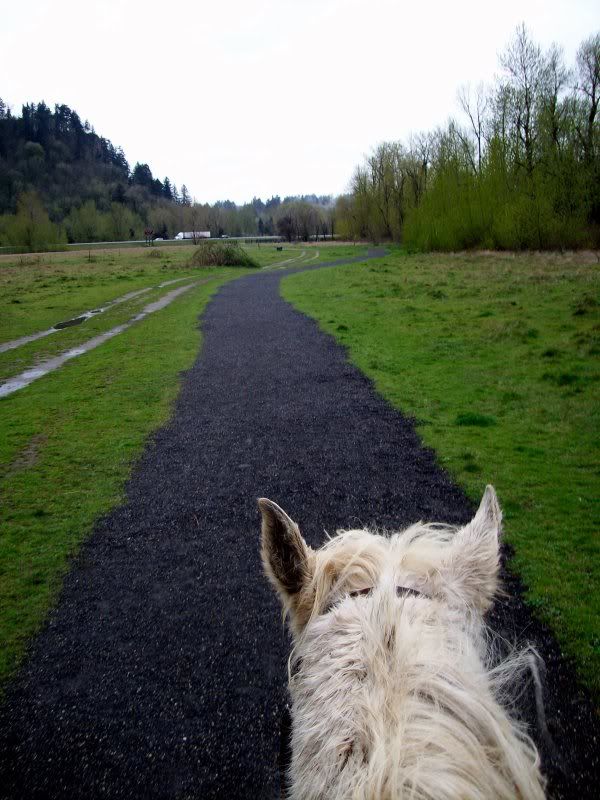 I thought it was pretty cool how there were like...layers of vegetation. haha
The river! Next post!
---
Fabio - 13 year old Arabian/Lipizzan gelding

~
Rest peacefully, Lacey.

Continued!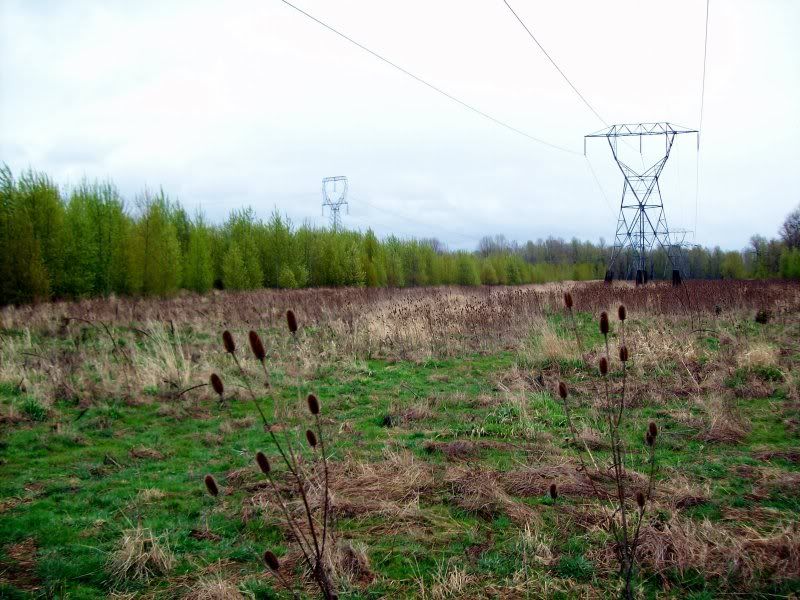 The river! Finally!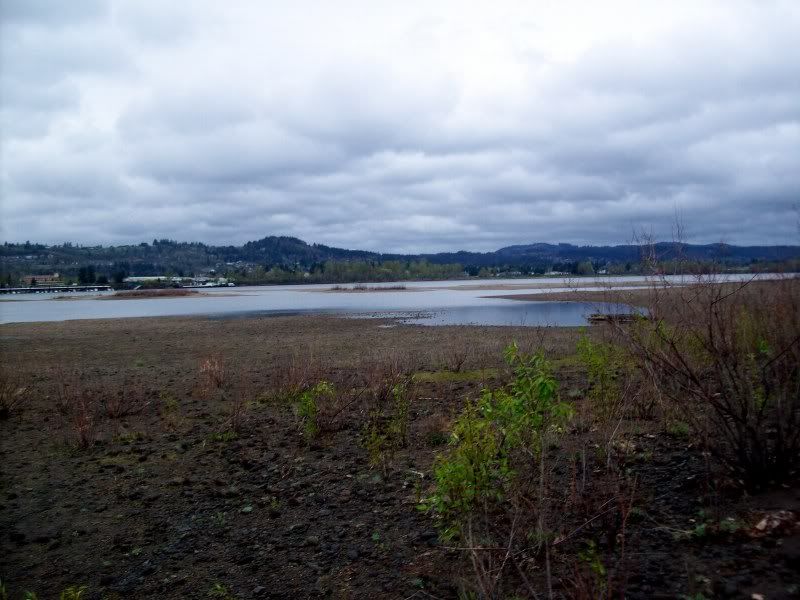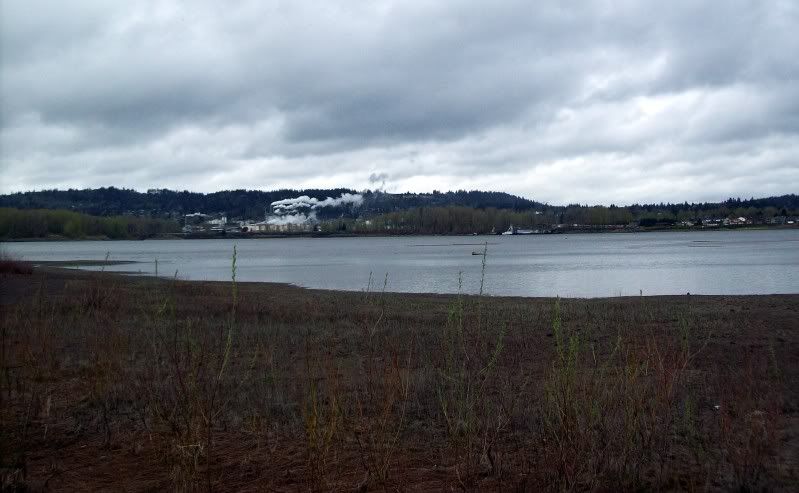 Lacey wasn't in the river, although this makes it look like she was! Haha She was right at the edge of it. She really wanted to drink but she wasn't sure it wouldn't kill her. Silly, cute, little monkey!
Mah poneh and me!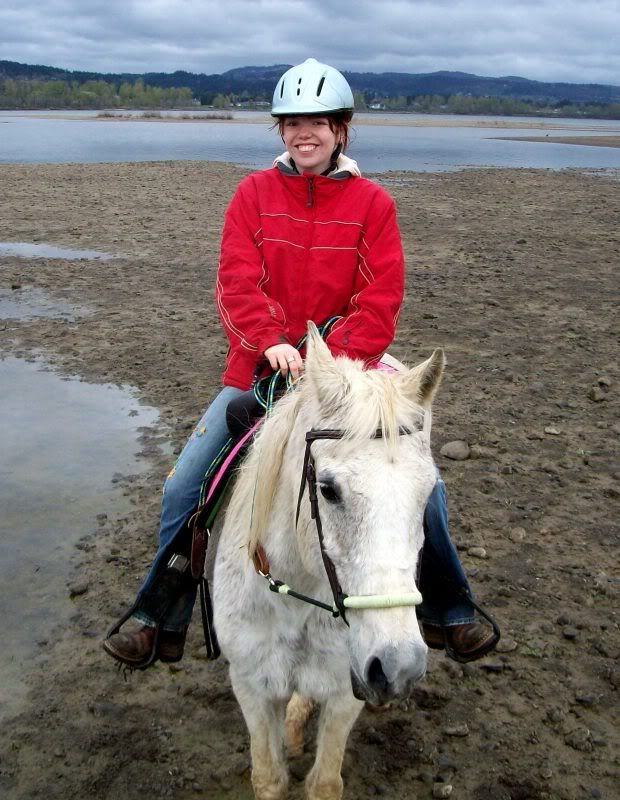 Going back to the trailer...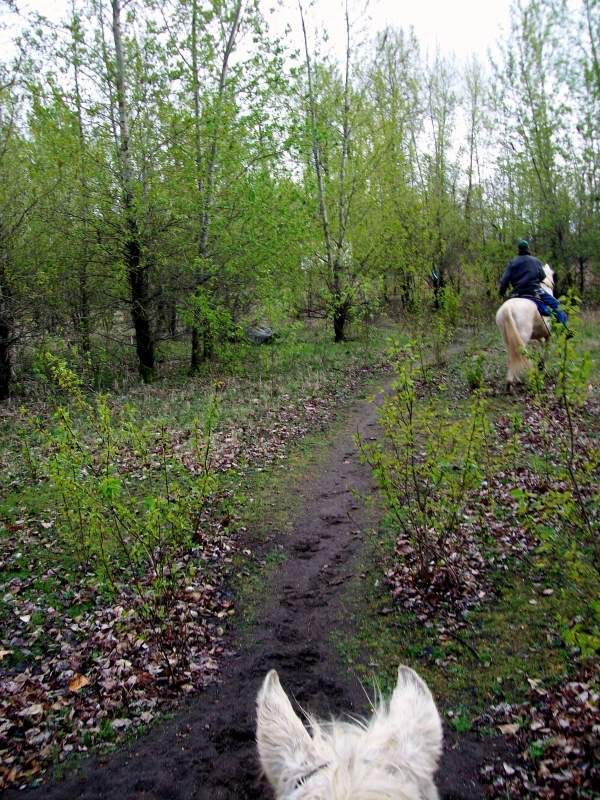 We saw 2 bald eagles! That's the butt of one of them.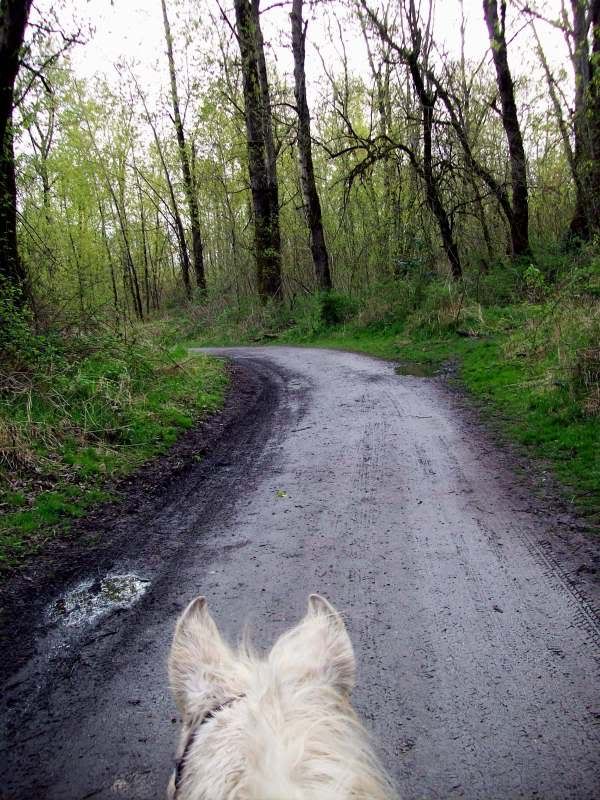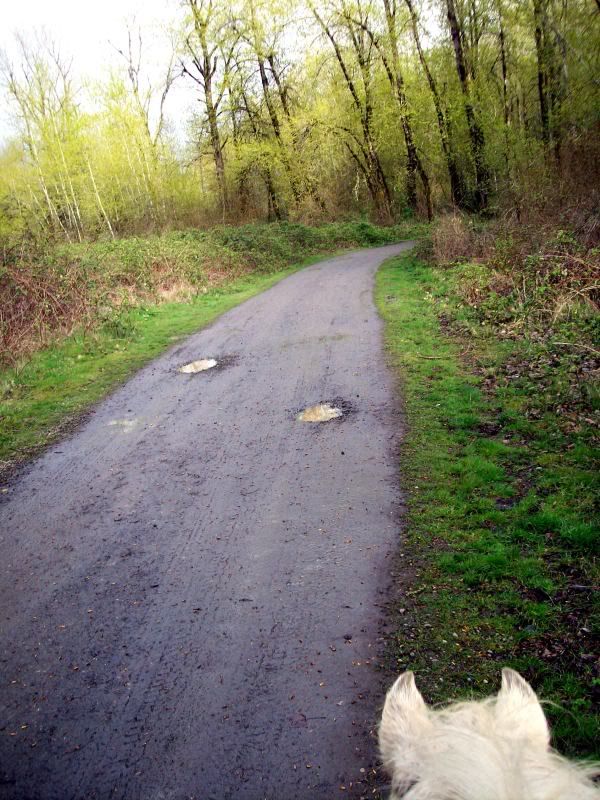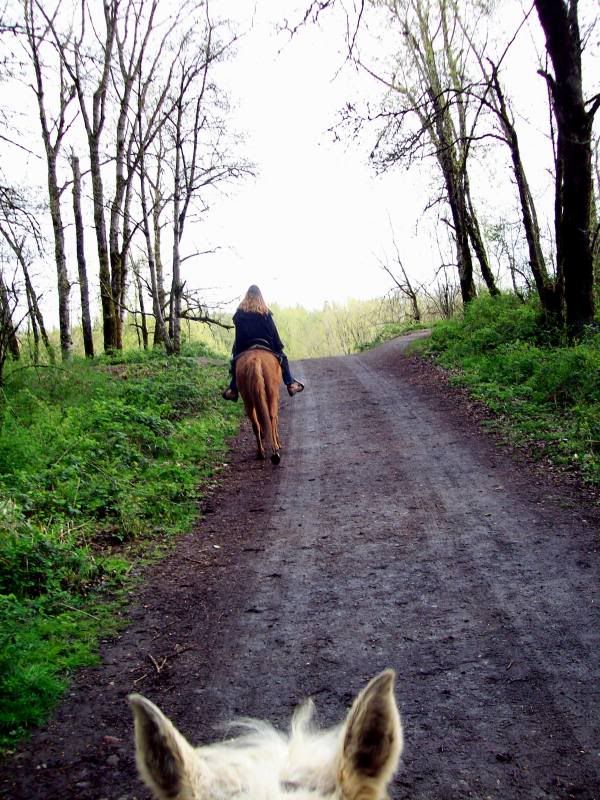 The end, almost!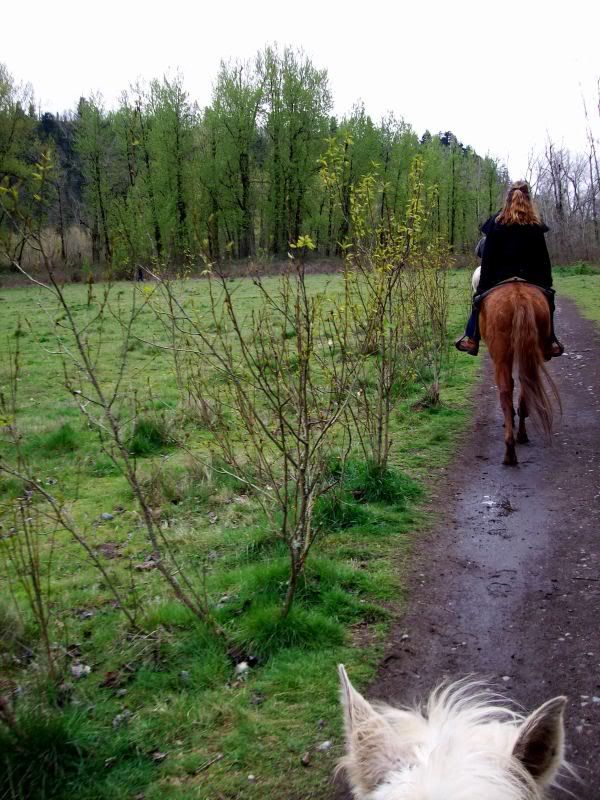 Yup. That was our lovely ride. =D
---
Fabio - 13 year old Arabian/Lipizzan gelding

~
Rest peacefully, Lacey.

looks like you had tonnes of fun :)
---
There is one principle that should never be abandoned, namely, that the rider must first learn to control himself before he can control his horse. This is the basic, most important principle to be preserved in equitation - Alois Podhajsky
Looks like fun! Sometimes I wish I had people to ride with!
Looks like fun!
---
Ω Horses are a projection of peoples dreams Ω
Oh waw! gorgeous area. Looks like it would be a fun ride when it's dry and sunny eh. Great pics. Looks like you guys had a blast
Look at how green it all is. ;___;

Thanks for sharing!!
YAY! Looked like tons of fun! *highfive* to the galloping with a crop under your thigh! Serious mad props!
---
♥ Gypsy gold does not chink and glitter. It gleams in the sun and neighs in the dark ♥
Quote:
Originally Posted by
DisneyCowgirl1901
View Post
YAY! Looked like tons of fun! *highfive* to the galloping with a crop under your thigh! Serious mad props!
Thanks!
Thanks guys! We did have fun. There were things I would have changed, as in my riding buddies not drinking beer continuously throughout the ride, but we survived and Lacey really enjoyed herself which is what matters.
My friend, the girl I was riding with, wants to make going to that park a regular thing, since it's only about 10 minutes from the farm where the horses are, so hopefully I will get to go riding there again when it's nicer! And then I'll take some sunny day pictures, hopefully. Heehee
---
Fabio - 13 year old Arabian/Lipizzan gelding

~
Rest peacefully, Lacey.

Brr looks cold, but very pretty area!