Well I think it's about time . . . (LONG!)
---
I have been posting on here regularly for over a month now and still haven't officially introduced myself or my horsey family. While I would normally put this in the "Meet The Community" part I thought seeing as it's going to be picture heavy I should put it in here :)
So first up is me! I am a 21 year old crazy, horse lover chick. I am moody, emotional, opinionated (although I try to be polite), possessive, stubborn & my gosh don't mess with my animals! I have 2 little chihuahua x dogs as well as the horses. I work for RowdyLover, trainer, groom & all round stablehand! I don't have any photos of myself on this computer and can't be bothered taking any from facebook right now, so that will have to wait!
OK! Here comes the fun, first up...
How Clever (Rex)
14yrs Grey 16.2hh Thoroughbred
Rexy is my baby. He was the first horse I got after not owning one for around 10 years. He's such a sook, bottom of the herd in the paddock, my pampered prince!
Hugo
17yrs Bay 16.1hh Thoroughbred
This beautiful boy belonged to RowdyLover originally. She was looking to reduce numbers and was selling Hugo. I couldn't let him go. So I bought him! He's a typical OTTB, but has so much character!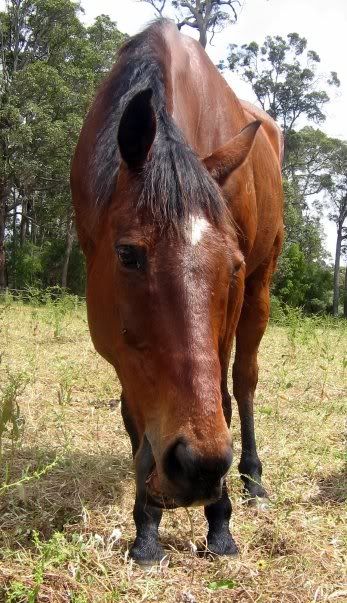 Trojan
7yrs Black 15.1hh Standardbred
I bought this beautiful man for my boyfriend. They have bonded beyond measure, despite Jace not being able to ride him because I haven't got off my butt and started him yet! OOPS!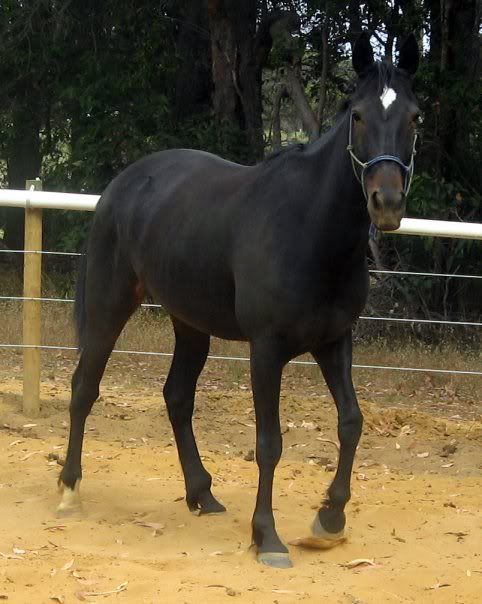 Sahara Fantasy (Fanta)
3yrs Cherry Bay 14.3hh Anglo Arab
My mum's beautiful baby. She is everything you would never imagine for a 3 year old of her breeding. She's so level headed and would much rather check something out that scares her rather than run from it.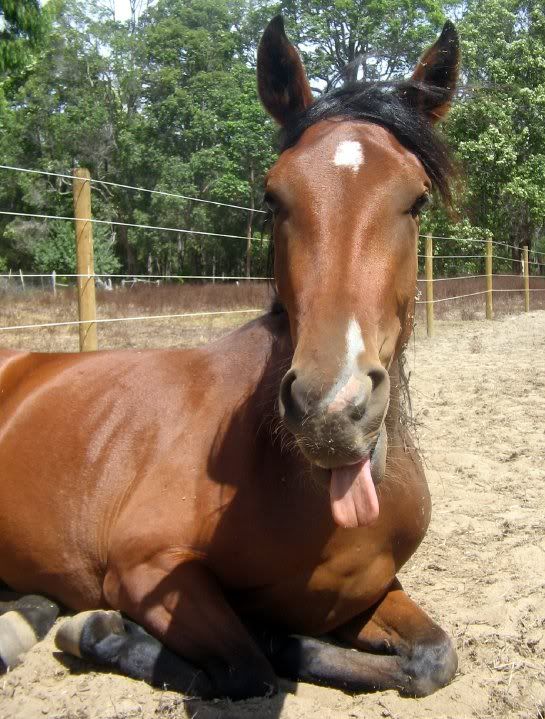 Phoenix
7yrs Liver Bay 16hh Standardbred
I picked this poor guy up cheap. He was running in a paddock with about 30 other horses. He came to me with shoes rattling around on his back feet and all 4 feet like skis. Have recently started him & he's coming along in leaps and bounds.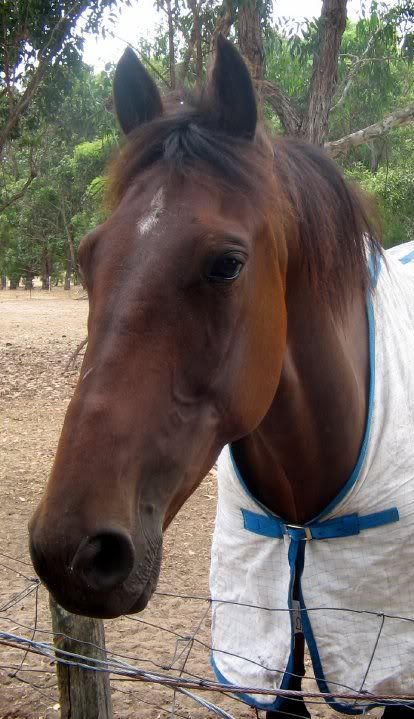 Midnight Son (Nippa)
4yrs Black 10hh Shetland Pony
This little guy has stolen my heart. He is so nervous around people, but he will try his heart out to do everything right. Not too mention his little face makes me melt everytime I see him.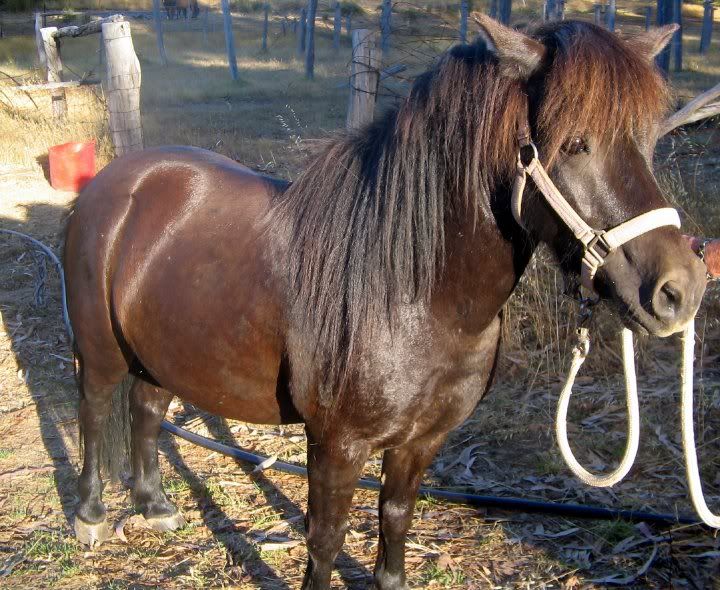 Kody
21yrs Bay 16hh Standardbred
I took this horse on a couple of months ago. He lost his own too unfortunate circumstances and spent many months sitting in a paddock afterwards. The owners of the property did their best to take care of him, but not being horsey people, there was a lot of things that hadn't been taken care of. He was a little underweight, wormey and had feet that made me cringe.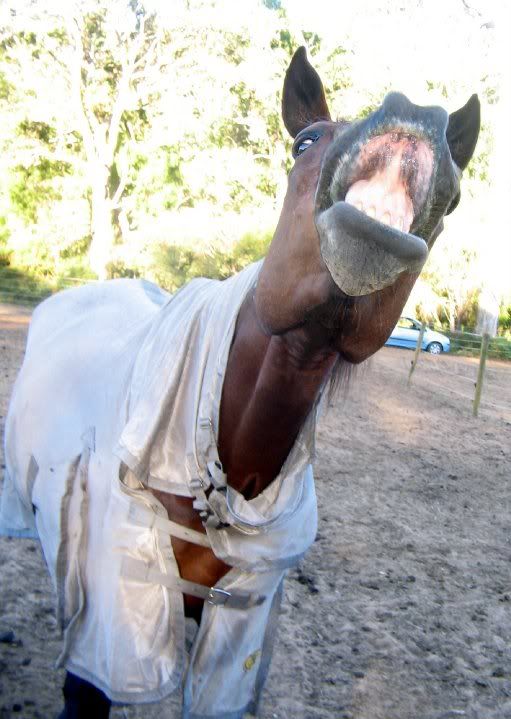 Romance
13yrs Brown 15hh Standardbred
This girl isn't even home yet. I am in the process of paying her off. She is in a foal to a beautiful clydesdale stallion for a Nov 2010 foal. At this point I am just so excited to bring her home in a few weeks!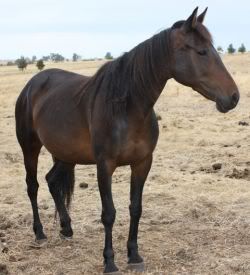 Ok, I think thats it. Sorry for this being so long! And if you took the time to read it, cookies & kudos!
---
Flirt-Hugo-Phoenix-Romance-Fanta-Nippa-Shiloh

Trojan 09.11.02 - 26.10.10 // Kody 01.09.89-25.06.12 // Rex 05.11.95-21.12.12

wow those are some pretty horses, i really like fanta, my horse is anglo too :) love 'em
---
Keep your feet on the ground when your head's in the clouds.
Thanks Speedy!
She is quite the stunning little girl, and she continues to amaze me with her temperament!
---
Flirt-Hugo-Phoenix-Romance-Fanta-Nippa-Shiloh

Trojan 09.11.02 - 26.10.10 // Kody 01.09.89-25.06.12 // Rex 05.11.95-21.12.12

What a gorgeous little group you've got there! *jealous*
:)))
---
"There's nothing more humbling on the planet than horses." --Sean Crocker
Beautiful horses : ) You'll have to post pics of that baby. Interesting cross
Nice lookin' group there! I love Trojan, he's so handsome! Can't wait to see more of your herd! :)
---
Thanks guys, I think they're a pretty nice looking herd too! Oh and I don't know if anyone was, but just in case you are wondering about Trojan's near side hind fetlock, he developed an infection in his navel as a baby which spread to the joint (I believe it is known as Joint Ill). His breeder spent thousands on getting it scanned and treated and he has been declared sound, he went through track prep afterwards with no problems.

Oh and ShutUpJoe, there will definitely be plenty of pictures when baby arrives! She's had 2 foals to the same stallion in the past and both have been chunky little things with lots of white, very much taking after daddy haha.
---
Flirt-Hugo-Phoenix-Romance-Fanta-Nippa-Shiloh

Trojan 09.11.02 - 26.10.10 // Kody 01.09.89-25.06.12 // Rex 05.11.95-21.12.12

What a great group you got there, I want to see pictures of that foal when it's born!
That's a great pic of Fanta! I haven't seen that one before. Just wanted to add my love of your herd and thank you from the bottom of my heart for always being there for mine. xx
Awww no worries. They're almost family anyway!
---
Flirt-Hugo-Phoenix-Romance-Fanta-Nippa-Shiloh

Trojan 09.11.02 - 26.10.10 // Kody 01.09.89-25.06.12 // Rex 05.11.95-21.12.12