What color of grey is he?
---
I've always thought of him as a dappled grey, but Ikeep hearing people call him a rose grey, and even a clouded grey (never heard of that before)
What would you consider him? I tried to show him in different lights(pictures are oldest to newest)
wow he is a gorgeous boy! Its really hard to tell....he looks more of a charcoal grey, does he have dapples?
I'd Call Him A Rose Grey Or Dapple Grey But Its Easier To Tell In Person! Handsome though =-)
Some times he has dapples, other times he doesn't, lol. I'll try to get updated pictures today
I'd call him a "Totally-gorgeous-dapple-grey" lol. For rose grey - there'd be a hint of sorrel through his coat to give him a kin of pinkish/reddish glow to him. If that made any sense whatsoever.

And if he's missing don't come to my barn ok? I swear he won't be there.
id call him a dapple grey, maybe dark dapple grey. Definantly not a rose grey.
---
quarter horses.....simply the best
I don't know that I would call him a dapple just from looking at those pictures. When I think dapple gray, this is what comes to mind.
I would probably call your boy a gunmetal gray. He is gorgeous, whatever you decide to call him.
---
Always remember that feeling of looking at a big, open country over the ears of a good horse, seeing a new trail unwind ahead of you, and that ever-spectacular view from the top of the ridge!!! Follow my training blog:
http://robertsontraining.blogspot.com/
We usually call that color a Smutty Grey. Whatever color it is, it'll get lighter as he ages.
---
I'm not arguing with you, I'm just explaining why I'm right.

Nothing sucks more than that moment during an argument when you realize you're wrong.

It's not always what you say but what they hear.

Here's some new pictures, sorry about the poor lighting! His winter coat is so much more dappled then his summer coat was :-D
And just to show the difference between mane and tail (think his mane will stay dark?)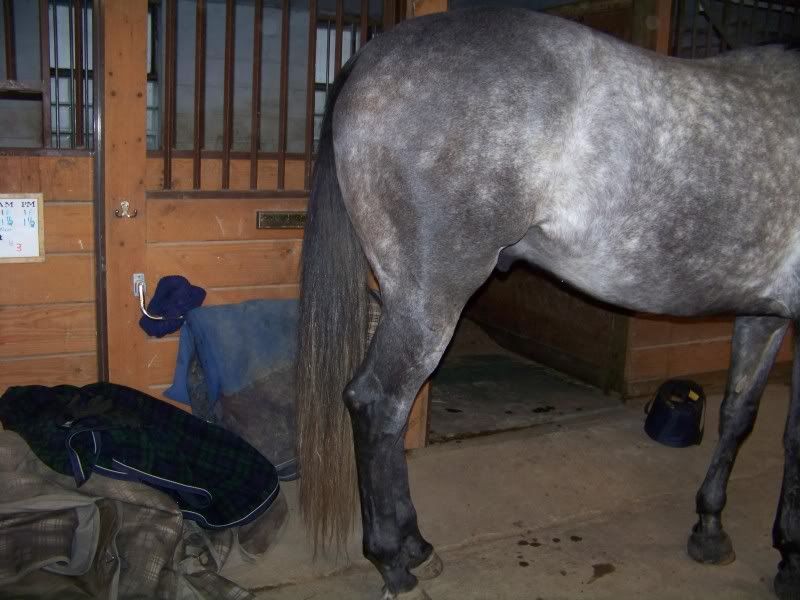 Looks like a Dapple Grey to me.

Definitely not Rose Grey and seems to be a little too patterend for a Steel Grey.