What color is she?
---
So as most of you know, I just recently bought a new mare. She was advertised as Grulla. But as there has been some question of her color in some of my other posts, I started to do some research. I had never seen a grulla in person before, so I just figured that is what she was. Someone had suggested she was a sooty/smutty buckskin. So I looked more into that color. She shows most of the characteristics of a sooty buckskin.
Most of the sites I've looked on, say smutty/sooty buckskins have dapples. And she does, oddly enough. When we first went to look at her, she didn't have any dapples what-so-ever. The day I went to get her, her dapples have appeared and have stayed ever since.
She also has a very distinct dorsal stripe. But I also read that counter-shading is a form of the Sooty / Smutty gene which mimics the dorsal stripe associated with Dun. Sites also say that their sooty color comes and go's with the seasons. Her previous owners say that in the summer, she is more of a golden tone. Let me know what you guys think. I'll post some pictures that were taken for her for sale ad, which were taken this spring and then some pictures of now.
The first two are from her for sale ad.
84581-4-x.jpg
84581-5-x.jpg
The last two are from the day I got her home. October 1, 2010
DSCF2384.jpg
DSCF2388.jpg
She looks smutty buckskin to me with countershading. A picture of her back could help determine that. Nice looking mare.
[
---
Last edited by HorsePoornBigSky; 10-06-2010 at

12:17 PM

.
I agree with sooty buckskin. In the last 2 she almost looks grulla except her face isn't dark enough.
---
"If a horse fails to do something that is because he was not trained to do it. If a horse fails to do something properly that is because he was not trained properly."
www.wildestheartart.com
New here, but I thought I would give my two cents... I actually deal with questions like this a lot (work for a vet). Grulla is the color to be these days and everyone seems to have one. Unfortunately, most that I have seen are just dun horses.

Your horse (from the pictures) is a dun. The dorsal looks quite distinct, to much to be counter-shading. I looked at both threads. A sooty buckskin will not have a dorsal.

She is very pretty.
Started
Join Date: Aug 2009
Location: In the barn whenever possible.
Posts: 1,910
• Horses:
2
She's gorgeous...but while her body looks grulla, I'd guess, dun because of the stripe. One of the requirements for grulla is the face has to be darker than the body.
Some examples:
My grulla filly: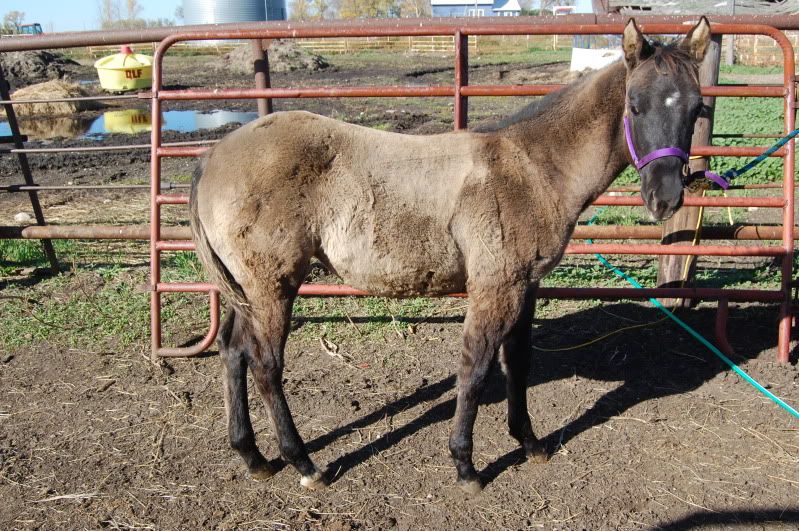 A friend of mine has a grulla filly: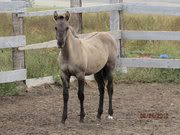 And this the the above filly's grandsire: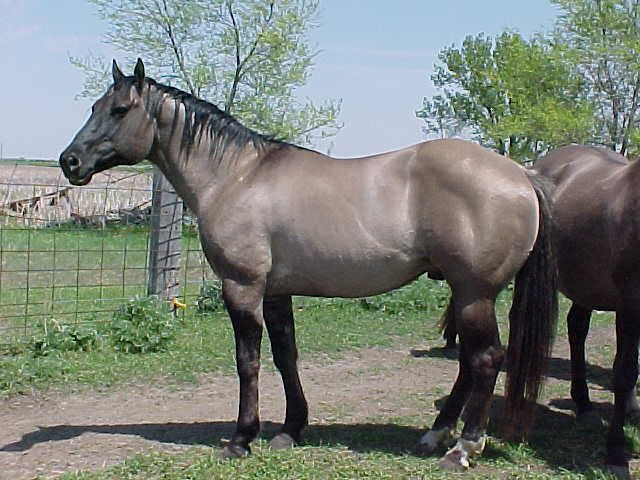 And this guy is mine: Despite his dark face he's a dun. (though his dad was a grulla)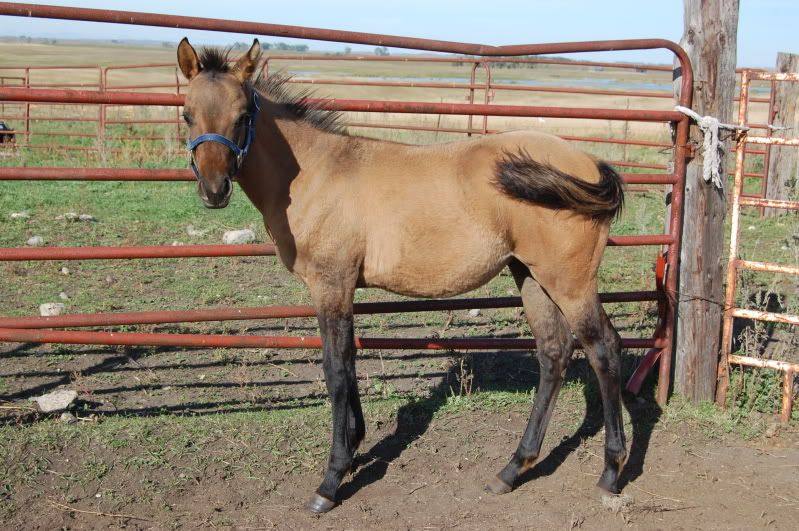 Ps..I have a sooty buckskin too. She also has a faint dorsal stripe and dapples in the winter. Hard to see in this picture though.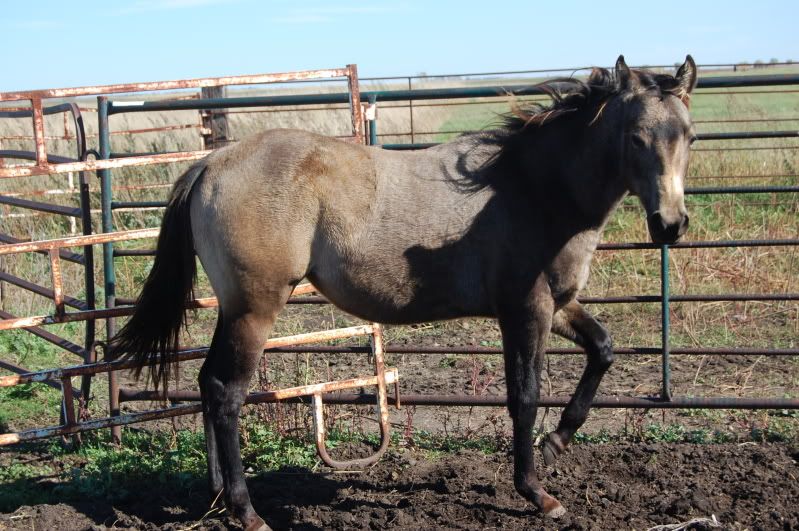 ---
"Riding a horse is not a gentle hobby, to be picked up and laid down like a game of solitaire. It is a grand passion. It seizes a person whole and, once it has done so, he will have to accept that his life will be radically changed." -Ralph Waldo Emerson
---
Last edited by Plains Drifter; 10-06-2010 at

03:14 PM

.
She very well could be a dun. I have seen buckskins with counter shading well over two inches thick. A back picture and even the ears will help rule out dun or buckskin.

I agree though defenitely not grulla.
Posted via Mobile Device
I would call her a dun, but with a different shade than most. The thing that I would say rules out grulla is her lighter face. Here's a picture of my grulla mare:
Either way, she's gorgeous!
Well the tips of her ears are the same color as her head. I will get a picture of her back and her ears tonight and post them.
Posted via Mobile Device
If she has tipped ears then she's a dun. Either way she's a nice mare. Looks laid back and easy going.
Posted via Mobile Device