Trained
Join Date: Sep 2011
Location: Germany- but not German =D
Posts: 5,151
• Horses:
2
You gs have done such fab jobs! I know myself I would prefer a horse with too much weight than too little now! Learn through experience I suppose! Dug out these too, think this was the 7 week point! Please note, no critique, I'm aware she ain't perfect build but I love her! OH, and thats my 5'2 mum haha!
Trained
Join Date: Sep 2011
Location: Germany- but not German =D
Posts: 5,151
• Horses:
2
Apologies its not the clearest, got some lovely ones and between my camera and laptop they have deleted them, so will get some more tomorrow, but thought I would share this with you, had her 5 months on the 11th and think you can see the difference even compared to the above photo ;)
We just hit our 8 week mark.
Day 1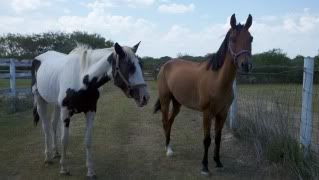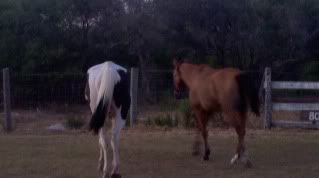 Earlier this week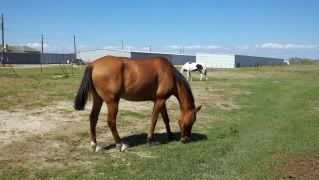 ---
~*~Never approach a bull from the front, a horse from the rear or a fool from any direction. - Cowboy saying~*~
Flash was a little underweight when I got him, but the weight's comming on nicely. He did have a nasty bout of rain rot and thrush as well. The rainrots all cleared up, and the thrush is almost gone.
He is such a sweatheart and a big lovebug.
These were taken a week after I brought him home. (July)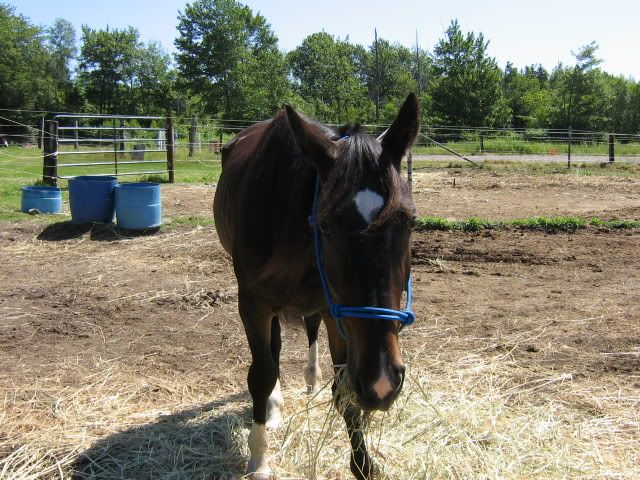 And these were taken last week.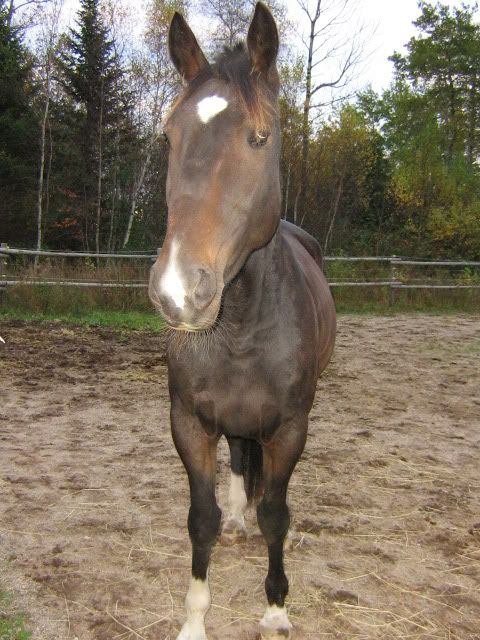 Oh, and his coat is usually all pretty and shiny, but that darn winter coat has come in and now he just looks like a giant puffball. Here's one with his nice shinny coat...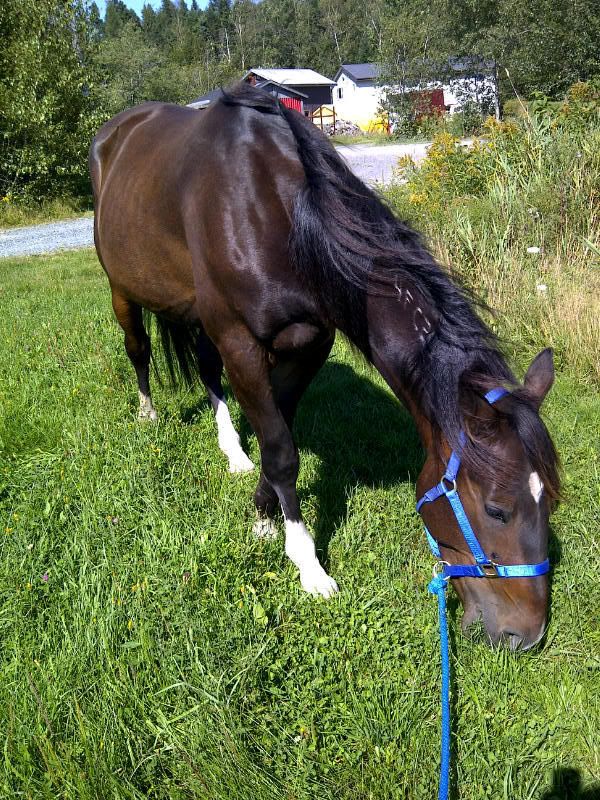 ---
Last edited by gothicangel69; 11-06-2011 at

06:10 PM

.
Jack's come a long way in a year. Even the vet didn't think I could save him
---
Cowgirl up!
I got my mare in pretty decent condition...physically...and for 'sight unseen'...that was a blessing. I had seen photos, and we had had several conversations, and I knew I was getting a definite project horse, but that is what I wanted, so I was fine with that...and mentally my mare was definitely 'damaged goods'. She was very flighty overall (I got her as a 'bucker bolter' under saddle...I didn't have any doubts that she was, when all I had to do was put an arm over her back and she was ready to jump and slither away) Groundwork was where I started...didn't even think about putting a leg over her until I knew she was thoroughly desensitized to everything I needed to use on and and around her in order TO ride her! I took about 2 and a half weeks just doing the groundwork and desensitization, and got on for the first time. She really hasn't looked back.
On the ground, I can trust her with just about anyone...and have used her to help little ones learn how to handle horses, brushing, cleaning feet, etc.
Undersaddle, is a different story; there are few people I would ever trust to ride her by themselves, because she is very sensitive to weight, and leg pressure...perhaps in a few more years she will get better, and become more forgiving of people's mistakes, perhaps not...either way, I love her. I can use her as a lead line horse, and she is fine, I would just never put her in a situation of "lesson" horse. She is one of the best minded trail horses I have owned; never gets effected by what antics other horses are doing, and could careless whether she goes in a group or by herself, no matter how often I get out on the trail with her. She is extremely smart, though, so arena work gets boring for her, but that's okay with me too, since it challenges ME to always be thinking up different lessons and always be mixing things up. We fit each other quite well really.
I have now owned her for two years, and the photo below is something very special for sure...2 years ago...no way would she have come this close off lead to me, just for the sake of being close...that said, I am the only person she is this closely 'bonded' to; but I am also the only person who has actually worked for it as well.
---
"The ideal horseman has the courage of a lion, the patience of a saint, and the hands of a woman..."
---
Last edited by mom2pride; 11-06-2011 at

09:50 PM

.
mom2pride, your girl is gorgeous! sounds like you two have come a long way, congrats on that :)

littrella, your guy looks AMAZING! gret job getting him back to health!

everyone's horses are looking good compared to the beginning pictures! my guy looks pretty much exactly the same, so no before and after shots for me :)
---
Last edited by amp23; 11-06-2011 at

10:05 PM

.
Green Broke
Join Date: Apr 2009
Location: Queensland, Australia.
Posts: 4,488
• Horses:
1
I didn't buy my horse in a very good condition at all. Taking on an undercondition OR overconditioned (Too MUCH weigh) horse is a very tiring, physically demanding and exspensive job. I hate seeing people who take on a horse that isn't of a good weight - over or under and:

A) Are not aware - feel that their horse is of a good weight and that their horse is 100% fine and aren't willing to put in the effort or accept that there needs to be something done about their horses weight.

B) The 'Oh I know.. We're working on it' story line & the horse has even WORSE condition 6 months later. CLEARLY, your idea or feeds aren't working.

If people are going to take on a horse which has weight issues they need to be commited. It's hard, I'm sure many people who have been through it will agree that it is very challenging & stressful. Okay, rant over. :)

But yeah, when I got my horse he was quite badly under weight, had a very unhealthy coat and different forms of skin infections. It took LOADS of work, money and time. But now he has a coat thats so bright you basically have to wear sunglasses near him and his nice and healthy. He wasn't being fed the correct diet (After coming off racing he was put onto minimal hay in a dry lot, due to he was 'no longer important'). His teeth got done urgently and a diet was created with a vet & it took a good six months. But with correct hay, grains AND full turn out we saw what this could do to him.
---
Sir Success. Eventer.
2000 - 2013,

I got Romeo almost 4 years ago and this is what he looked like...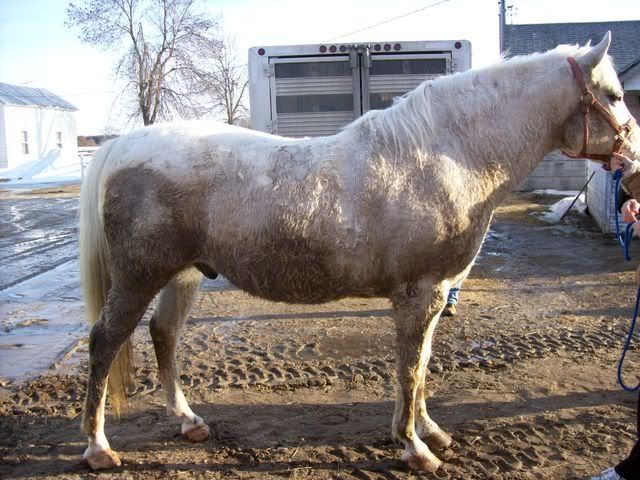 And this was the begining of summer this year
---
RIP Minnie, 1981-January 15, 2010
RIP Maggie Mae I miss you