what a smile!
---
My youngest asked me if she could ride her new horse Jasmine. I told her "Yes, in just a minute." as I was busy. Her idea of a minute and mine seem to be very different! I looked up and out the kitchen window, and there was my little girl that I've worried so much about riding Jasmine all over the back yard! She'd saddled her, put on her briddle and everything. I noticed she skipped her much hated helmet and traded the tennis shoes shes supposed to wear for her favorite slip-ons. She hates closed shoes also, so at least she thought enough to wear shoes that cover her toes! What I noticed most though was her beautiful smile so I had to take a couple of pictures before I played the meany and made her get down to re-dress and wait for me.
[IMG]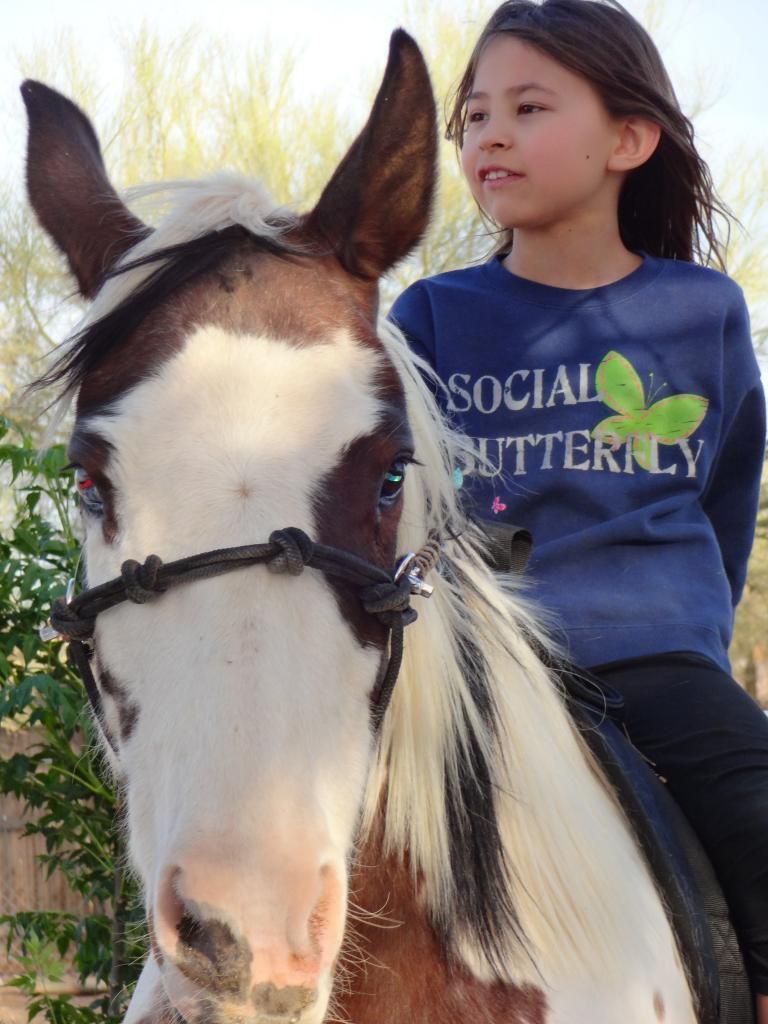 [/IMG]
[IMG]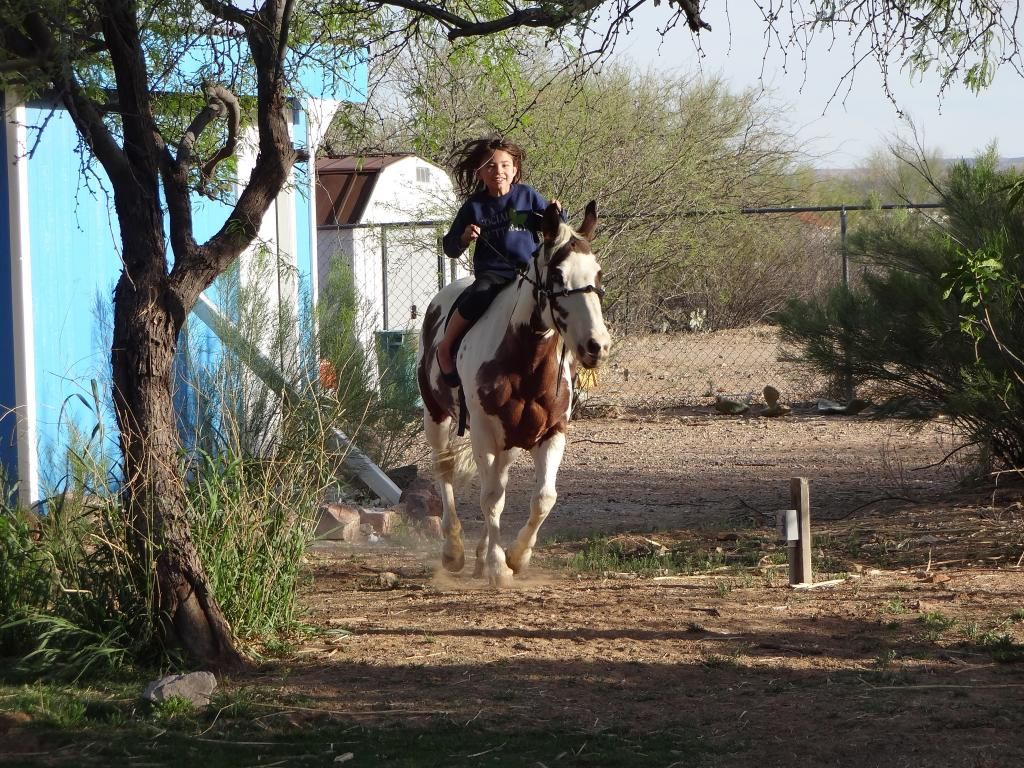 [/IMG]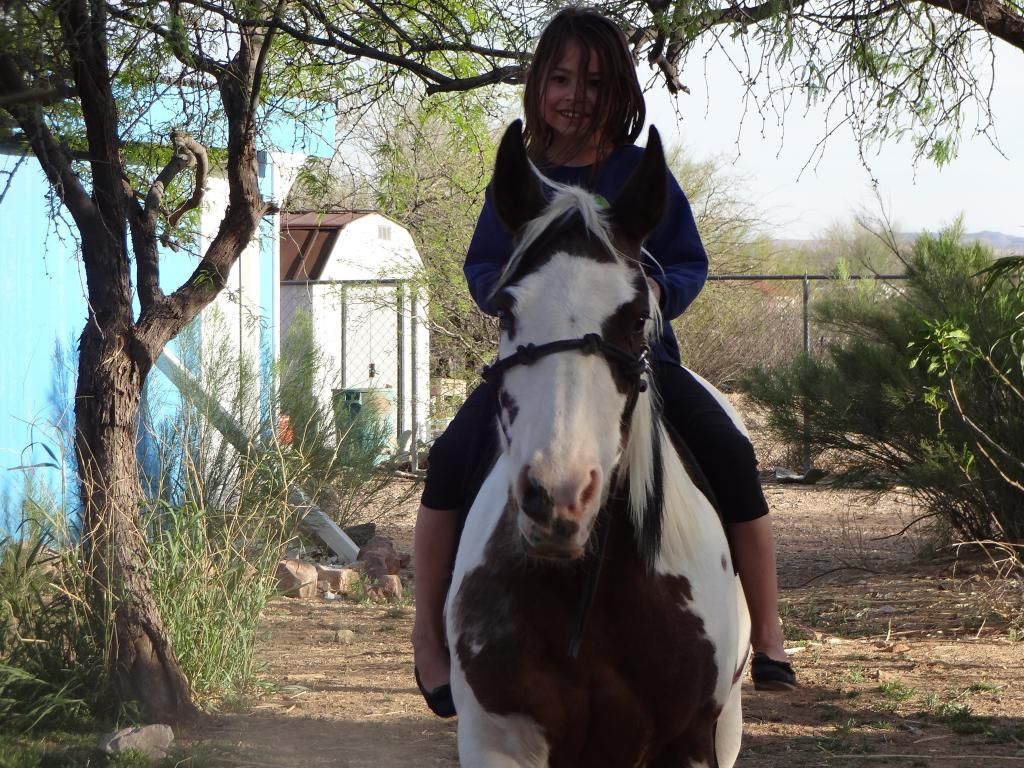 Haha beautiful photos! :) Must love her horses!
---
Horseriding- The art of keeping a horse between you and the ground.
Isn't that how the addiction started for all of us? I love those pics
Your daughter and mine have the same look on their faces when they ride. They are in heaven! She is a very pretty girl
---
Donna
Truth is meaningless in the absence of understanding.
Thanks! Shes definitely addicted to horses!
Aww too cute
Posted via Mobile Device
What a cutie :)
---
"Strength is the ability to use a muscle without tension"

Awww they're both beautiful!!
---
Being horseless is the pits!!
Love the pics! Your daughter and her horse are both gorgeous! Your little girl is clearly over the moon. She looks like a natural
Cute girl and cute horse
.
---
"On hyviä vuosia, kauniita muistoja, mutta kuitenkaan, en saata unohtaa,
Että koskaan en ole yksin, varjo seuraa onneain.
Vaikka myrsky hetkeksi tyyntyykin, varjo seuraa onneain.
Ja pian taas uusin hönkäyksin, varjo seuraa onneain.
Hei tuu mun luo, pieneksi hetkeksi. Puhutaan, varjoni, valkoiseksi enkeliksi."
Pelle Miljoona - Varjo seuraa onneain

Similar Threads
Thread
Thread Starter
Forum
Replies
Last Post
Smile!!

BarrelBunny

Horse Pictures

5

07-27-2012

10:05 AM

Smile :D

Fringe

Horse Pictures

8

04-08-2012

06:30 PM

Who needs a smile?

sammerson

Horse Talk

11

01-31-2012

09:45 PM

Best smile :D

LoveStory10

Horse Contests

21

07-04-2010

03:45 PM

SMILE!

whitetrashwarmblood

Horse Pictures

16

09-03-2008

05:26 AM