Very interesting photography! What unique color options...
---
Amber.
Opportunity is missed by most people because it is dressed in overalls and looks like work. ~Thomas Edison
My boots came in!!
---
I ordered a pair of Saxon Equileather paddock boots from doversaddlery.com and they just came in today! :) A bit of an early surprise since I wasn't expecting them to come in until Monday!
The half-chaps that you see I bought a while back but never had the chance to use them since I got laid off from my job the last time I was planning on learning to ride.
ALSO I am going to be have my very first lessons tomorrow!!
Katie (the BO at A-1 Equestrian, aka the place that I am now volunteering at, is going to do a 1 1/2 - 2 hr lesson with me tomorrow. I cann't express the amount of excitement brewing within me! I will do my very best to get pictures or a short clip if I can but I might save all of the until my 3rd or 4th lesson, since it is my first and i do not wanna be distracted by the camera and if i look good or not lol :)
So I wanted to show you guys my boots! I didn't have anyone around to take a full-body pic but, at least you can see how shiny and new they are!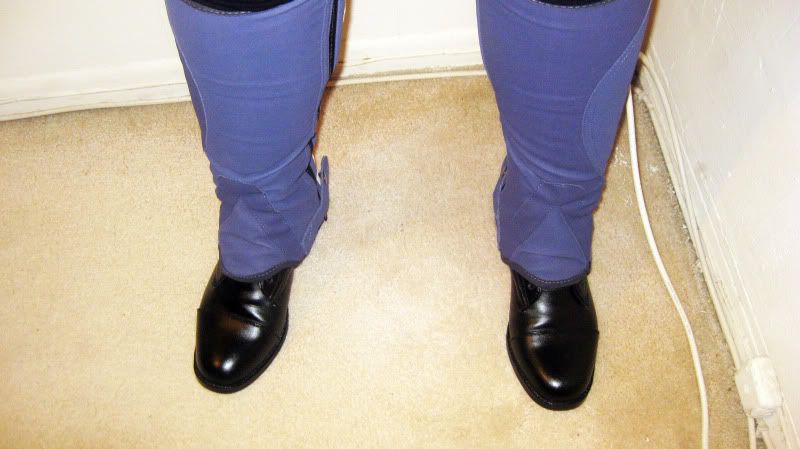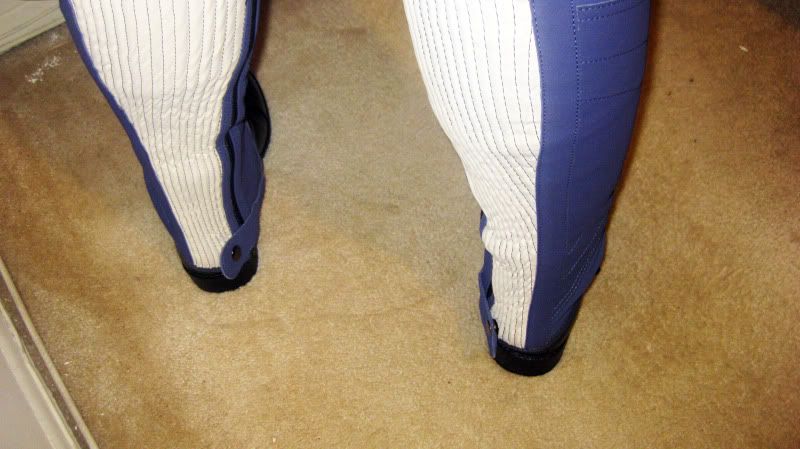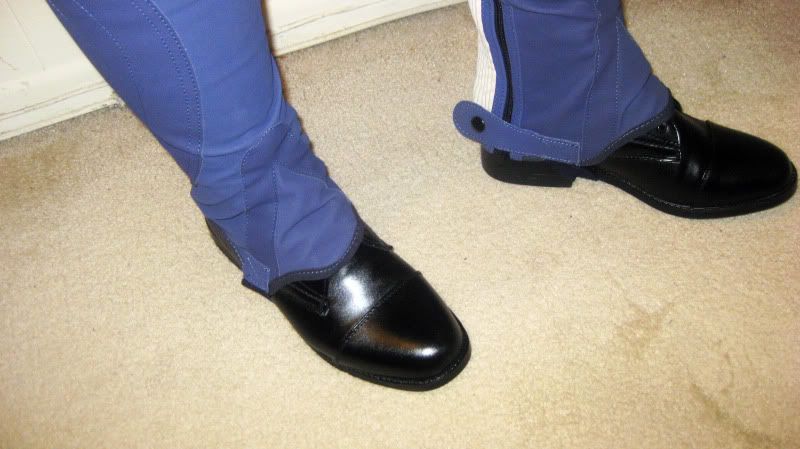 ---
"All we see or seem, is but a dream within a dream..."
Thanks!
btw i realized that a put my chaps on TOTALLY wrong once I got to the stables and someone told me lol..
---
"All we see or seem, is but a dream within a dream..."
Coollll! Keep posting. Love to hear more
Sounds like you are going about this all the right ways! Can't wait to hear about your lesson!
A 1 Equestrian
---
Hey guys thanks for subbing! Sorry I haven't had much time to update my progress :)
Here goes!
People donít teach people how to ride, horses teach people how to ride. ~Anonymous
Before AAF, there was a place called Jesse W. Ranch and it really didn't work out for me, as the trainers practically ignored me and didn't want anything to do with me. Plus after a couple of weeks the owner completely forgot about me and never called me to come in and volunteer. I was more interested in the horses, not those who wouldn't accept my being there. But anyways!

I noticed behind AAF, there seemed to be a very sharp looking facility with a quality area and jumps and stables all very "clean" looking. Little did I know that this was the place that would bring me one step closer to my goals.

There was a banner up on a fence in front of an inlet and there supplied a phone number and amenities that I had been looking for. A place where I can explore both english and western riding, a place where there was a trainer willing to work with me. A 1 Equestrian was the place for me, and I found Katie :) and I was very glad she opened her doors to me!


So I then decided to tell Jesse W. Ranch to "stick it" and I am going to volunteer exclusively at A 1 Equestrian :)

Reasons why:

1) They have a HUGE property and it is CLEAN.
2) They are the only ones in the area who have an official certification to host shows and clinics on the property.
3) The horses there are primariliy thoroughbreds and warmbloods (showing background) and a few lesson horses of various kinds.
4) The BO/Trainer is from all over, not solely from FL. So she knows what the REAL show scene is like.
5) The tack room is spotless and holds quality riding equipment.
6) The owner/trainer is part of the USEF and has a few articles on her winnings and showings all over the country.

Look for Katie McDaniel :)

Katie McDanielís Gamble Pays off with Casino in USEF Show Jumping Talent Search : Hunter Jumper News
Starting Gate Communications - Photo Gallery
Haness Holds Onto First In Maclay Finals | The Chronicle of the Horse
Riding with Equitation Star Maria Schaub: Results: 2006 ASPCA Maclay Finals
National Horse Show

7) The owner/trainer wants to give back to the community by having her business, instead of raising interest for her own benefit.

8) The owner is accepting volunteer work in exchange for riding lessons :)

This place is where I want to be and I am going to live out my time in Miami contributing to this place! (Which will approx. be 2 more years) and gain the experience I need to live out my dreams of living the horsey lifestyle, and possibly competing.
---
"All we see or seem, is but a dream within a dream..."
First Lesson!
---
Anyone can ride, it takes talent to stay on. ~ Anonymous
After a couple of days of learning how to properly muck out a stall and the daily morning tasks, I was finally able to get on the saddle.

I was going to be riding Abby, a previous 3 day eventer horse, and I had this feeling that she didn't like me very much! Everytime I would go to her stall she would turn away from me or pretend like she didn't know I was there, lol. But, I was going to ride her no matter how crabby she was going to be!
So it started when I was putting her halter on, she forced her head down so she can eat some more hay but I tugged her out of the stall and she came willingly. Then once I got her on the cross ties, I was attempting to take her fly mask off but she was being naughty and put her ears back so it wouldn't be easy! Once I got it off, and was looking for the hoof pick, she decided to poop where she stood! She scooted over a bit. Looked at her poop, then stared at me, like she was saying "..Thats for you you know." I laughed and sighed and gave her the same glare, and cleaned it up. Cleaned her feet, brushed her down, and then it was time to tack up :)
Katies showed me what to put on in what order and what strap goes where, how many notches, and so on and so forth. When it came time to lead abby out to the mounting post, me and her had a little talk. I said to her "You may not want to accept it, but I'm going to ride you, and you are going to like it!" And I lead her along although she was lagging behind. I took my last step as a regular girl not knowing what to do with her life, and took my first step as a woman, and once I settled into my seat, I was formerly introduced into the horse world..
This moment was now my favorite, and let me tell you, it felt unbelievable. I felt like I belonged there. It felt like I found a long lost friend, although I have never known them, it felt right :) Once I settled in, Abby was content, and she was very kind, and sweet, and alofthesudden, didn't mind me so much.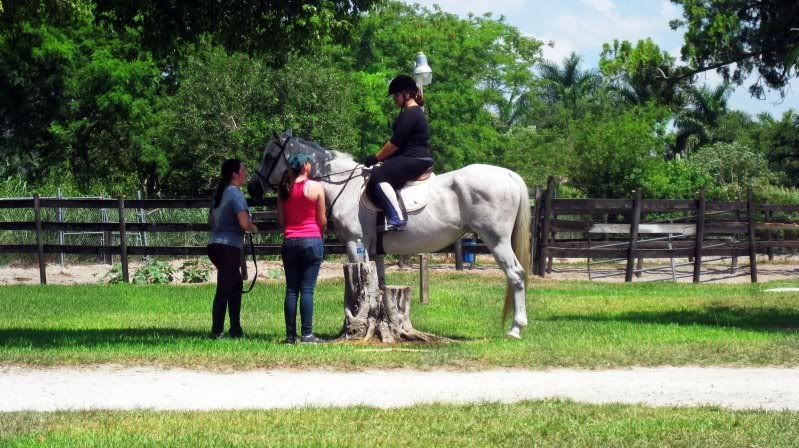 My first lesson went so much better than I thought. I had some serious butterflies lol, but I found that, I'm actually kind of a natural at it!
My trainer felt that I did very well for my first, and was excited to be training me.

Here is a clip of my first lesson. Sorry It wasn't better quality as far as shakeyness goes, the better clip was accidentally deleted x.x



A continuation on my first lesson can be found here

---
"All we see or seem, is but a dream within a dream..."
---
Last edited by Moonstruck; 06-01-2011 at

11:31 PM

.
Lesson II : The Dreaded Trot
---
So it was time for my next lesson, and boy was I excited

I got to the barn, performed my usual duties, and again it was time to tack up Abby for our second ride together!
However, she wasn't nearly as enthused about it as I was. She saw how happy I was to be riding her and like clockwork, she decided to poop at the crossties again to remind me that she is just not happy. I just looked at her and said "Watch. One day I'm going to poop in your stall and see how YOU like it, Abby!" And she just stared as I cleaned up after her.
She makes me laugh. She reminds me of Lucy from the Peanuts series (Snoopy)

So this time I was being trained by max instead of Katie since she was out of town to SC (her hometown) for memorial day weekend. Which was fine, because I think Max has the experience to show me the ropes. And it went just as well as my first lesson!
Abby was happy with me and I was happy with her :) We make a pretty good team despite her out of the saddle crabbyness, but I don't let it bother me :) It just makes me want to love on her more!

Abby after our lesson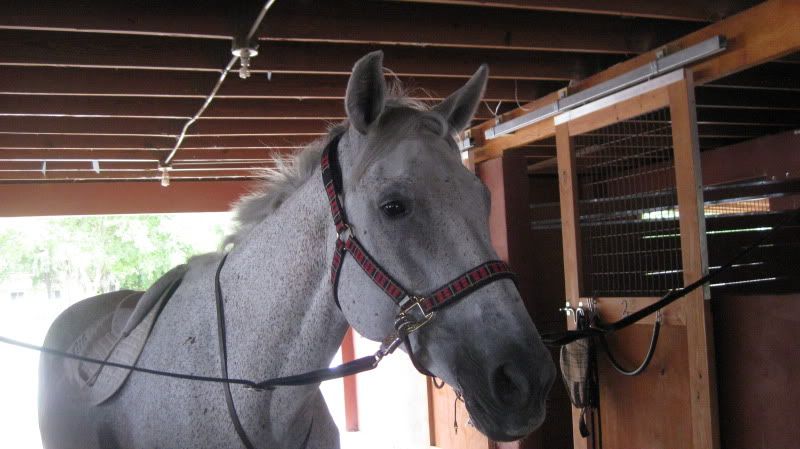 Before I left the barn I gave her a couple of treats and told her how good she was and as her nose neared mine I kissed her on the nose and she pinned her ears back and shook her head and backed away as if to say "Eeew! Human germs! Blech!"


A continuation of my 2nd lesson can be found here
---
"All we see or seem, is but a dream within a dream..."
---
Last edited by Moonstruck; 06-01-2011 at

11:45 PM

.