work, work, work! Poor pony :(
---
So, my new leasee came out today, and man did she give Ice a work out! Her and another girl were trading back and forth riding him, and they finally got him to canter!! Of course I didn't get pictures/video of it, he waited till my camera was away to start showing off, but man he is a great mover. With a little bit of work, he could easily be a hunter EQ flat horse, if we could just get his head to lower. He's well worth the 500 dollars I bought him for, and finally other people agree with me! After they were done giving him a workout, she gave him a bath. He looooooved it. 5 yawns in a row, lots of licking and chewing, and about 12 yawns over all. Tomorrow he'll probably be disgusting.
as you can see by his feet, he's super lazy.
happy boy!
sweaty boy! Pre-bath...he had froth between back legs, but I figured you guys didn't need to see that.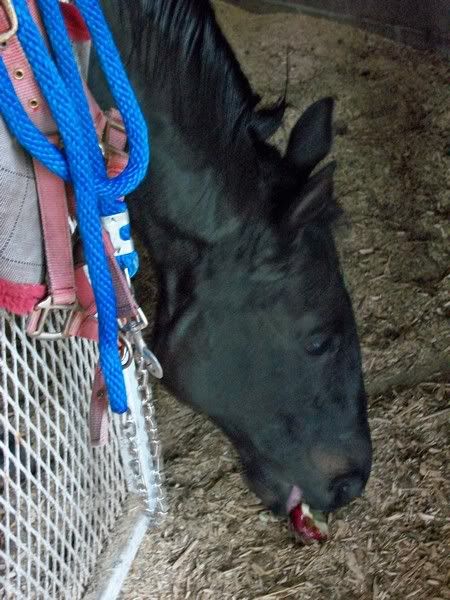 Eating his apple!! It was a whole one, but he took it out of my leasee's hands, dropped on the floor and started taking chunks out of it, who cares if there's shavings dust on it?
Aw, he's super cute! Could use a few groceries though. ;D He seems super sweet!
Believe it or not, hes actually FAT. I don't think we'll ever get rid of his ribs, its a TB thing. But yeah, maybe more work will make him look better?
I agree and disagree that it is a TB thing. Yes, TB's are known to be "hard keepers" but you have to dig down deeper to find out why, intsead of just saying "it's a TB thing" because it isn't - it is a health thing.

I would have him scoped for Ulcers, I would look into digestive issues and I would be looking into your feed system to find out what he is lacking, and what he needs.

You should not see ribs, I would not consider him fat by any means. It's ok - I understand, because Nelson has been difficult, but we're getting there.

You boy is beautiful, and looks very kind and willing - but I would definately dig deeper to find out why he isnt gaining weight...because it is not a "TB thing"
---
Started
Join Date: Jan 2009
Location: USDF Region 1, USEA Area 2, USEF Zone 3 - Maryland
Posts: 1,903
• Horses:
3
I agree with MIEventer-
my older TB mare was very ribby and lacking overall muscle when I got her. I did some homework and right now she is almost kind of fat... really fat.

Ice looks like a nice boy! Hopefully the lease works out!

I would tell the girl that she can't ride in tennis shoes though, for safety reasons.
---
-Melanie
Mom to 3 bays: Beau, Daisy & Cavalina
He's actually not a hard keeper at all. He has a gut and has flabby shoulders and chest, but also ZERO muscle. He does look better when he's worked, which he hasn't been for four months. However his new leasee is taking him out three times a week, possibly more.

I wish I had pictures to post of what he looked like when I first brought him home. He is fat compared to a year ago.

And I knew someone was going to mention that--she's just getting back into horses since she moved down here for college, so its on her list. She's also buying him an English saddle of his own. :) I offered to let her borrow mine, but I'm two sizes too big.
A big belly and no muscle tone with a little rib action kind of make me think parasites, what is your worming rotation?