Working at Liberty
---
Working Shea at liberty.
Sorry this pics a bit blurry, but i liked the pose.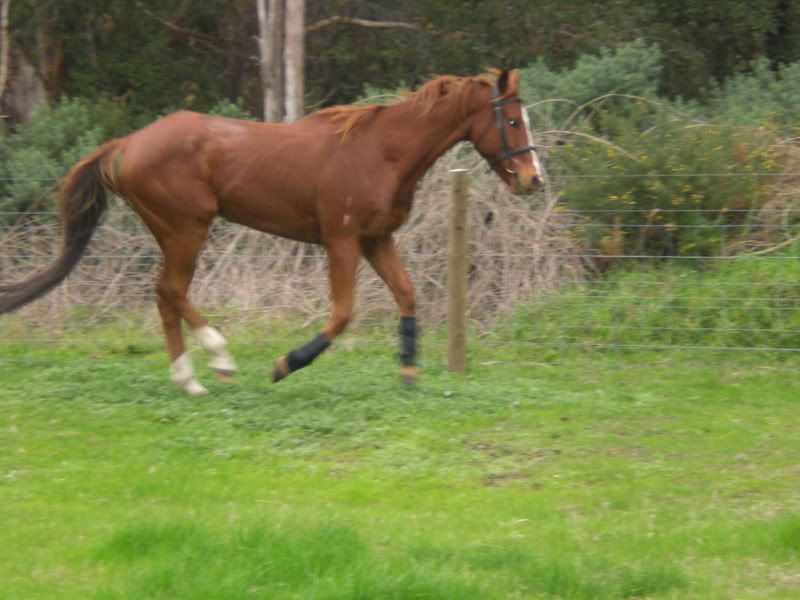 He's such a good boy, i thought when i took him off the lunge he would run off like "ha! can't boss me now!" (as we were in a paddock, rather than a round yard, thats three times a big) but he runs in nice wide circles and keeps an ear in to listen to what i tell him. If anything he's probably even better without the rope.
Mine are the same. I like to free lunge them, i think its the best thing for them, it developes a bond and teaches them to listen and respect you without the use of artificial aids.

Will he stop and come in to you on cue??
Great pictures!
He is a good looking guy, sure looks calm!
Quote:
Originally Posted by Miss Katie
Will he stop and come in to you on cue??
sort of, when i ask him to drop from a trot to a walk he'll turn into me, like asking "do i come in yet?" and if i get behind him he'll keep moving, but if i invite him in he'll walk up to me.
He is adorable!
---
Ride more, worry less.
Thats great that he will come when asked, that is the biggest achievement, he wouldnt come if he didnt respect you.
it may be the lunge whip he respects more than me, :P
aw he's a cutie! I agree, I like free lunging too.
---
No hour of life is wasted that is spent in the saddle. ~Winston Churchill
He's cute, that little guy is all legs!