Wow! GREEN grass!
---
It's something my horses haven't seen in a while, lol. There is plenty of grass in their paddock, but it's all yellow and dry, so when I let them out they barely come up for air, haha. I went up to feed them yesterday I let them out to graze for a bit, and took some pictures to pass the time... and got carried away, lol.
I picked out some of the better ones.
I warn you, there is a lot.
(Used the "sunset" setting on my camera, made the photos more red)
(Then the "nature" setting which made the greens really stand out)
Penny my old mare, who is usually bombproof, saw my lying in the grass, and was like OMG! Haha, she's so cute!
Sepia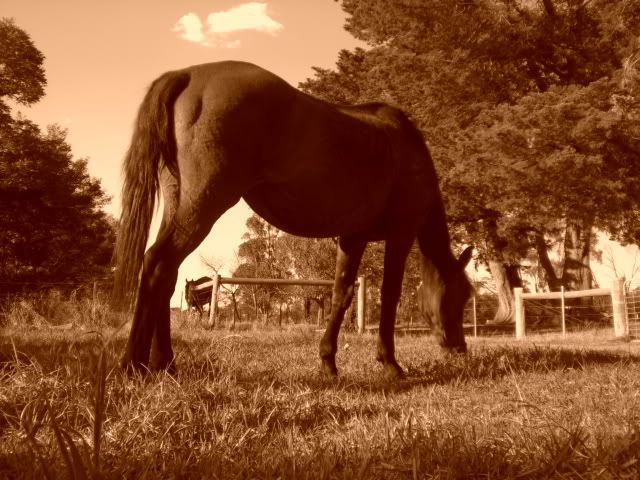 Normal setting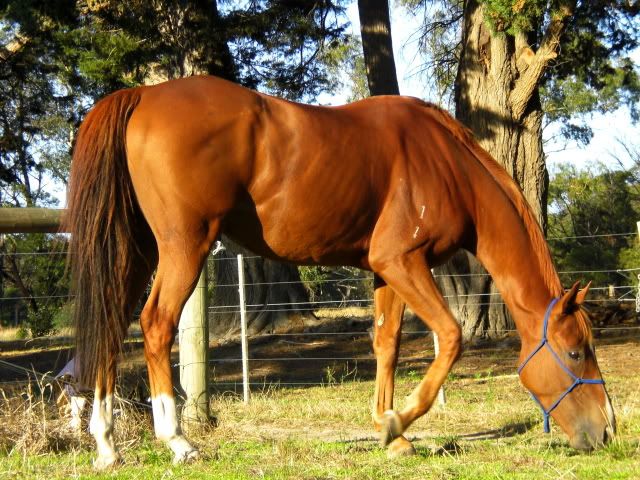 Shea looks very athletic and "thoroughbred-ish" in this one. Pity the fence cut his head off, but its a cool body shot.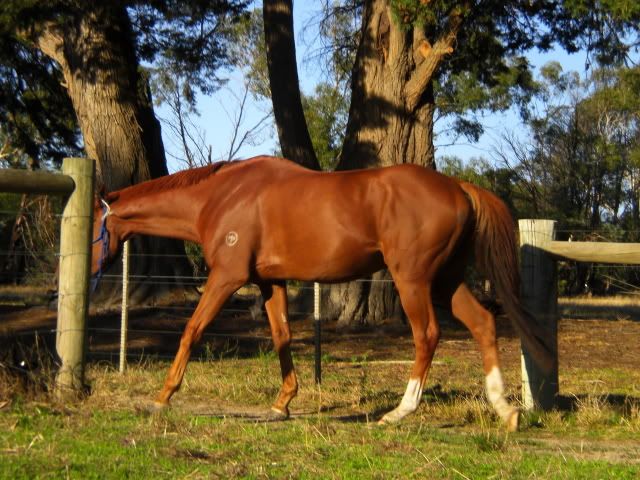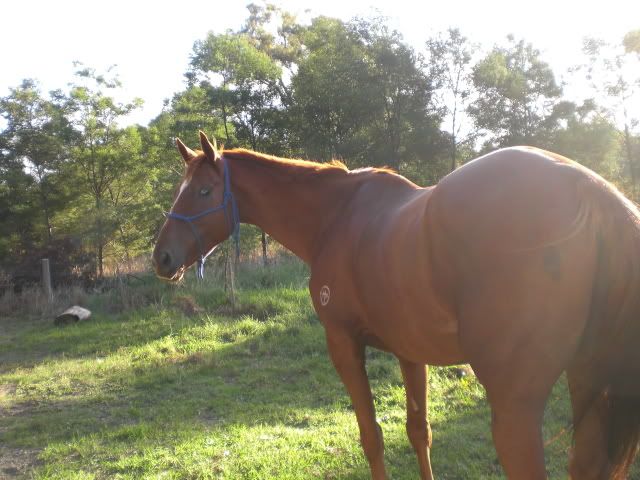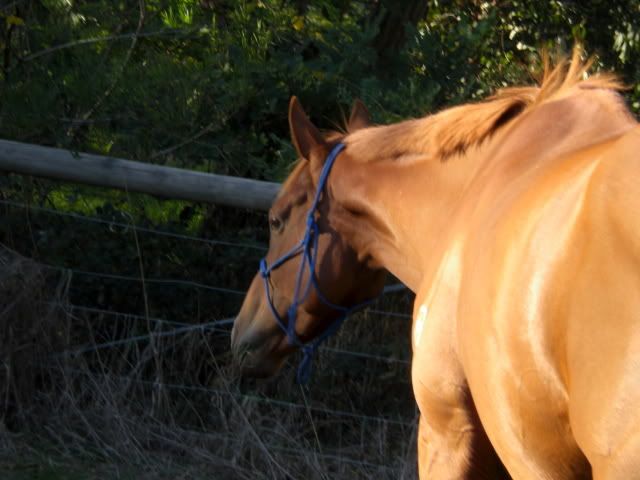 Donkey ears!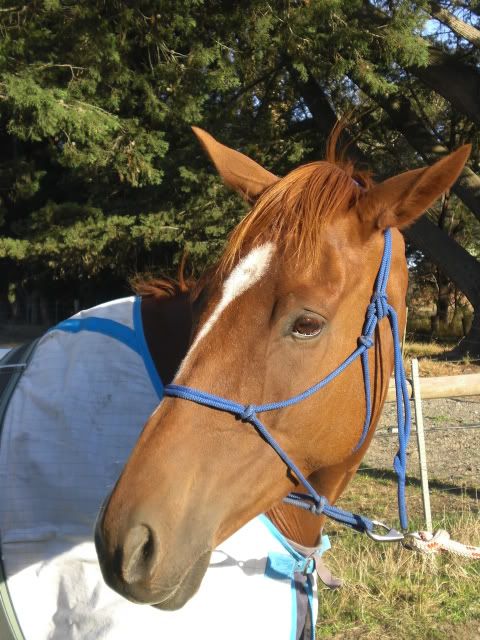 Cute face <3
And a random pic of one of the paddocks, thought it looked kinda cool, idk.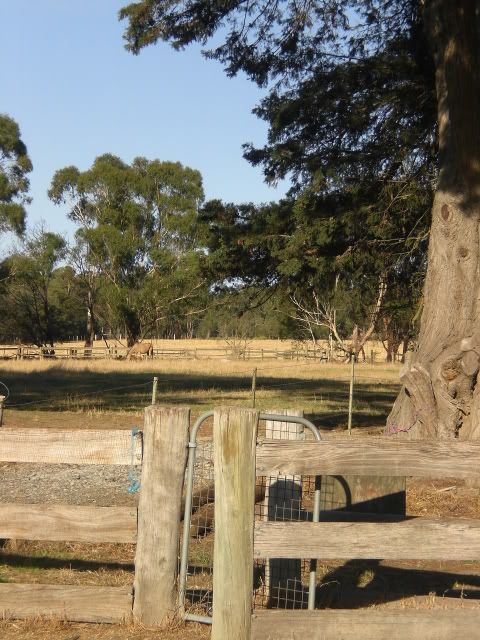 ---
Last edited by RedHawk; 03-22-2009 at

07:57 AM

.
Nice green grass! It feels like it's been so long since we've last seen it.
There is hope for warmer weather afterall! Cute ponies! They look very happy with their new 'green' space.
---
People on horses look better than they are. People in cars look worse than they are.
- Marya Mannes
Great pictures! I don't even know that the color green looks like anymore! It's been along winter! My horses are going to be so happy when the grass comes in! Yay, only another month or so!
Wow, those are awesome!
What kind of camera do you have??
You have beautiful horses, congrats on the grass, in areas I don't have a lot of green grass yet, also I'm in the middle of buying my own property instead of keeping the horses at my mom and dad's the reason I'm buying the new property is its just down the road and its 17 acres of field with a nice pond at the bottom, so the horses will have plenty of room to run, with forever supply of water, we're going to make a stream going to and from it, so that the water is always fresh and never will get stag net... Thank you so much for posting and sharing your pictures with us. What are your horses names?
---
*~BEKI~*
you can start with nothing, and out of nothing or no way, a way will be provided.
Grass, I haven't seen that in quite a few months. I miss the color green...
The photos are so vibrant with color, reminds me that spring is on its way and I should be seeing some color in my own area soon. Thanks for sharing your horses are gorgeous.
Great pictures!

My horses do the same thing when there is finally grass in the yard and we let them out. They don't come up for air until their bellies are full haha.
---
TM Tardy's Chick "Hunter" - 13 yo Paint
Remmy - 18 yo Morgan/QH cross
Gunner 3/31/11, Heidi 7/2009 Miniature Sicilian donkey

FGR, i know what you mean, except for us its been a long summer. Had some rain (finally!) over the past week and the paddocks went green in a matter a days.
Gabrielstriumph, my camera's just you average, middle of the range digital, a Casio Exilim. I've just put it on the highest setting for the most megapixels per pic, to get the best quality possible from my camera. (That makes it sound like I know a lot about cameras, haha, I really don't
)
Aruraeclipse, that's exciting about getting your own property! Mine are currently agisted with about 20 other horses. The bay mare is Penny, and the chestnut gelding is Shea (pron. "shay").
And thanks everyone else for the comments!
Here is a pic of the paddock they're in, so you can see how dry it is. The paddock in the front of the pic is the one they came out of a few weeks ago, where the grass is all eaten down, and you can see the new green stuff all shooting.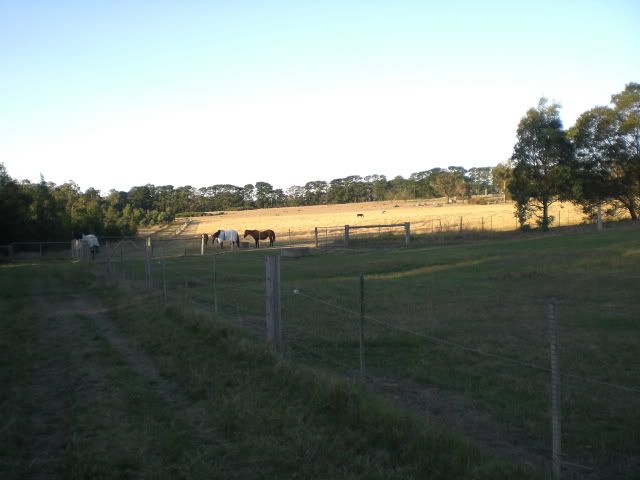 ---
Last edited by RedHawk; 03-22-2009 at

05:18 PM

.