You know you've had a lot of snow when...
---
YOU HAVE TO DIG YOUR HORSES OUT!
We just got hit HARD with a three day blizzard that dumped about 30cm+ snow on us (11 inches). This was combined with winds gusting up to 70kmh (43mph). You do the math! Needless to say, we didn't get to see the horses much this weekend, the highways were virtually shutdown from white outs.
We got out today and thank god, some merciful neighbour plowed the driveway. We were on our own for the pasture - the gate was almost buried, and snow has drifted up against it, inside the pasture, easily 3 feet deep and probably ten to fifteen feet out.
I just had to take some pics of Shay-la shoveling our path!
After digging the gate out and working on the massive drift inside the pasture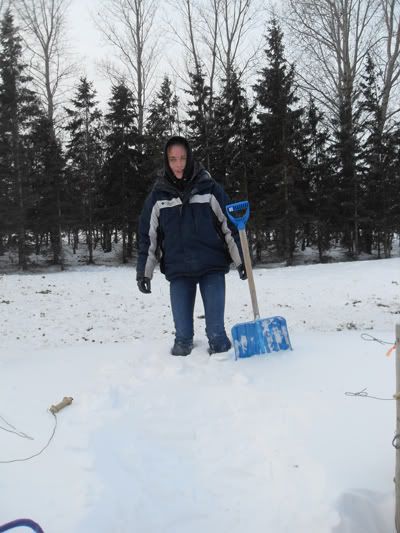 It's hard packed to - you can walk right on top of it, Shay-la had to jump to get herself down this far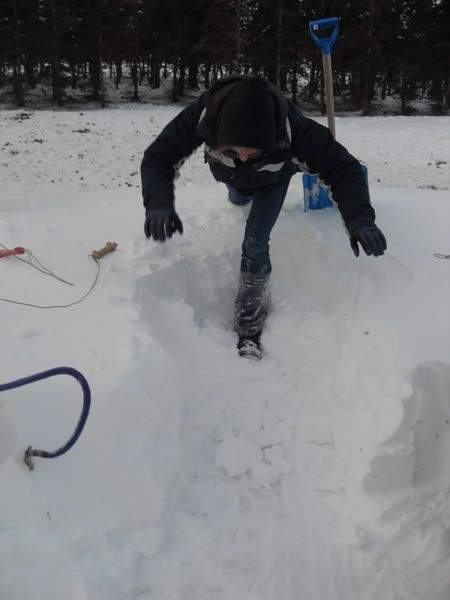 Crawl back out!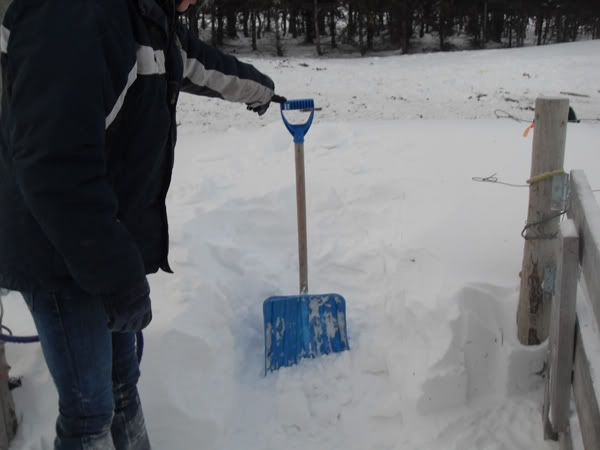 In relation to the size of the shovel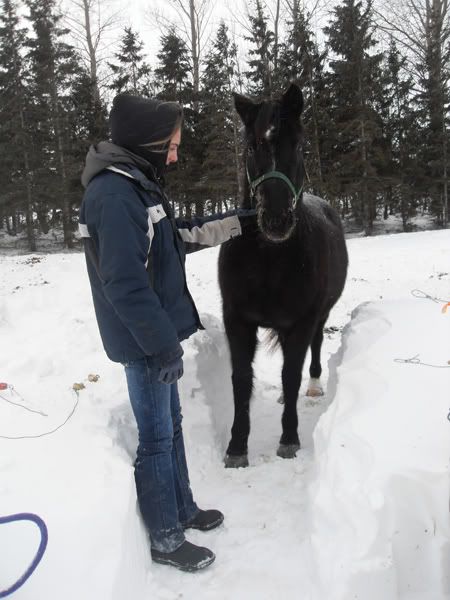 Cinder demonstrates for us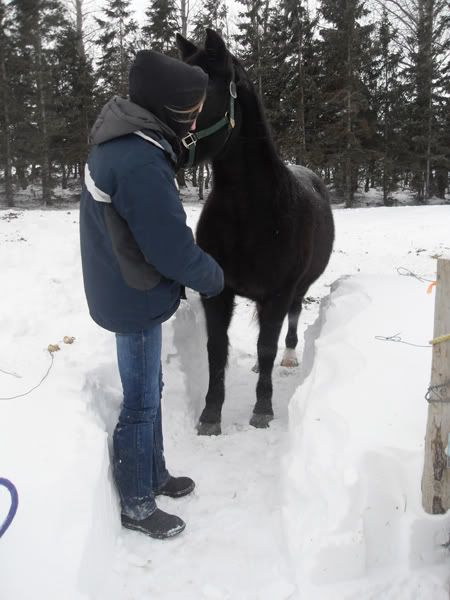 SRSLY?!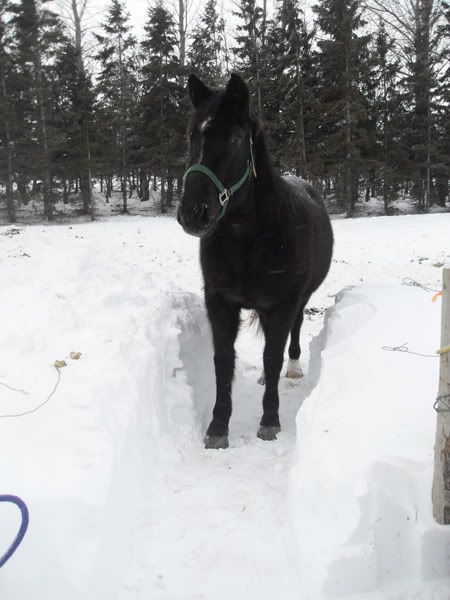 HELP I'M TRAPPED!
Oh it was a fun morning!
---
Quote:
I hope God tells her to smash her computer with a sledgehammer.
30 cm in 3 days...? We gjust got 40 cm in 24 h and that's nothing to unusual... haha ;D And before that we had 20 cm so when the ponys is out you don't see their legs at alla!
That made me giggle. You guys need more snow
I will say it's a pretty standard thing to have here to. It looks like it must really be a new thing out where you are. I'm sure your horses would have figured it out, good work tho! looks like it must have taken you a while to do all the shoveling.
Glad to see you both survived the journey
Oh god, new? Not at all. We live in Manitoba! Ironically, we've had very little snow this year, usually this is normal. It was just the winds causing such a massive bank against the gate - it's nothing for the driveway to have a 4-5 foot drift in it that we have to shovel out from the open fields.

Normally we spend our winters riding in at least a foot of snow, this is our first blizzard of the year. Usually we've had about ten of these by now! I'm sure the horses could have floundered through the bank, but realistically, it's dangerous because we'd be forced to walk through with them and if we trip and fall, we're at the mercy of a floundering horse trying to get through a three foot gate opening.

---
Quote:
I hope God tells her to smash her computer with a sledgehammer.
Spring come back already!
-desperate-

Frankly these are awesome pics and I LOVE the wintercoat on that cutie!
Haha, yes, Cinder is definately a poofball to the max in winter! She's a blue roan, and it's crazy how black she goes in winter with big soft bluish dapples. In summer, her entire body goes a very pale bluish color!
---
Quote:
I hope God tells her to smash her computer with a sledgehammer.
wow! compared to us, that looks like a lot of snow!
Similar Threads
Thread
Thread Starter
Forum
Replies
Last Post
Snow

tmogg

Horse Grooming

11

03-24-2012

05:38 PM

Snow Fun

Farm mom

Horse Videos

5

12-24-2009

11:17 PM

Snow, Snow, Wonderful Snow!

FGRanch

General Off Topic Discussion

61

12-16-2009

03:43 AM

It's 'snow' fun....

DarkChylde

Jokes and Funnies

0

12-13-2008

10:38 PM

we had SNOW

Dasher41

Horse Pictures

10

12-02-2008

06:32 PM