Wonderful photos! Thanks for sharing them!
Loving the pictures! That mare reminds me of a mare I knew, Dawn. She was a big ol' appy that was, as you say, the Cadillac of horses. Get on bareback after not being ridden for months, and you can still plod along perfect as always. Such good horses, I hope I end up with one like that someday. =]

Tiny, I know, right?! Our area goes totally Chicken Little when it snows. It's like no one has ever seen it before, and everybody panics. Oh joy? Haha.
---
"Great spirits have always encountered violent opposition from mediocre minds."

Haha, kinda funny...maybe it's an Appy thing? Dove's an Appaloosa/Mustang :) I owned an Appy gelding a couple years ago that was the same...but Dove is a doll! Not great at anything, but good at most things and willing to try everything.
---
Never ride faster than your guardian angel can fly
Wow you look like you had fun! Lovely Pally
---
Cross Country- The act of hurling yourself and your equine partner at a stationary object with poise and grace while attempting to survive...

I am partial to Appy's. =P You've got yourself a gem, that's for sure.
---
"Great spirits have always encountered violent opposition from mediocre minds."

I hate snow! lol. I think we live in the wrong area for me to hate snow, but whateves, I do. This is like 30 mins into it snowing where I am...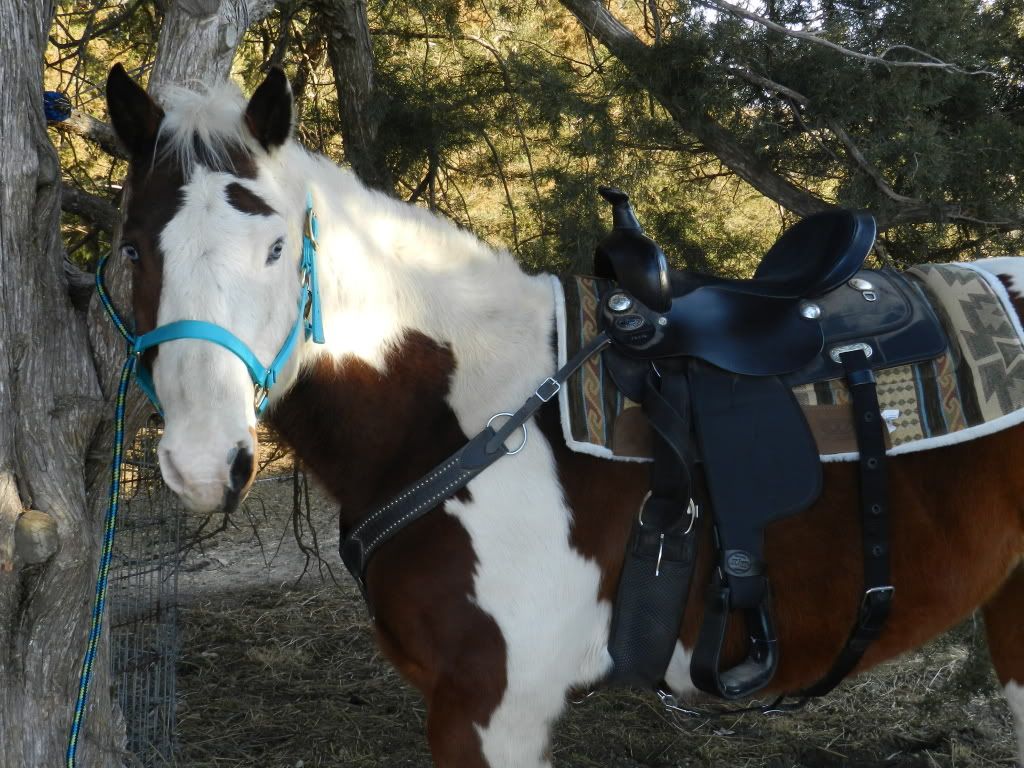 (this is not a horse...) FYI
---
No hour of life is wasted that is spent in the saddle. ~Winston Churchill
Green Broke
Join Date: May 2009
Location: Winnipeg, Manitoba, Canada
Posts: 4,510
• Horses:
2
Quote:
okay, jealous lol I wanna ride in snow
Instead I rode in 38 degrees yesterday not fun lol
I have to say, I DON'T envy you!
As annoying as the winters can get sometimes, I absolutely detest heat and I will ride in -40 before I ride in +40. At 38 degrees, I'd be cowering in my basement with the central air on FULL blast!!!
---
Quote:
I hope God tells her to smash her computer with a sledgehammer.
haha yer I hate riding in the heat, weekend it was a comp so I had to ride in the middle of the day, hottest part of it.
I usually wake up early and go for a ride in the coolest of the morining
---
http://www.horseforum.com/member-jou...-story-257826/
Check out my blog on here
Yearling
Join Date: Nov 2010
Location: Rocky Mountain House, Alberta
Posts: 781
• Horses:
1
Where do you live? im in alberta and we got a wicked snow storm the last few days. my horse hates going for rides in it