you'd think he was never fed.
---
I swear, Dakota never ceases to make me smile
Just..a littleee bit...fartherrr. :)

Hes beautiful.
Showing
Join Date: Jun 2011
Location: Cariboo, British Columbia
Posts: 11,770
• Horses:
3
Just wait til he goes on his knees to get the itty bitty patch of grass.
thats what I was waiting for, I did enjoy watching hi use his lips to reach the longer blades of grass though.
Green Broke
Join Date: May 2009
Location: Winnipeg, Manitoba, Canada
Posts: 4,510
• Horses:
2
LOL, my mare did that once and the fence was a liiiiiitle bit too rickety and she crashed through.
We found her the next morning moseying around the barn yard and put two and two together when we saw her skinned up face and broken bottom rails of her paddock closest to the juicy delicious grass a foot away.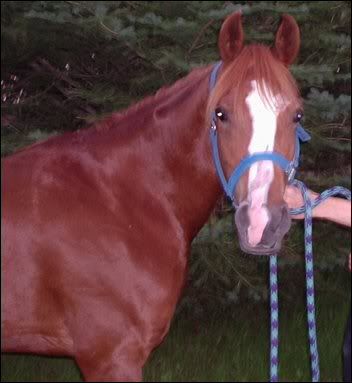 ---
Quote:
I hope God tells her to smash her computer with a sledgehammer.
I am excited to see him in summer coat. He should really shine...
---
"Be a best friend, tell the truth, and overuse I love you
Go to work, do your best, don't outsmart your common sense
Never let your prayin knees get lazy
And love like crazy"
I need to pick up a grooming kit next paycheck and get all the winter coat off of him. It was so hot and sunny today that I am now a lobster so I figure it's about time for him to lose his extra fur. His current owner had to leave almost everything in arizona when she moved...thus we don't have a kit.
How cute!!
---
Being horseless is the pits!!
Haha! Selena will reach through the fence for the grass even if there's nice alfalfa hay on the other side....
He's such a cutie! I love his color.
---
Pssh.I didn't pick up the wrong lead
It's called a counter canter...
...A very advanced maneuver.
lmao.....feed that poor starving horse! lmao

You should see my horse around grass and good looking food! lmao