Tuck 'n' Roll baby, tuck-n-rollllll....:)) That's what saved me.
and for "evening shadows" your quote applies...I WAS riding faster than my guardian angel could fly so I had to get off that ride real quick. hehe
when I saw this thread I knew I just had to go find my old pictures and post a few..took me awhile but here goes..
First horse actually ridden and taken lessons on..Fudge, a wonderful 16hh mare who I believe was either a QH or TB..leaning towards QH..I was 7ish:
First horse love..Dixie Don Bruce, an old, awkward, horribly barn sour but still absolutely wonderful QH who was my best friend for much of my childhood:
(you'll note he's wearing a flymask in the second picture..it's because he had a tumor or something that caused one of his eyes to slowly turn inward over time. it seemed to get worse quicker when the sun got to it. it didn't seem to actually hurt him, oddly, but he did obviously go blind in it.)
First horse: Rocky
When I first met him, around when he was 4 or 5 and I was 10 or 11:
..and more recently, when I owned him at ages 9-11: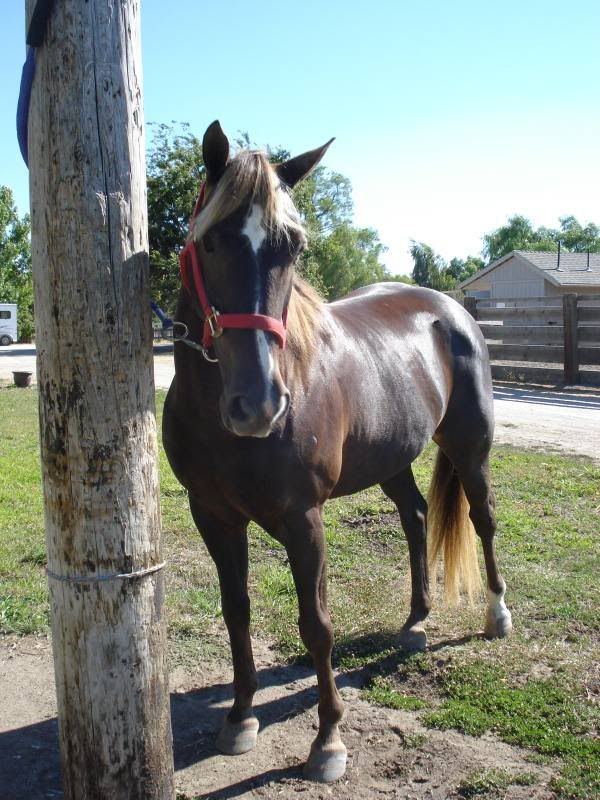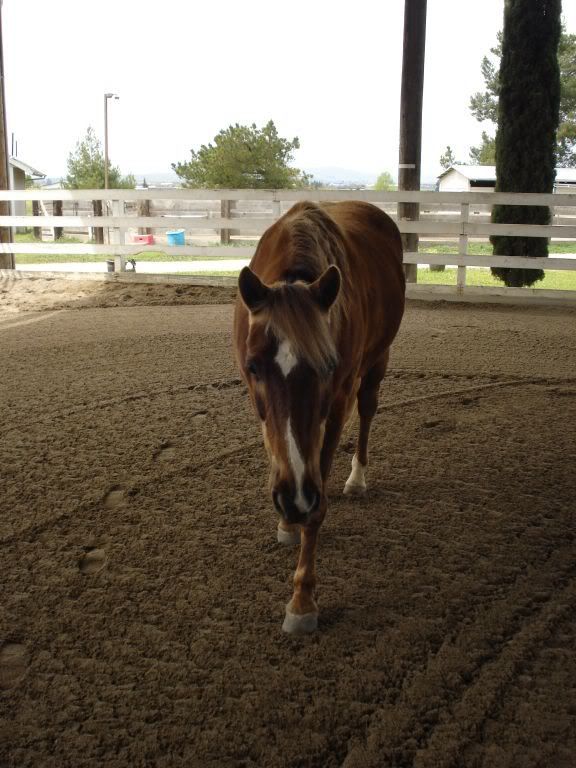 Oh wow, Rocky's and his dapples are just lovely.
My first horses (bought together)
I did the classic beginner mistake and bought two green horses so that "we could learn from each other". Luckily the stable had tons of people willing to help.
This is Ren A Jade. She was a Quarter Pony. A chronic bucker. She would flip herself completely over if you left her standing too long.
Rick A Shade
Absolutely unknown breed. He was awesome and I regret getting rid of him. My mom started paying my board and told me she couldn't afford both horses. So I traded both of them for one horse. I remember visiting him and he tried to follow me out of the pasture. I cried the whole way home.
Me with my first horse, Leia, at our first show together, with our first ribbon together, and our first time winning together. :P
My first time showing a saddlebred saddleseat off the farm (I had shown a hackney pony saddleseat off the farm, a saddlebred in hunter off farm, and a saddlebred saddleseat at a show at the farm) lol
Harley, the first PONY I've ever trained by myself
Harley's first time being harnessed (soon after this was his first time being ground driven)
First time saddled:
First Bath
First time bowing
Angel, first HORSE I've ever trained
Miracle. Her mom, Serena, was the first horse I ever road, but since I have no pics of her, Miracle's the next best thing (miracles the second horse I ever rode)
I can't seem to find any of Snickers, who is Leia's mom and the first pony I showed and cantered. :P the only pic I can find of her is this:
and thats of her with her third foal, Blaze, after she was sold.
thats it!
---
"Have fun - Stay on top."
"There's nothing like sixteen hands between your legs"
Jemma, my first horse (ranch bred qh) to own, my first horse to train (yes, yes, we are still working on that
), and our first time on cows (1st pic) and on show (got 1st ribbon) (2nd pic). We switched to English since that so will see how that will go. Lol!
Quote:
Oh wow, Rocky's and his dapples are just lovely.
he thanks you!
it's really cool with him, he changes all of these different colours and it's almost randomized. like sometimes he'll be totally solid black in the summer then the same colour as his mane and tail with tons of dapples in the winter, or he could be dark and dappled in the summer and solid and light in the winter, so it's interesting to see what ends up happening =D
First ride on my new mare Flicka. She had to be totally restarted due to previous issues with anxiety, bolting, and bucking. Her owners that had her before I got her couldn't believe it when I had been able to get on her and ride in just a few weeks of working with her.
First 'bridleless' ride on Danni, the horse I worked with for several months this year...I was amazed he came this far. Although he was still a crab on the ground, which is why I had to rehome him; I didn't want anyone getting hurt. He respected me, and anyone else who knew how to handle a horse...but knew who he could push around, unfortunately.
Unfortunately I don't have alot of my 'old' firsts, pics...I will have to try and find them, and scan them if I can.
---
"The ideal horseman has the courage of a lion, the patience of a saint, and the hands of a woman..."
---
Last edited by mom2pride; 11-25-2009 at

01:22 AM

.
My first horse. A 6 year old WB/TB gelding named Clue.