My new mare is in the first pic (terrible pic from my cell phone when I was free lunging her last night)

My mare: DD Styled by Hickory
Her Sire: Holalong Hickory
Grand Sire: Doc's Hickory
Great grand sire: Doc Bar

She has other names on her papers like Max Peppy who was out of Peppy San.

Her mom is Three Jets Peppy who in 2005 made horses like Caught me lookin, Mr Roan Freakles and My Own League (3 very well known cutting stallions in my area) think twice about winning the futurity.
Quote:
Impressive Proposal :::::drool::::::


Thanks for playing along guys :)
Lol yes he is an amazing sire! I have met quite a few of his offspring (not including my girl) And they are all well mannered, easily trained, sweet, and super smart! If you are ever looking for your next horse or want to breed I suggest looking at him :)
Quote:
William in 1st pic
His sire in last

Williams breeders have not got pictures of his dam, but her name was Rivington Sweet Pea
not mine btw
Lil Brother
His father, Lil AB
Lil AB's father Abdullah
We'll see if Lil Brother follows in the family footsteps over fences. He is coming six and just starting jumping. I'll try to get some photos, soon. There just never seems to be anyone around....
---
Last edited by Allison Finch; 08-08-2011 at

08:31 PM

.
Quote:
Originally Posted by
MHFoundation Quarters
View Post
If only I could convince my hubby
I'm pretty much the only rider & slave to 11 horses as is. (he rides on occasion & my daughter rides but is only 6) Maybe he'd bite since it would be much smaller piles of manure
Much smaller piles of manure, and only a few flakes of hay a day
Okie dokie....well...im gonna join in this and post what pics I can find...
Here is bause:
Here is her great great grandpa on her sires side: Fadjur
She is related to Raseyn somewhere on her dams side...I cant find the papers right now to know where or who else to try finding pics for lol
---
Horses Will Listen...Even When No One Else Could Possibly Understand...
Katie, My 22 y/o TB.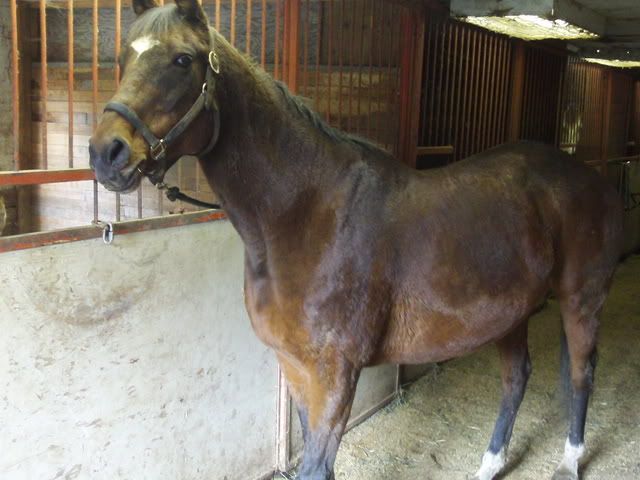 Northern Dancer, Katie's great grandsire.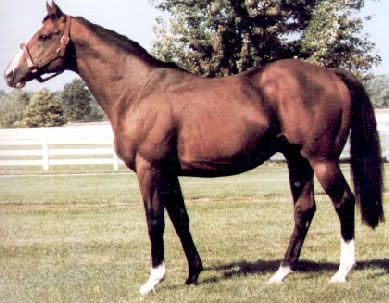 ---
"When Nature made the Thoroughbred, she made no mistake."
"when riding a horse we borrow freedom."
Here is Storm, 4 month old Appaloosa weanling. His mother is Little Ms Doc Gormay by Gormay. And then April, 4 month old Appaloosa weanling, her dam Little Ms Peppy Bars. And then Storm and Aprils sire, YOR White Hot, by YOR High Noon.
The pictures aren't very big, but you can still see!
Storm:
DSCF3350.jpg
His Dam, Little Ms Doc Gormay:
77168_1581750237865_1658994879_1306985_3264005_n.jpg
April:
DSCF3354.jpg
Her Dam, Little Ms Peppy Bars:
MsPeppyBars.jpg
And their Sire, YOR White Hot:
smallworkingcow.JPG
And their Grandsire, YOR High Noon:
HighNoon.jpg
Then my new girl, Gojis Jessie. Her sire is Goji Evans and her Dam is Tayors Jessie. I don't have pictures of her dam, but her sire is gorgeous.
Gypsy:
DSCF3428.jpg
Her Sire, Goji Evans:
gojistud.jpg
And her Grandsire (dams side), Tayors Dunnit Again:
RockyStudforsale.jpg
Here's my horse Puck, aka Illustrious Kiss, followed by dad, Kissin Kris and mom, Illustrious Home. He's got her red in his tail.
---
You just have to see your distance...you don't have to like it.
Here is Angel
Her full brother Mario
Their sire CDF Hollywood
His sire CDF Frankie
His dame Zola (With Hollywood beside her)
Hollywood's full brother Paddy
---
100% Anti-Slaughter and PROUD of it!