Your Lacey fix:
---
On Thursdays, I feed all the horses at my barn so I went out to do my duty today. When I arrived I decided to go visit the poneh since she's just too adorable not to visit whenever possible.
So I went out to her field and she saw me and started walking towards me so we kinda met in the middle of the field. The silly girl decided that it would be a good thing to practice resting her head on top of my head. She loves to put her head on my shoulders but recently she discovered that she can stick her head on top of mine (mental picture: I'm 5ft 8 and she's 14.1hh, so it's extremely ridiculous). So she's standing there, moving her head around on top of mine and giving me a terrible case of bedhead, minus the bed. I think she does these things purely for entertainment. heehee I decided "to heck with this!" (while thinking it was cute, of course) and started to walk away. Well, little Miss Princess-Pants couldn't possibly be left alone! So she followed me and I figured that I could let her out to graze because I was going to be feeding and the grass would be nice for her.
She looks relatively clean (it's supposed to be in the high 60's all week so I took her blanket off yesterday because i was worried about her getting too hot)
NOT!!!!!
I LOVE her face in this picture. That's her "I'm inquisitive, let's be friends" face. SO FREAKING CUTE!!!! How can I ever leave her? I do not know, at all.
Noms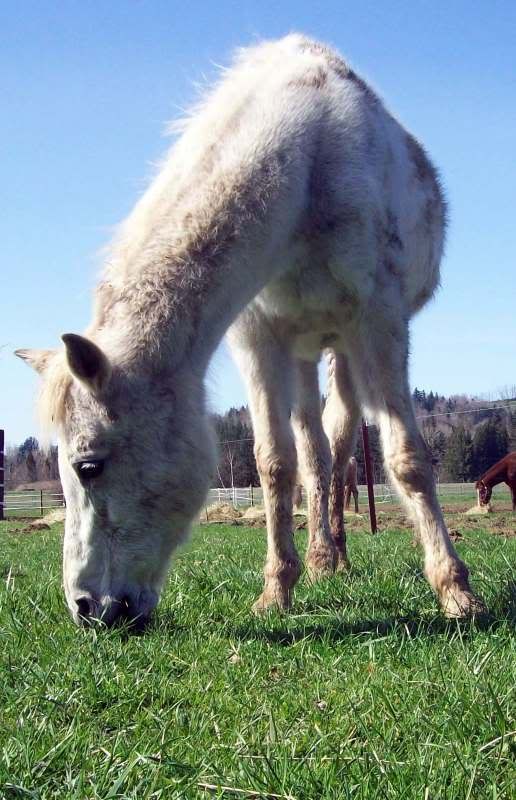 "Oh! Hello! How's it goin'?"
"I have grass, I have sunshine, I have my girl to traumatize. I'm content"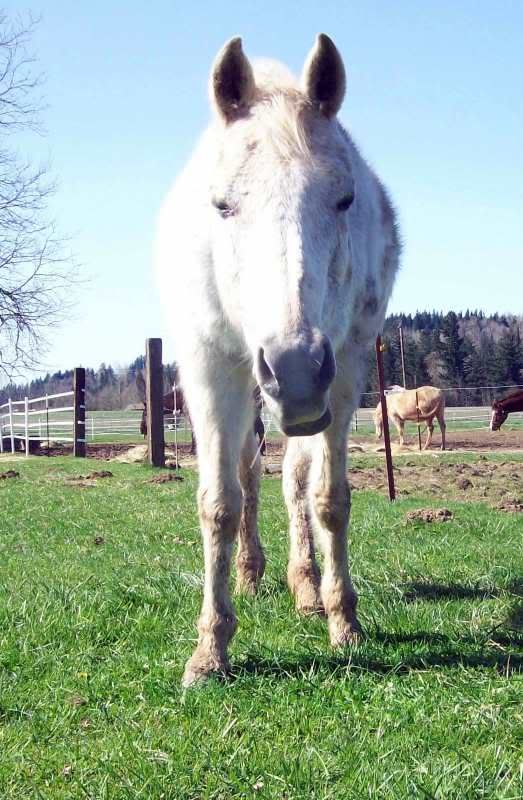 And then I had to leave so I had to stick her back in her field with her lunch. She's so adorable. I got her back over to her field using just a lead rope around her neck. I find it so cute that she knows that she can bust through that lead rope/put her head down to eat, yet she doesn't. She'll put her head down a little to kinda say "look at what I'm NOT doing" but she never takes advantage of her size. She obviously wanted to keep eating grass and not go back to her field but she was nice about it.
Angry face:
I gave her three flakes of hay instead of the regulation 2 flakes. Heheheheh
She's so cute. Gee.
---
Fabio - 13 year old Arabian/Lipizzan gelding

~
Rest peacefully, Lacey.

---
Last edited by Wallaby; 03-18-2010 at

10:52 PM

.
AWW she is adorable!!
---
"every horse deserves at least once in their life to be loved by a little girl"
<3