Green Broke
Join Date: May 2009
Location: Winnipeg, Manitoba, Canada
Posts: 4,510
• Horses:
2
Zierra was having an "O hai, I'ma crazy Arab" day
---
Haha, I went out to lunge and ride Zierra today and she was feeling rather full of herself! Usually a lunge line is "plod as slow as possible until mom has to smack me with the whip", but she kept trying to grab at the grass today (they're locked out of the back pasture so the grass can grow) so I gave her a good pop on the butt to get her attention and she decided to do her VERY best Egyptian flashy "look at me I am all that is awesome" look.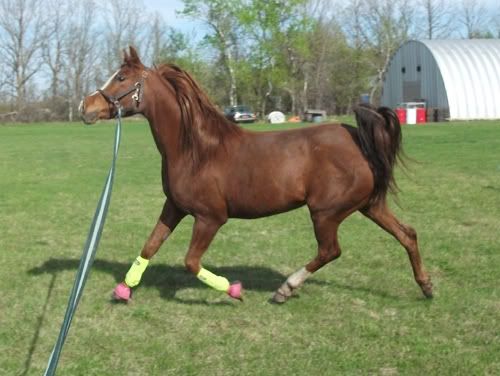 Prancy perky Arab!
I dunno man, some people drool over Warmbloods, but this right here is what I will always drool on Arabs for!
Other way! I love how her tail is literally curled like a pig's tail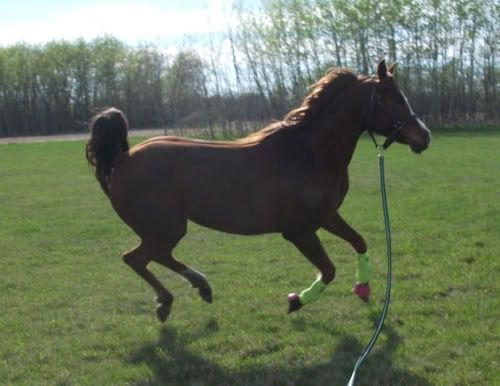 Oh, bit of canter!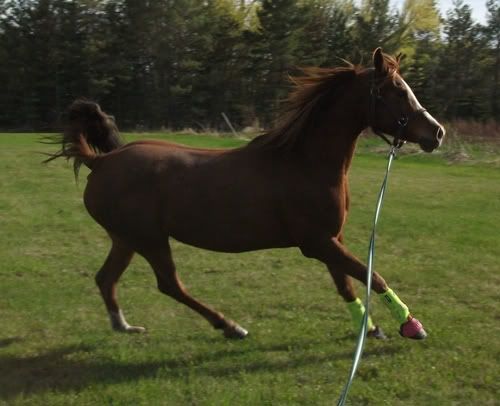 It's difficult to push them out and take pics at the same time, she kept circling me like I was a friggin' barrel
Crazy Arab is done being crazy for the day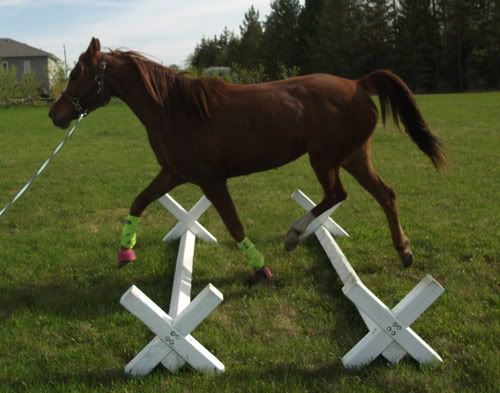 See?! She can behave like a respectable member of society!
---
Quote:
I hope God tells her to smash her computer with a sledgehammer.
Woohoo, look at that trot! She's so cute!
Great pics!! Pretty little Arab!!!
My morab has been high strung today.....must be going around! She is beautiful!!!
Posted via Mobile Device
MM she's gorgeous! and i love her boots! pink and green looks great on her!
---

Baby, Sparta, Carmen, Henry, Hooch, Mercedes, Butterscotch
*drools* I love arabs soooo much! She is super pretty :)
---
The only view I want to see is the landscape between my horse's ears <3
She looks so stuck up!! lol, beautiful gurrrrl
---
Cross Country- The act of hurling yourself and your equine partner at a stationary object with poise and grace while attempting to survive...

Green Broke
Join Date: May 2009
Location: Winnipeg, Manitoba, Canada
Posts: 4,510
• Horses:
2
Hehe, there's a new Arab at the barn and he puts her to shame with his dainty little head and features. I think she was feeling it necessary to remind people she IS still an Arab to.
She looks like a lumbering moose next to him!
---
Quote:
I hope God tells her to smash her computer with a sledgehammer.