Oh wow that poor baby
She looks so sweet and she is so sad. I want her. She can come live with me and have all the food love and care she needs and deserves.
---
BB ~ 2014 Trakehner Bratty Mare ~ 1993 CSHA Em ~ 2007 Standardbred

I am thinking that somebody took her website down? I can't open it. Anybody got a link so that we can see what she was supposed to look like and compare notes? It could also be her baby with mom's exact markings.
Kind of ironic. I just found an ad for stud fees to Moonlight Money Maker. She was demanding a $1,000 stud fee. He doesn't look very Arabian to me no matter how much I try to use my imagination. Maybe its just because of his bald face. He does look like a reasonably nice horse though.
Arabian Horse for Stud in Sharon, Pennsylvania
---
Celeste
Carpe Diem!
I found her on a wiki link ... Google her name in quotes .. then look for the wikj link (I'd post it, but I'm on my moble)
Oh poor baby, from this, to that? Crying now!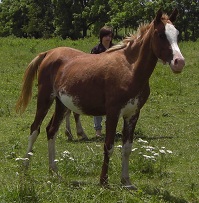 ---
Melinda
I hope that witch is getting it good and hard in jail.
I wish they would simply forget to feed her. Maybe put food outside the door each day where she can see it, but out of reach. I spent four days without food in the hospital once. By the fourth day, everything on tv was about food. I think a month of that would serve her right.
Posted via Mobile Device
Then send her to prison for a long time.
Posted via Mobile Device
Sad thing is, we the taxpayers are buying food for her. And she gets to eat it.
Posted via Mobile Device
She had access to the internet, or someone who could do so on her behalf, as recently as Thursday (February 7). I know this because out of the blue I received a notice that Shatormar Arabians had made me the owner of an egroup for purebred pinto Arabians. I have no idea why this was done, as I do not know Tory personally. I am a horse color researcher, and have spoken to her in the past both about her stallion Money Maker, and then later about Sonora. I am not sure why anyone would have bothered to update the group, since it was just another dead egroups forum that had not been used in years. As far as I can tell, there is not even any valuable archived information there; it seems to have never been used for anything but Shatormar's own advertising.

I have been following this topic here, and a few other forums where this has been discussed. I am curious about statements that she killed Money Maker. Because the primary focus of my own research has been the splash pattern, I have followed him and his family for some time. Is there a reason why he is believed to have been killed? Was he ever listed as deceased on her website? I would love to get some solid information on this, if in fact there is any.