Lol that horses joints will be gone before double digits that's for sure
Posted via Mobile Device
The sad thing is that a lot of TWHs are started at 18 months with pads. It a common thing around here to see 18 month olds started under saddle and showing. By the time they reach the double digits, if they do, they are broken down and completely unsound. By then, the "trainers" and owners have thrown them aside or just simply quit feeding them.
I personally know of a few walking horses that have the high knee action naturally. My horse and his sire are two of them. Doc, my horse's sire, wins a lot and even beats padded horses. He simply has better knee action naturally. He is 18 and still sound and showing. Never been padded and is flat shod all showing season. Below is a picture of him.
Real Quality Show Horse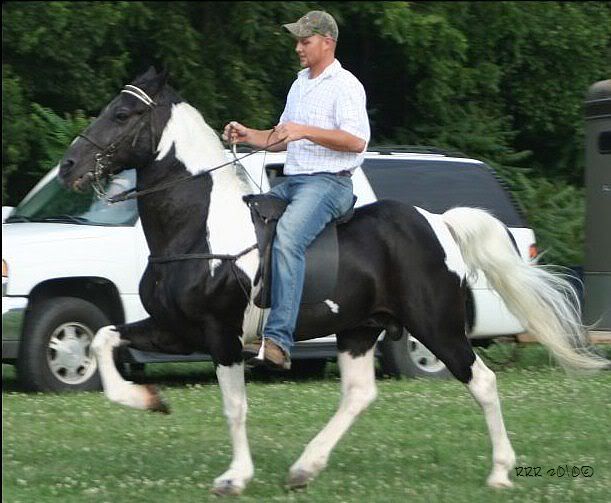 vs
The Padded Crap Normally Seen
Which would you chose?
---
Willie's Favorite (Big Red) - 2004 TWH Gelding | Hoss - 2005 Quarter Horse Gelding
RIP Justice (1974 - Jan 5, 2012) Gone But Not Forgotten
Quote: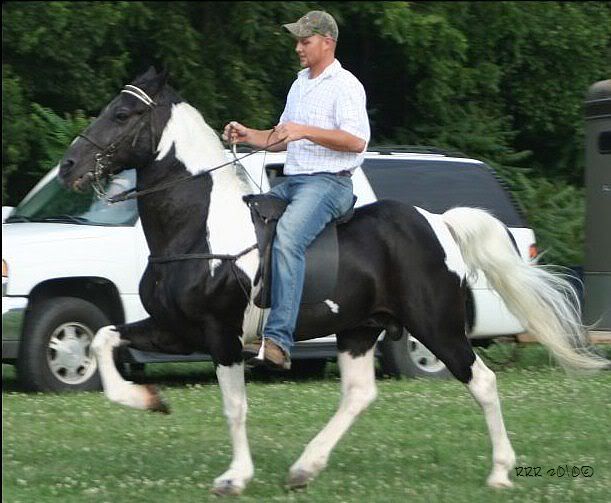 KUDOS to this dude! He is holding true to the REAL Tennessee Walker. Gorgeous horse with an awesome running walk! It is great to see the ones that aren't misused being shown. Now only if we could get the TWHBEA and the judges on board....
---
** Don't be the rider who gallops all night and never sees the horse that is beneath him **
TWH's are shown at the canter. The big lick horses have a really weird canter, but it is a canter. The horses that are shown at a rack are never cantered because they may break out of their rack at fast gaits. These are great horses. People treat them like crap. They deliberately make them lame for money.

I have had two TWH's in my life. They were always just natural horses. I still have one. He is 24 years old. He and his mother before him had (he still has) wonderful gaits. Great canters. Smooth running walks. Perfect pleasure horses.

Anybody that thinks that putting ginger in a horse's rectum to make it tuck it's butt in nicely, or putting caustic stuff on their feet to make them sore, or cutting the ligaments in their tail so that it can be forced into a weird brace, or putting them in shoes that are 6 inches high, or keeping them in a dark stall 2/7 is humane is evil. How can anybody be so mean?
There is no doubt a hot place in the pits of hades waiting for them in the next life .........
---
Celeste
Carpe Diem!
Quote:
Real Quality Show Horse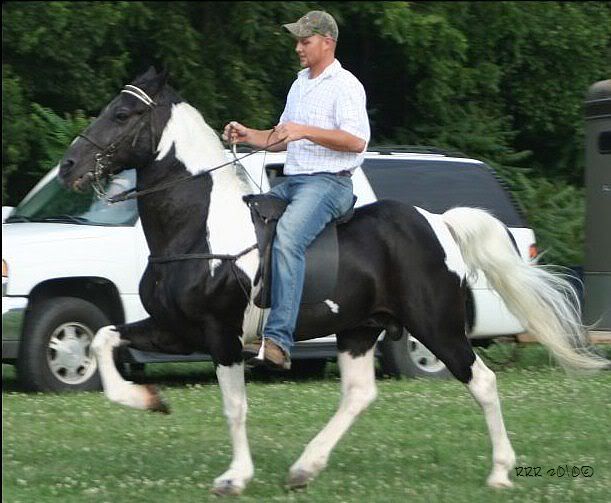 What's his registered name? Nice horse!
Why are the judges allowing it? Those so called judges aren't true horse people! Why is it being allowed? That isn't pretty, it's horrific! There should be major penalties with major fines. The people competing are just as bad! Your basically crippling your horse to get a ribbon. How selfish of human beings to treat an animal that way, disgusting.
Quote:
To the people doing this its perfectly ok. There is a very wide range of what can be considered abuse, its all personal opinion. Like i see nothing wrong with tying around a horse to their tail. But many people see that as absolutely disgusting.
ive done that it works lol...but it doesnt cause "pain"...
Torture vb:to punish or force someone to do or say something by causing great pain.....(webster's dictionary)
soo if it walks like a duck talks like a duck looks like a duck......probably not a butterfly...just sayin it personally made me want to strap that junk and the trainer...
---
no time is wasted spent in the saddle
So sad. I feel so sorry for these horses. Not only are they often put through pain, they rarely get to have fun ..
---
"Good things come to those who wait… greater things come to those who get off their ass and do anything to make it happen." - Unknown
Quote:
Originally Posted by
caseymyhorserocks
View Post
So sad. I feel so sorry for these horses. Not only are they often put through pain, they rarely get to have fun ..
breaks my heart.....
---
no time is wasted spent in the saddle
Quote:
What's his registered name? Nice horse!
I believe it is Fast Movin Train. Not for sure though.
---
Willie's Favorite (Big Red) - 2004 TWH Gelding | Hoss - 2005 Quarter Horse Gelding
RIP Justice (1974 - Jan 5, 2012) Gone But Not Forgotten