2 point critique
---
Here are some pictures from my last lesson, opinions and advise please?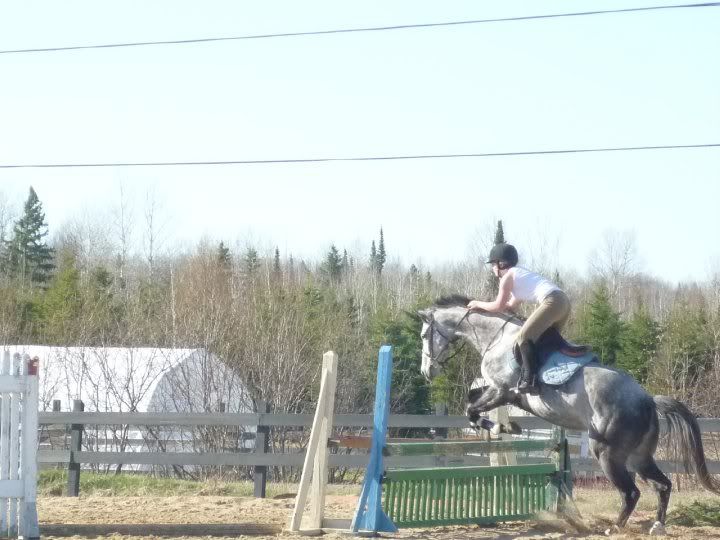 heels need to be down. It seems to me that you are over jumping and are a head of his motion on the jump.
You look good but just dont over jump. :)

Pretty horse
Ive been working on trying to stay with the motion and not get ahead of it, guess I still have some more work to do!
By over jumping do you mean too much release, too far forward, or?
Also, does it look like im gripping with my knees? Or are they alright like they are?
What I mean to far forward. You may be gripping with your knee. Working on not gripping will help you. :)
You look pretty good I still have a lot of work to do so i know how you feel :)
Yearling
Join Date: Feb 2010
Location: Between two places in Canada!
Posts: 1,005
• Horses: 0
First picture - heels down. You are gripping with your knee and since this means you aren't sinking your weight into your heels, they're up. If you stop pinching at the knee it will also help you stay with the motion of the horse because you'll have no knee grip to push yourself off with. Just keep your weight on your heels and your horse will boost you into position. As a result of you being ahead of your horse, your hands are too far up his neck. You want a straight line bit-hands-shoulder.
Second picture - you're still pinching, but you're not *AS* far ahead of your horse. Try to settle your crotch right above the twist in your saddle. If you're at the pommel and something goes wrong, you're going to go flying over his head.
Third picture - I really like this picture, even though you still need to learn to sink on your heels and your toes are out. I also find your knee a little high where it makes contact with your knee roll, but that's not a big deal.
Overall I think you look very very good, your horse looks quite honest and fun to ride. :)
---
Thanks for the advise! Ill keep working on it. My knees are one of my main problems.
I do how ever like the second picture. Your heel can be pointed in not out, don't worry I have the same problem.
:)

This horse is seriously beautiful.

What breed?Gelding/mare?Age?
Shes an appendix and she just turned 10 last month :)

And quick question, do my arms look stiff? Thats something else im working on,
You already got some good advice on your jumping so I'll keep my mouth shut since I have nothing new to say about that haha.

BUT...I must say your horse is beautiful!!!
---
- If today was your last day, and tomorrow was too late, could you say goodbye to yesterday?
Quote:
Originally Posted by
PrettyBlueOverYou
View Post
Shes an appendix and she just turned 10 last month :)

And quick question, do my arms look stiff? Thats something else im working on,
Ahh I love Appendixes :)
Shes soooo beautiful
Umm they might be I think you look fine but thats just me.
Similar Threads
Thread
Thread Starter
Forum
Replies
Last Post
Two Point Critique?

equestrian_rider465

Horse Riding Critique

18

11-17-2009

07:12 PM

2 point

wanderlust

English Riding

8

01-08-2009

06:13 PM

Two-Point

amightytarzan5

Jumping

15

08-21-2008

06:17 PM

What's the point of....

BluMagic

Horse Breeding

18

03-19-2008

04:34 PM