2-year-old draft cross critique
---
Okay, so I finally got around to getting a decent conformation shot of Aires. It's not the best, but he's 2 and was being a little butt today, so it was the best I could get.
Anyway, I would like to know what he looks like he'd be good at, other than trails. I know it's difficult to tell with young horses exactly how they'll turn out, but from what I can tell, he's going to be very tall (somewhere around 17hh...he's already 15.2hh). He is a paint/Percheron cross and was bred to be a "sport horse," according to his breeder.
If you need a better pic, please let me know and I'll see what I can do. And yes, I know his feet need to be trimmed. Asked the BO when he would like to have it done (he's paying for it) and he said "We'll see." He's famous for his monosyllabic answers.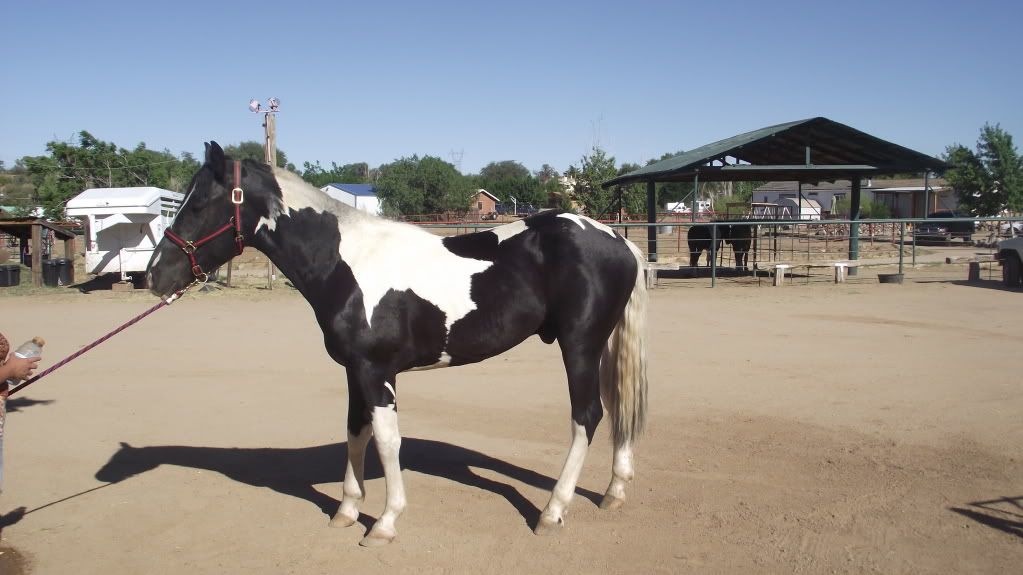 ---
Do not tell me I can't...because I will
show
you that I can.
Showing
Join Date: Jun 2011
Location: Cariboo, British Columbia
Posts: 11,775
• Horses:
3
Yes, I would get those hooves looked after, I see some different angles on both fronts, (could just be the pic) and very straight, almost high heels on the back. He's young so we can forgive his butt higher than the withers, he might grow into that. He has a pretty straight shoulder and the underside of his neck matches up in length with the topside. The straight shoulder can make for a rougher ride and the neck issue is for collection, ideally you want the top length of the neck 2x as long as the underside. But I am no expert, it's just what I see. He looks well cared for other than his hooves and his coat is shiny. He certainly is an eye catching horse, he stands out in a crowd.
Thanks. :)
Yeah, the angles on his front are slightly different, but not as bad as that pic makes them look. He is extremely downhill, but the BO is fairly confident he'll level out soon enough. Oddly, whenever anyone sees him trot or canter (which is a rare occasion that he canters
), they comment on how smooth he is. When we watch the BO working him from the spectators' bench outside the bull pen, the saddle moves laterally (side to side), but never vertically.
I like to think I take pretty good care of him.
He got a good rinse-down today (couldn't call it a true bath 'cuz only his hind legs where his incision from his gelding dripped got soaped) and was thoroughly brushed down afterward. Even when he hadn't been groomed in over a year when I got him he was shiny, though.
---
Do not tell me I can't...because I will
show
you that I can.
I am not a conformation expert, but I have some experience with draft crosses. They tend to mature and fill out quite a bit later than lighter horses. The difference between my Clyde x Appy at 4 years old and at 8 or 9 years old is quite remarkable. It is amazing how they fill out and their entire body shape seems to change so much!

Beautiful horse! He will be stunning when he fills out!
Thanks, Koolio! You should check out my thread about lineage in the Horse Breeds forum. It has a pic of Aires sire and dam in it. Sooooo glad that Aires is taking after his dam! As smrobs put it, his sire is quite fugly.
---
Do not tell me I can't...because I will
show
you that I can.
He's cute.
It might be hard to give a good confo critique while his hooves are so bad, I can tell the long feet on front are not letting him stand as nicely as they might if they were trimmed, and it could give the impression of flaws he doesn't actually have. Get his feet done, and take pictures of him standing square to re-post when you can! Also, try to get a more side-view shot then this one, you are kind of still angled from the front here.
Okay, hopefully these pics will be better. He got his feet done on Tuesday (that was fun
).
He was standing tied and was just setup perfectly, so I had to grab the pics while I could. I know the background is a bit busy and the sun is at a funny angle, but they are what they are.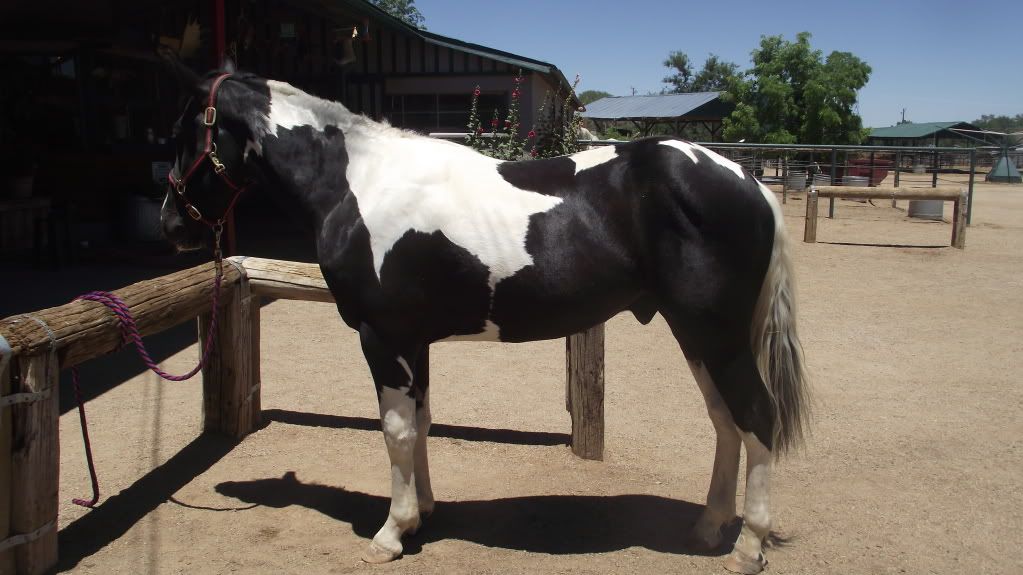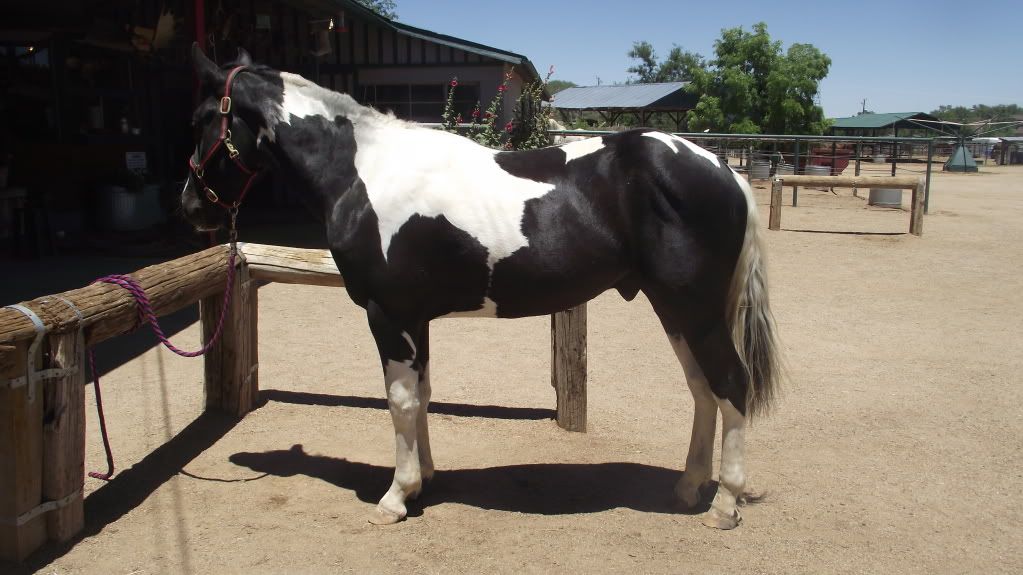 ---
Do not tell me I can't...because I will
show
you that I can.
Ok serious question, What is up with his hind hooves? They were in need, now they still look in need; of more hoof! Maybe it's just me but they look short enough to be ouchy!
Please don't take offense. I am seriously trying to figure out if it is the angle or if he hooves are as short as they look.
BTW He is a cutie :)
---
I miss you Rascal. Every day, all day.
That pic must make them look weird because they aren't ouchy at all and they really aren't that short. When the farrier did his hooves, it was a bit of a rodeo, so they aren't absolutely perfect, but the farrier was happy with the job done and so is the BO. I know for a fact that he took MUCH less off the back than he did off the front. The farrier is also going to work with him a bit more (free of charge because he's awesome like that) when he comes out to reshoe my friend's arab mare and do her new arab gelding for the first time on August 6th.
I trust my farrier implicitly. I've seen him correct way more serious problems than Aires' hooves.
No offense taken. It was a legit question.
---
Do not tell me I can't...because I will
show
you that I can.