3 yo QH Gelding
---
Hello all, this is the first time I've posted my young boy on here. Tell me what you think! He turned 3 on June 14, and was gelded 4 months ago. I also bought him at the same time from a very backyard type situation and am curious how his condition has improved and what his conformation would be good for (if anything!). He is currently 14.1 hands, and mama was a QH but sire is unknown. He will be used mostly as a trail mount, but I would really love to complete some low level events and limited distance endurance rides eventually. He is just being started into light work so he has no muscling or top line what so ever.
Shortly after I bought him: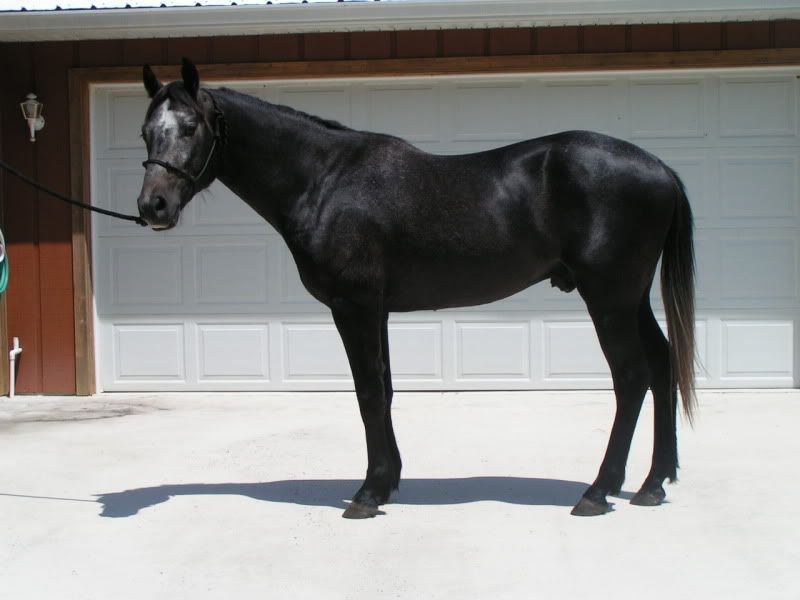 Approximately a month later:
I haven't squared him up since, but this is the best most recent I could find. A month ago:
Thanks in advance :)
I like this boy. Back is a bit long and his hind legs are a bit camped under.. but that may improve with age (tops may come but bottoms never). He looks to have some thoroughbred in him.

Certainly looks like he will be a serviceable horse and he has open enough shoulder angles he might be pretty good overfences.
---
There is something about the outside of a horse that is good for the inside of a man.
~Winston Churchill
(or woman!!!!
) Dinosaur Horse Trainer
I've had quite a bit of people say they think he may have TB in him. I definitely think he has something hotter in him than pure QH, I've owned a TB and ridden others and he has a similar feel. He responds much better to the lightest feel, and only resists with a stronger one, he is slightly sensitive riding but he also has a calm demeanor. Is he too young to free jump? I've done ground poles on the lunge but not an actual jump, so I have no idea if he has any natural ability. At any rate, thanks for the input!
I'm with Elana, he looks to be an Appendix; definitely not pure QH.

Nice looking boy, and he should gain some height since he's only 3 y/o. He's not going to be tall, but he should at least get close to 15 h.

He also looks to be greying out fairly quickly, by his pictures.
---
You want the truth? You can't HANDLE the truth!
My first thought when I saw him was Arab mix for dad. But thoroughbred is possibility, since even Thouroughbreds have a lot of Arab in them.

I like him a lot. I don't htink his back is long. Funny, because I saw it as short. Wierd, huh?
His hind leg is a bit odd, the gaskin is long and the angle puts the leg kind of out behind the end of his buttock when the canon is vertical.
I , too , think he might be good for jumping.

I think for a back yard "mistake", he is a total winner!
He's quite the "backyard boy! He looks like he has a fair amount of thoroughbred in him, so he's probably an appendix. I like him... he's pleasing to the eye, and I think he should make a fair little jumper. He's got beautiful long legs, too, but he's young so we'll have to see how he turns out!! Lucky you, and lucky him :)
i said "omg" out loud when I saw the first pick. Loveeeeee his color. Can I have him?!?!?!?!? Pleaseeeeeeeeeeeeeeeeeeeeeee
Thanks everyone for the kind comments =) I agree that his hind legs are a bit funky. They have a large range of movement, if you will... when he stretches out at the walk, he really steps under himself. He actually was just visited by the vet, and he is officially 14.2 now! Not a bad growth in the short amount of time I've had him. He is definitely changing in color, by the day it seems sometimes. His body has faded to brown, but the legs remain black. As a foal he was born bay with no markings.
I usually don't comment in conformation threads unless it is a pre-purchase evaluation, but I can't help saying I really like this guy, and don't see much I would change at all. I don't see the long back - seems pretty normal to me. He does tend to camp under a wee bit, but is either not sickle hocked at all or just very minimally...
I really like him. I don't agree with him being long backed either, it's rather proportionate in relation to his bottom line. The only thing I could really pick on him for is his topline, but he's young and that will improve with conditioning.

His head is very pleasing to the eye. Love it in the first shot especially. His ears are a perfect size for his head and his eyes are very kind.

I have a 14 wk old bay going gray colt, interesting to see another that started bay & the color at his age. Good looking boy, I'd welcome him in my pasture :)
---
Life is like a camera. Focus on what's important, Capture the good times, Develop from the negatives and if things don't work out, Take another shot.