Quote:
Originally Posted by
MHFoundation Quarters
View Post
I really like him. I don't agree with him being long backed either, it's rather proportionate in relation to his bottom line. The only thing I could really pick on him for is his topline, but he's young and that will improve with conditioning.

His head is very pleasing to the eye. Love it in the first shot especially. His ears are a perfect size for his head and his eyes are very kind.

I have a 14 wk old bay going gray colt, interesting to see another that started bay & the color at his age. Good looking boy, I'd welcome him in my pasture :)
I agree - he really has a nice head. If he is Appendix, he sure ended up with the QH head. He looks to have QH bone, too. Actually, I'm not too sold on him being an Appendix, but then I'm no Appendix expert...
I have had some say his back is long, but I have issues finding saddles (western) that aren't too long for him as they interfere. I've also had opinions that he may not be mixed at all. I kind of go back and forth on my beliefs. I don't have experience with a lot of different horses, but in my own experience he just acts more "regal" than many stock horses I've dealt with. Not sure how else to describe it, but the way he walks and interacts with everything its as if he has a distinct sense of pride about himself. That may also be attributed to him believing he is still "Mr. Studly" but if anything, he could care less that all the mares are in a tizz over him. Sure, he will arch his neck, prance and show off... but right after will ignore them. Despite the squirts, squeals, and rather obnoxiously spirited displays by the ladies!
It may or may not help, but here is a picture of mama: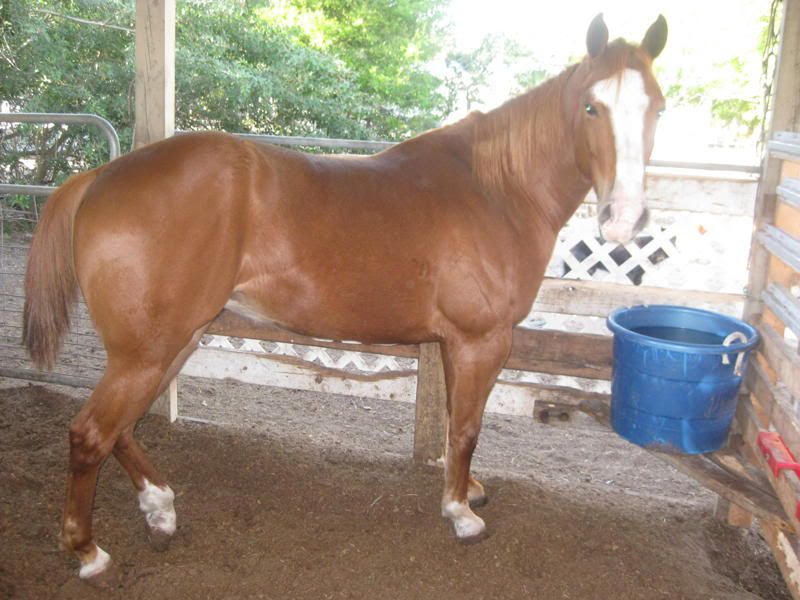 Booger as a bay: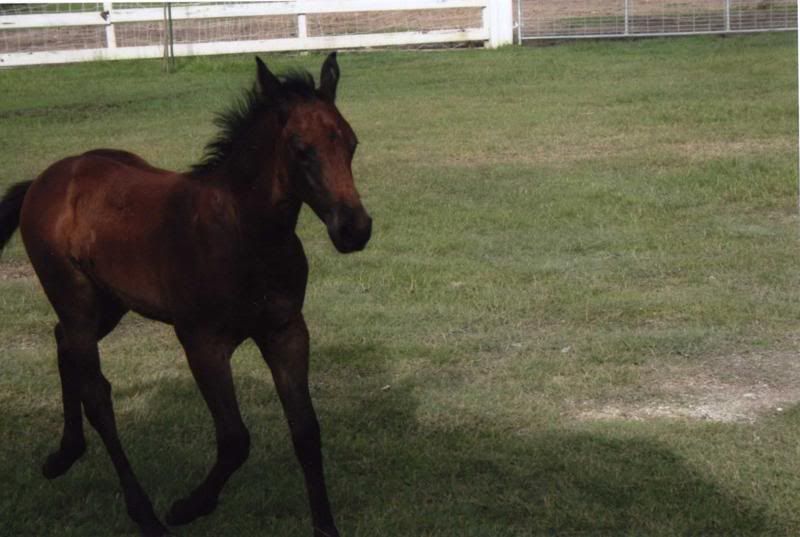 First time I looked at him: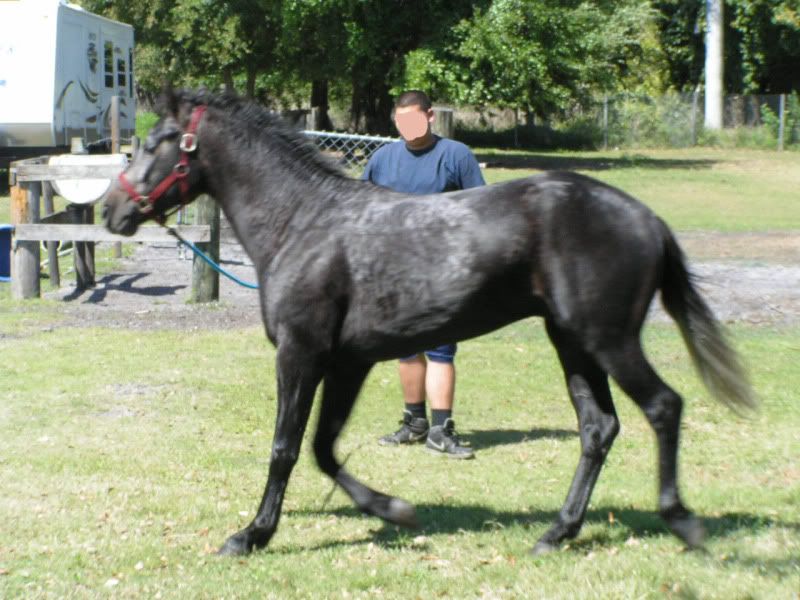 Current color:
I guess only one thing is for certain about his sire... he was definitely grey!
---
Last edited by atomic; 08-20-2011 at

12:40 PM

.
Quote:
I guess only one thing is for certain about his sire... he was definitely grey!
That would be the best bet in the house...
Mama looks halter bred to me - he got must have gotten that nice head from his sire, which leads me to guess he was a QH...
I LOVE your boy! He's built so nice! And I'm very partial to the color, as I have a bay-going-gray gelding too.
Mine is 13 months old at the moment.
It is very cool to see how Zane (my gelding) might look in a couple years (color wise anyway!).
Zane is by a QH stallion out of a Missouri Fox Trotter mare. Zane definitely got his head from his mother as it looks so much more refined than his dads.
Anyway, here is my baby. I hope he grows up to look half as nice as yours.
Not sure how mama was bred, but they used her as a roping horse. I wish I knew more about his breeding, but am glad that I know what I do at least.

Zane is absolutely precious! Already a fine looking horse, despite being in a stage most are "awkward" in :) Midas is my first grey, and I'm realizing quickly how much they change in color. I'm interested to see when he'll actually "grey" instead of "brown" lol and whether it'll be fleabitten, or dapples? He has dappling now, but I'm not sure if that has to do with his coloring or health. I'm hoping both, I love dapples!
Zane will be my first gray that I have seen change color. I have owned two other grays (including his momma) but they were already mostly fleabit/white when I've gotten them. So I will be excited to see his color change too!
I LOVE dapples as well! I think your guy will go through a nice dappled stage since he is dappling already. I hope Zane gets dapples! It's just a color I know, but I would love to own a dapple gray for however long the color would last.
Since they both have a bay base-coat, I am not sure if the will always be dappled bay until they finally turn white? That would be called rose gray? To be a true GRAY gray, maybe the horse would have to start out as black? I'm not sure how that will work exactly. Maybe the will just keep the black hairs and the red will gradually fade out.
Does anybody know how that works?