4 year old gaited mare
---
Breed: ID Spotted Saddle Horse
Racking Papers Pending
Age: 4yrs old 4/27/2003
Pedigree:
http://www.allbreedpedigree.com/handshakers+red+velvet
Intended Uses/Uses: trail riding, local gaited club shows
Other: I bought her 2 months shy of her being a 2 yr old.I broke and trained her myself. I am looking into showing her in local gaited shows for non registered horses.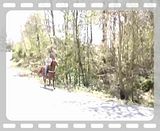 Look nice! And very well gaited too (from last pic).
Wow she has good confirmation!
Very nice!
Should i breed her for SSH foals...
She isnt that great pedigree wise but some of the greats didnt have that great of papers..

She is nice and easy gaited and will rack (as why i have racking papers pending on her)

I dont know if she will throw color though!
Her dam is spotted and her sire wasnt i dont think..Never saw her sire but i did see her dam.

I did breed her this year to my friends tobiano stud ( not sure if he is homozygous or not) for hopefully a spotted baby to raise and show in the future, if she took.
Quote:
Originally Posted by kitten_Val
Look nice! And very well gaited too (from last pic).
that last "pic" is a video if you was referring to the video.
I haven't worked with many gaited horses and as such, am somewhat ignorant about breed standards, but regardless, you've got quite a nice mare there. Judging by the pictures you have up, her neck is set just a touch low, her head's a bit coarse, has a slightly thick throatlatch, and may be cow hocked, although that could just be how she managed to stand in the photo. As for her good points, it looks like she's got some big, sound feet (I think I like your farriers work!), is well coupled, has a nice angle to her shoulder, good pasterns and smooth joints. And her coat is a georgeous. I definitely like her, she's really looks like a very nice mare.
Quote:
Originally Posted by Maxxgirl
may be cow hocked.
Being cow hocked is one of the traits of the twh/ssh/rh so that is pretty normal.but if one is really bad, that is not normal..
I love her, she is a beautiful mare and reminds me of my mother because her coat/mane color is the same as my moms hair..lol..So that makes her even more special
I will see if i can find a breed standard on them but the majority of gaited horses (when i say that i mean the twh/ssh/rh) are bred to be cow hocked..I think it helps them to overstride or something..
Im new to gaited horses so dont feel bad, ive only been into them for 3yrs and im still learning..
this place isnt much active.
This thread is not very active but I watched the video and it looks like you got a pretty nice and well gaited mare. Your position on the saddle looks pretty good as well ( something the judges look at). I love showing my gaited horses, it really is a good time! good luck
---
Gaited Horses- Kentucky Mountain, Rocky Mountain