4th Hour
---
This is my 4th lesson. I'm finally getting the hang of it, and my bum does not hurt! A different instructor again though, ugh! But its nice since I feel like I'm getting off to a well rounded start. Anyhow, here are my videos. Sorry about the crap quality.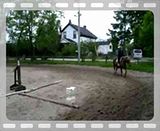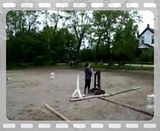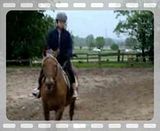 I think you would benefit from a more motivated pony. o_O

It's always hard to work on yourself when you have to spend so much time on your horse. I realize you are taking a lesson and probably don't get a say in who you ride, but I just wanted to throw that in.

Is this your fourth lesson ever? How much riding had you done prior?

I can say that you need to work on getting your leg underneath you, but that will come with time. And working on two-point will definitely help with that. It looks like sometimes you are posting on the wrong diagonal but that could just be me not being able to see... so just remember you rise and fall with the leg on the wall. =]

Other than that, it's really all the normal things everyone needs to work on; look up, heels down, etc etc.
---
"Great spirits have always encountered violent opposition from mediocre minds."

Thanks. Breeze is actually far better then before. I could barely get her to keep walking, let alone at a trot before. The first time I went over the poles she stopped dead cuz I looked down. So I suppose its a good reminder to continue looking up.
This is my 4th lesson EVER. I've only ever rode on trail rides before. So I didnt ever actually have to do anything.
I am riding on the wrong diagonal most of the time, I can feel myself going up too much then Im on the wrong one again, haha. I'm working on it.
Anyhow, thanks. I appreciate it.
Well for your fourth lesson ever, you are doing just fine. You aren't doing anything "wrong" that everyone else doesn't do too. =]

I used to always have to look and check my diagonal. I had an instructor that had me sit a few strides of trot and then just start posting. After awhile I could feel the difference, especially while circling. Then she would have me sit and start posting when it felt "right" and it didn't take long to catch. So if you can feel the difference, you're already way farther ahead than I was by my fourth lesson. =]
---
"Great spirits have always encountered violent opposition from mediocre minds."

Yeah, I was always taught to sit or "pause" for 1 and 1/2 strides and then start rising again. That always works for me! Funny little pony! Definately a school horse!
---
HORSE RIDING:
The art of keeping a horse between YOU and the GROUND!
Similar Threads
Thread
Thread Starter
Forum
Replies
Last Post
6 Hour Trail Ride

katiecelia

Horse Riding

3

05-02-2009

05:03 AM

14 hour shift

my2geldings

General Off Topic Discussion

10

11-08-2008

03:50 PM