Another jumping critic! Please and thanks :)
---
I have been jumping only for a short while, because I predominately ride dressage, and that is my trainers expertise. However, I do some here and there and really want to be the best that I can be for my horses. I want to minimize how my faults affect there ability to excel. So I would greatly appreciate any advice!! I KNOW that I struggle with being ahead of my horses motion. However, I feel as though I make a very conscious effort to maintain my position (expect for my release of course) and wait for my horse to take my over but that isn't going so well I suppose. So if you have any tips on what you do to prevent yourself from getting ahead of the motion I would love to hear them!! Kind honesty is greatly appreciated! I really want to know what I can improve on for both my horses sake and my own. Thanks!!!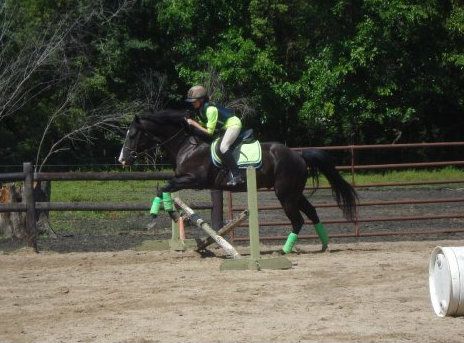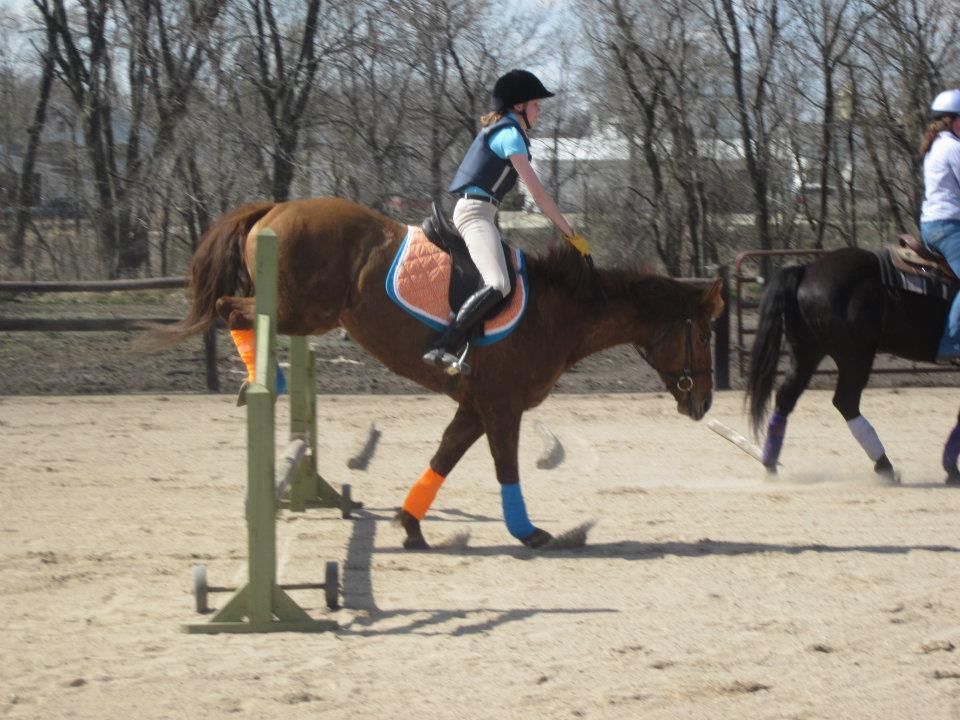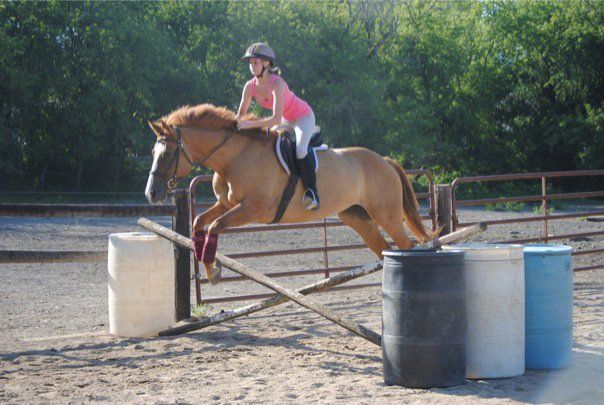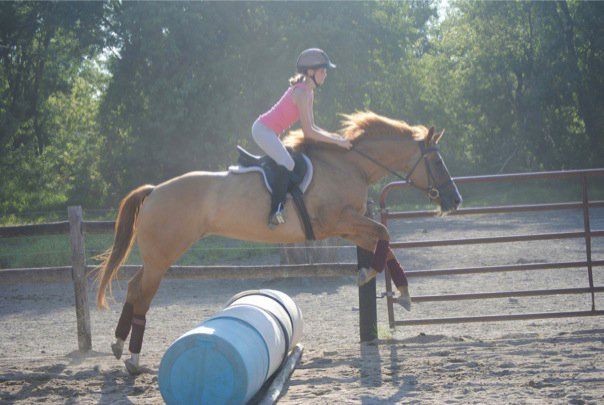 The third picture is the best, your shoulders are upended, chestbup, good rease, relaxed arms, solid lower leg and you and your horse seem very in sync to each other!

First picture you jumped ahead, lowered your upper body to much. Remember to wait for your horse to jump and you go with :)
Same goes for the fourth picture.
Fith is pretty good, your lower leg is a bit to far back. This is where heels down come in! Creates a more solid leg! Anchors your weight down.

Love that your looking up, you have relaxed arms and a good release.

Looks like a placement pole would really help your horses stride up to the fence correctly
Keep up the good work!
Yes, I also think you're doing really well :)


As for the jumping ahead - I think a really good excersize is to close your eyes when you jump. Only do this when your trainer or another adult is present, and on a trustworthy horse. Ride up to the jump, and after you are straight and heading for it, close your eyes. NO peeking!! This will really keep you from going too soon, because you have no idea when you'll be jumping. It sounds scary, but it really works. After doing that a few times, you'll start to learn the feel of when you need to be taking off, and it will come more naturally. :) I actually had the same problem as you with this, so I am speaking from experiance. :p
Best of luck, you are doing wonderful!!
---
~ When I Die, Remember Me By My Horses ~
* Because They Are Responsible *
.: For Letting Me Live :. (c) xJumperx
Remember, heels DOWN!!! I think your release could probably be a tad bit more exaggerated. You're kind of leaning on the horse's neck. Heels down will help to fix that though :)
Similar Threads
Thread
Thread Starter
Forum
Replies
Last Post
Jumping Form Critic

HorseCrazyKat

Jumping

6

06-14-2012

11:41 AM

Critic needed!

Horsey4me

Horse Conformation Critique

3

05-04-2012

11:58 PM

Critic Me on Bee

HorseLoverHunter

Horse Riding Critique

6

10-12-2011

06:06 PM

Critic My New BoofHead !

Savvy Debonair

Horse Riding Critique

4

08-19-2011

07:52 PM

Critic Tango

Tessa Bear

Horse Riding Critique

3

09-09-2007

02:06 AM