Any critique, please? First time riding Blu in months.
---
He did much better than expected but worse at the same time. Pretty much just what I expected. :)
My friend to a picture of us jumping. It's a horrible picture. My toes were down and we just look plain HORRIBLE. I'm sorry. I'f you can't critique I will try to get new pics later. THANKS... (jump was less than a foot and Blu had to leap over it the first time. not this time though)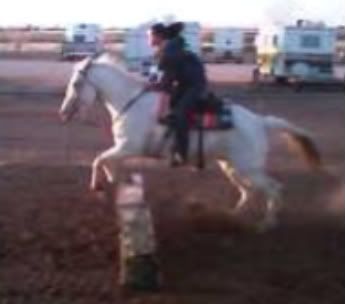 EDITED to insert bigger pic
---
WHATS REALITY?
hey!
The photoes a lil small! Are you jumping in a western saddle? it looks like you are being held back or something...? But as i said the photo is really hard to see.
He is really nice
---
Lexington Farm
~
LX
Started
Join Date: Apr 2007
Location: Australia-The best Country!
Posts: 2,192
• Horses: 0
I can't really see, but are your toes sticking outwards? If so, try not to do that, I used to do that as a habit, but it's not the right way to ride. Other then that, you and Blu look great! Well done!
---
Rach
WE ARE GEELONG! THE GREATEST TEAM OF ALL.....
Ha-ha-ha! You have to provide us with microscope next time! Lol! From what I can see (I may be wrong though) you have toe down a lot (but you mentioned that already
)
lol. Thanks guys!!! I really appreciate it! This was a bad picture because he practically lunged over. Makes me feel too fat. lol.
---
WHATS REALITY?
I will try to get another picture that's better. lol. We might go riding Saturday. Can you tell anything from this pic about my overall (hideous) form? :roll:
BTW, I was in a Western saddle. I'm going to try and resize the picture but it will be blurry. The jump was like less than a foot high lol and Blu was sooooo fidgety! I'm sorry for such horrible jumping.
---
WHATS REALITY?