anyone who rides a horse 20yrs and up?
---
HI! I have a 20 Yr (or 22) mare, I have had her for 2 yrs and she is like my BFF! I think some people think because a horse is old that they cant do anything good and fast (espeacially at my 4-H barn) when we go out in the ring though, thier mouths drop because they wer'nt expecting her to go that fast!

What is your GOOD opinion about riding 20 and up horses for contesting?

Do you have any tips for getting her conditioned for barrels

I would LOVE your advise!

THANKS!!!!!
---
No hour of life is wasted that is spent in the saddle

I would think, as long as they are healthy and happy, do what you enjoy.
I know a 30 year old horse that still cleans up at shows. As for conditioning, I would probably do lot's of it. Instead of a few hard working days than a rest, I would have a lot of consistency and building up. Hope this helps :)
THank you very much! thats soo awesome that at 30 their still doing that great! thanks for your advise!
---
No hour of life is wasted that is spent in the saddle

Your mare is pretty!
My Quarter horse is 24, she is like riding a young thoroughbred most of the time:)
I think it's great to compete an older horse, my mare barrel raced for 9 years before I got[two years ago] originally she was a working cow horse in Nebraska.
Now we trail ride.
For conditioning we do lots of trotting and up hill work.
She also does carrot stretches and gets a little sunflower seeds and two scoops of beet pulp for lunch.
Here is Pesky
This year>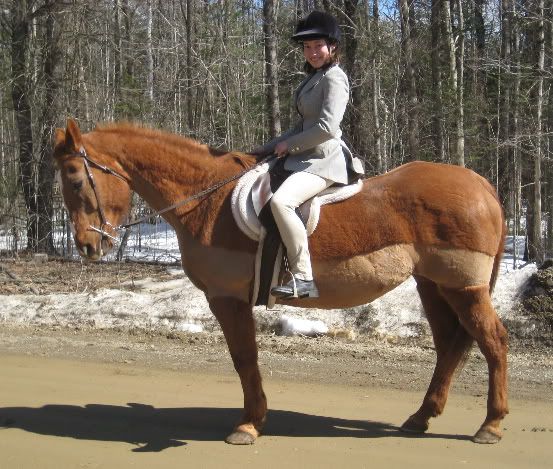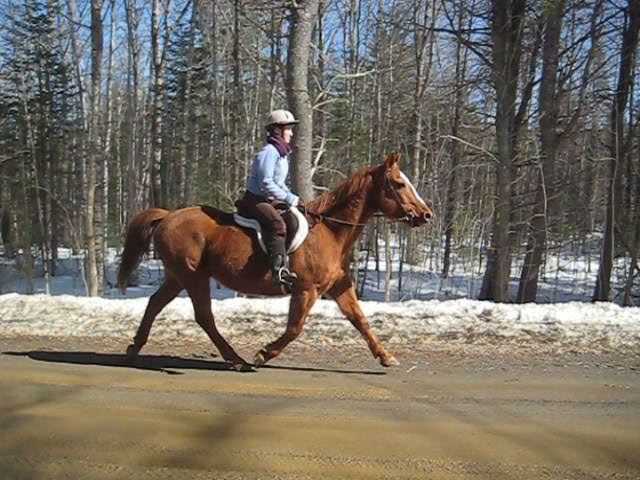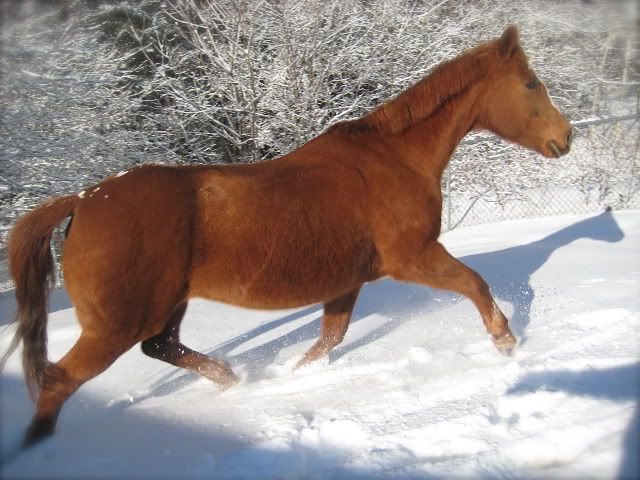 last year>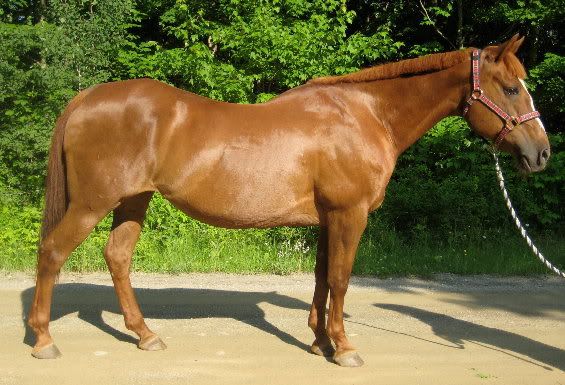 ---
Last edited by Zora; 05-17-2011 at

08:40 PM

.
I love seeing those older horses still going strong. The oldest I am currently riding is 9 but I spent a fair amount of my youth on horses that were 20+. The best suggestion I can give as far as keeping her fit is just to be consistent. Try to work her frequently and at a fairly steady pace. Don't walk her around on trails 4 days a week and then ask her to clean house in every speed event at a full day playday
. Lots of trotting and loping, hills and circles, transitions, etc.
I still ride my 20 year old gelding. We did a Judged 10 mile trail ride last year. He had no idea that he was 19...it was like riding a little steam engine. Don't ask about the obstacles though...that part wasn't pretty. LOL
And this year, I want to take dressage lessons on the old guy. As long as he stays sound and happy, I'll keep riding him.
Sam Spring
Silly Boy
Cantering
i ride my 23 yrs old asteca mare, and work with cattle, and go to trail rides every once in a while, a helthy diet, genral vitamins and moderate exercise thts our daily routine and she is awsome
I learned to ride on a high spirited 28 year old horse last year and he was heallthy and happy! A s long as their good and healthy i am pretty sure their good for just about anything!
I ride a 23 year old NSH gelding who went Regional Top 5 as a 20/21 year old in English Pleasure (the middle saddleseat level). Granted, he used to be a park horse, but after that many years things don't always work quite as well as they used to.
---
The wind of heaven is that which blows between a horse's ears. ~Arabian Proverb
I don't ride him but we have a wonderful 25 yr old arab gelding at my barn who is an absolute doll for the kids. He's patient, calm and very forgiving. He's still going strong and loves light ring work and trail rides!
---
~Horses aren't a hobby, they are a lifestyle.
Website