AQH Movement Critique
---
I went and rode Gizmo on Monday and had my mom take some videos. I'd like for you guys to critique his movement, my riding, and anything else you see. I know it's kinda hard to really critique my upper body because of my coat, but I can tell you I was probably moving a bit. I didn't realize how out of shape I really am lol
Okay, so here are the videos. Keep in mind at that time he had only been back in work, from basically the whole winter off, for three days. In the second video you'll see where he got ugly at the lope and I had to stop and fix it. This was my fault, because as you'll also see, in that video I had my reins too tight so his head was up higher than I'd have liked it to be.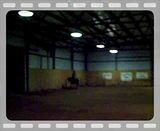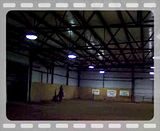 (This one is from the summer.)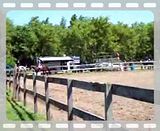 I've got two more from today that are lighter so I'll be uploading them this evening when I go to my friend's house. (I've got dial-up. :( )
---
Got spurs?
Banned
Join Date: Dec 2008
Location: At my house, or stable, duh!(Michigan)
Posts: 2,479
• Horses:
3
its not the best quality, so it is kinda hard to see!..
He looks really nice to ride. The video of you warming up, he was on the wrong lead during one of the circles but nothing else really jumps out at me. I love his level topline and freemoving gates.
---
Always remember that feeling of looking at a big, open country over the ears of a good horse, seeing a new trail unwind ahead of you, and that ever-spectacular view from the top of the ridge!!! Follow my training blog:
http://robertsontraining.blogspot.com/
I don't think it is fair to critique him when he is out of shape so I won't. He looks nice in your english class. I like his stride and he looks really consistant. The only thing that stands out to me in that vid is that he has a tad bit more knee action than I prefer at the canter but it is not so much that it is overly detracting. I applaud you for getting him to move out at his canter as he should. Too many people try to lope in an english class and it isn't right. You have a much nicer horse than most of the people you were showing against and you should be proud of him!

Also I think she was purposely counter cantering in the warm up video. Counter cantering is a great way to get a horse to build of their behind!
---
Someone stole my %&#*@&% Carrot!
smrobs - Thanks! He's a pretty easy and fun horse to ride. :)
LauraB - Thanks for the compliments!
And, you're right. The huntseat ring isn't the place for a western pleasure lope and I like to keep him moving as such. :)
You were also correct that I was counter-cantering. :)
---
Got spurs?