Green Broke
Join Date: May 2009
Location: Winnipeg, Manitoba, Canada
Posts: 4,510
• Horses:
2
Arabs can't jump!
---
But shhhhhh, don't tell Zierra that, she hasn't figured it out yet.
Any commentary is welcome on her style, I always enjoy hearing what she's doing right and wrong from different people. Also, critiques for me! I'm going for an unbiased opinion here, and I have feelings made of iron, so jab away!
I will say that in most pics I'm jumping in a Dressage saddle because she's a cow to fit and it was all I had. We don't show, we just have fun. I HAVE taken quite a lot of professional lessons throughout the course of my life, so I do "know" what I'm doing, it's just hard to get that good position when you haven't had a coach yelling at you for 4 years. I have a personal rule of not jumping higher then about 2'6" without a coach, moreso for the safety of my horse. She's well trained to jump and can scramble herself out of any "mess" at that height if I screw up.
And no, I don't wear a helmet. You can comment on it all you like, I'm a 23 year old adult and it's my own choice. I have my reasons, and if it makes you feel better to attack me for it, go right ahead, but I'll ignore you.
Anyway, critique away!
Zierra's first time free jumping as a four year old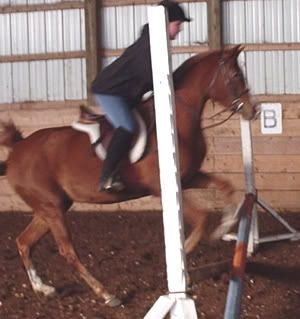 Zierra as a 5 year old learning how to jump, and me when I had a somewhat regular coach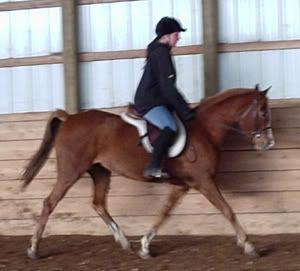 Flat for fun, critique me
Flat pic from last summer (no coach for 4 years now)
Jumping last summer (yeah yeah, I know our jumps aren't "normal", but they work)
Bareback in a halter, LOL, long spot!
More jumping bareback, can't really critique this one much, but it's one of my favs so you get to see it
More jumping last summer, my position is off in this one but I can't tell how - jumping ahead?
She likes to take off long, we need more work on striding
Hmm...I think I need a better release??
Haha, when I'm off, I'm REALLY off. This was our first time jumping together in about four months, she was off with an injury. She didn't lose a thing, I lost EVERYthing!
Little better? I always get left behind on landing, any tips would be great but I think I just need a stronger leg.
So yeah, that's me and my girl! She absolutely LOVES to jump, you show her a jump and she immediately gets excited. I think my worst habit with her is she won't refuse - if a jump is scary, she'll slide to a stop and then catleap over it. So I often trot her up to a fence and ask her to whoa on purpose so she can take a look! She's as honest as they come, which is nice, when people give me critiques I can work on fixing myself because I don't have to worry about her much (just not letting her gallop at it, her other love!)
I've also finally got an all purpose saddle that fits her, so hopefully that will be a big improvement this summer! Thanks for reading!
you guys look really good! and yes arabs CAN jump! haha. sorry i wasnt much help, but i love looking at pictures! =)
I think she's very cute. I'm not a jumper though, so can't critique really.
I agree with what you thought- you need to release a bit more. It looks good in most pictures, just in a couple, though, I think you should move your hands up her neck a bit. You might want to get your heels down a bit, also. You and your horse look really great- ESPECIALLY in a dressage saddle! Your horse is so beautiful :)- tell her I said that.
I think you guys look great! your Zierra is gorgeous! I love her colour. nice jumps by the way, very inventive. hehe
---
Humans are like Slinkies. Practically useless, but still fun to push down the stairs.
I can't critique too much, but she's so pretty!
---
It is not enough for a man to know how to ride; he must know how to fall.
She is a gorgeous girl!!! =)
---
quarter horses.....simply the best
Very pretty, and B/S that Arab's cannot jump. It's just that there is something with their backs that prevent them to - was it round? or Lift? - I cannot recall..something about their conformation.

But they can definately jump :)
I believe Arabs are missing a rib, making their backs shorter. I want to say that there's something funky with the number of vertebrae that make them "unique" as well.. I can't recall at the moment.

HOWEVER it is complete and utter bull that Arabs can't jump!! Your mare has lovely form, and I know many Arabs that have made a name for themselves in the hunter/jumper rings.. guess it's a well-kept secret?
---
The lovely images above provided by CVLC Photography cvlphotography.com
Arabs can jump, and yes the only difference between an Arab and most other breeds is that they do have one or two less ribs. She is an adorable girl. Not a huge Arab fan, seen too many of the crazy saddleseat arabs, don't have many decent arabs around here, but she reminds me of a tiny 13 hand Arab gelding I used to jump. He loved it.