Green Broke
Join Date: May 2009
Location: Winnipeg, Manitoba, Canada
Posts: 4,510
• Horses:
2
Awesome post smrobs! I've always had a loose idea about conformation and ironically I can usually look at a horse and only see well conformed horses as "pretty" even though I'm not 100% sure of every confo fault I'm looking at. I drew my first conformation diagram, haha!
Did I draw my triangles right? If so, feel free to use her as an example on this post for people to identify her faults!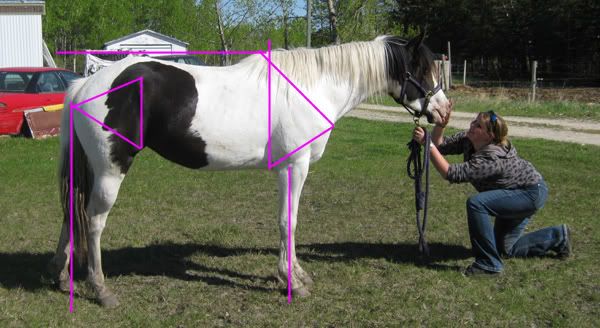 This photo was taken when Jynx was just 2 years old, a Paint filly with mostly racing QH bloodlines.
---
Quote:
I hope God tells her to smash her computer with a sledgehammer.
Neato Macabre! Not sure if they are correct(not at all saying they arent though, frankly I have no idea) but that is a pretty cool Idea, might have to try that on Tom ad see how he measures up!
---
Ω Horses are a projection of peoples dreams Ω
tell me what you think about this conformation.This is a pony for sale that we were thinking about looking at but his conformation looks all wrong,maybe looks like coon feet?
Riley, it's almost impossible to get a good idea of conformation from a movement shot. Things look disproportional that may not really be disproportional. Can you request better pictures of the pony where he is without tack, standing squared up on level ground?
we will be visiting him on saturday, the 9th,and i will get some pictures then.Thanks
Macabre - can you explain what you a trying to show by your markings? There are any number of ways to mark up a horse, depending on what, exactly you are trying to show.

Generally though, you will want to set dots on the center of joints... Then draw lines to intersect those dots. I find you will get more accuracy that way.

Most of the time you want to make sure , for general conformation, you have a body length line... As just about everything is going to be compared to that length in some way. You will want to mark your horse's LS placement as it is an important marker, and important joint.

The information is good... However it misses on one level... The fact that conformation is the sum of a whole.

Being able to see faults is a great first step... But knowing how those faults, or traits will work with or against other aspects of the horse's conformation is actually the only way you can tell if any given fault is forgivable or a big time issue... And anything in between.

Knowing these things is important when you are training, and especially breeding, for any specific sport, it may mean you will have to focus on certain training points or that you even have a horse completely unsuitable that will go unsound should you try.

On the whole, not a bad visual aid... But I would like to see more comparative terms in order to make it truly useful... Without them it is incomplete... I will say it again, conformation is the sum of all parts... Not just individual areas.
On another side... I too wanted to point out that uphill or downhill build is not determined as the original post was made. This was pointed out to me, recently, by a judge.

You can have a horse with a high wither, low croup which is also downhill. It's about balance of weight... Not wither height. Mercedes has a great explanation of how you would actually determine uphill or downhill balance.

As much as some people are arguing about how correct the generally accepted information is... I feel the need to point out that conformation is a scientific formula. Every measurement has a threshold of correctness based on the other measurements... It's not guess work... There are optimum angles and lengths which play a more important role than many people give credit to.

So... While I think this is great work ... Let's not close our minds to the scientific side of the topic... The formulas have been working for judges and breeders for years, it's nice to see some discussion on it. I think if everyone would leave behind the "bare bones basics" we'd possibly see less undesirable horses as breeding stock ... As there would be greater understanding of the biomechanics behind how the horse really works.