Beginner English Riding Critique
---
Hey all, so I started learning English in the last month and have just gotten posting trot down. I took Blue out today on my own for some practice and took the opportunity to get some pics for you guys to look at!
I've only been riding since the spring, and only been in an English saddle since this month.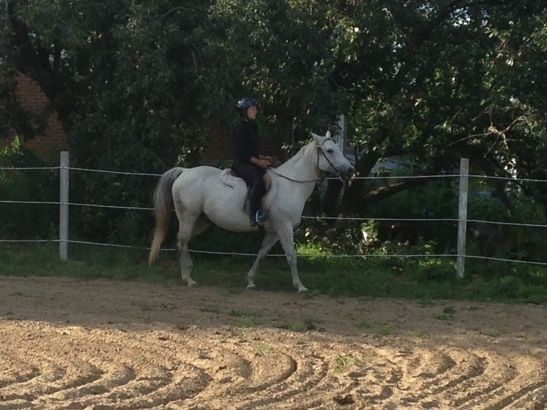 I know the pics aren't the best quality but hopefully you can make something of them!
Posted via Mobile Device
Looks pretty good from what I can see, the only thing is your hands are quite low and back ( aproaching crotch area) shorten your rains alot, hands up a touch, do not be afraid to 'feel' the horses mouth. Light contact is a good thing:)
Posted via Mobile Device
you are doing well for such a short time. if you can post a video we can make much more meaningful comments.
First thing that stands out is to shorten your reins at last 2 inches, maybe more.
Videos would help.
My hands have always been a problem, thanks for the input! I'll see if I can get my mom to take some videos at my lesson tomorrow.
Posted via Mobile Device
The third photo you are absolutely perfect. Nice stretchy leg, no bracing or dip in your back, forearms align with rein to bit, nice and looking forward, shoulders are nice and back.. no stiffness in the photo. And most importantly... Blue looks happy :)

Continue riding like that.

The first two photos you seem stiff and kind of forcing your position.
---
"Strength is the ability to use a muscle without tension"

Looks good to me, you will relax more as you get more confident!

Close your hands around the reins, though. I know if you watch horse shows you see trainers riding with open fingers, but it is not correct.


Blue looks like a wonderful horse!

Nancy
Thanks everyone! I didn't manage to get a video of my lesson today, but I did start cantering so hopefully next time I go to the barn I'll get a video of myself at all three gaits :)

And greentree, Blue is a wonderful horse! I love him as if he was my own hehe