Calling all you jumpers: jump day for Baby O, please critique us ;)
---
I haven't jumped the monster in a couple months due to weather really.
I have a jumping lesson tomorrow
so I worked on a few things today.
Keeping my body soft and rhythmic with him and not to get tense...
Note: O is still a green jumper, we are preping for our first schooling show
After seeing the video I can see that I was really tight and locked up in my upper body...for once my hips and lower leg where not pinching
So tomorrow I will do a lot of arm exercises and deep breathing so I can be looser!!!
So I do know I was ahead of him in acoupke photos, I think because my shoulders where so tight, so really my back was tight not allowing me to open my chest and go with him with a relaxed upper frame...
I know baby O's striding was a bit off, this being due to not having a jump lesson in a long while and hoping to address this tomorrow as well as my body
So here is the mass load of photos I do have...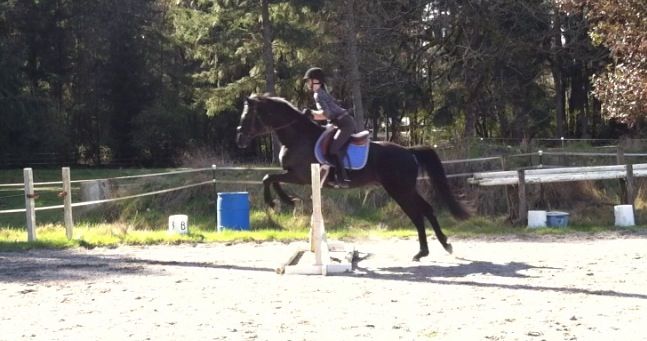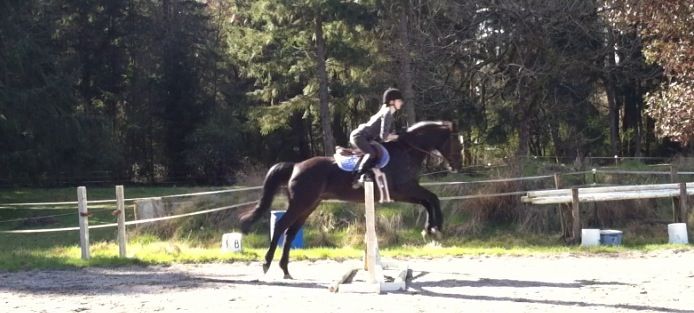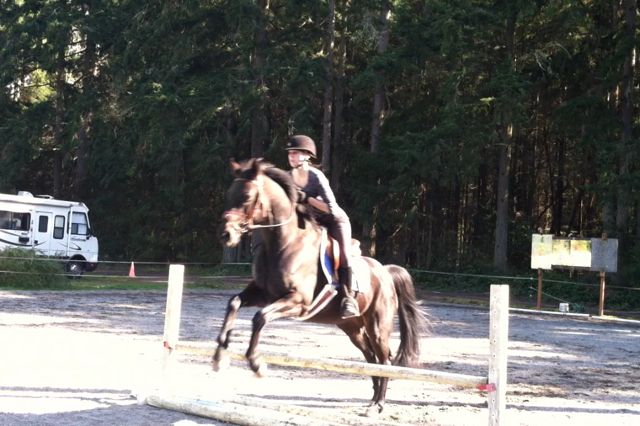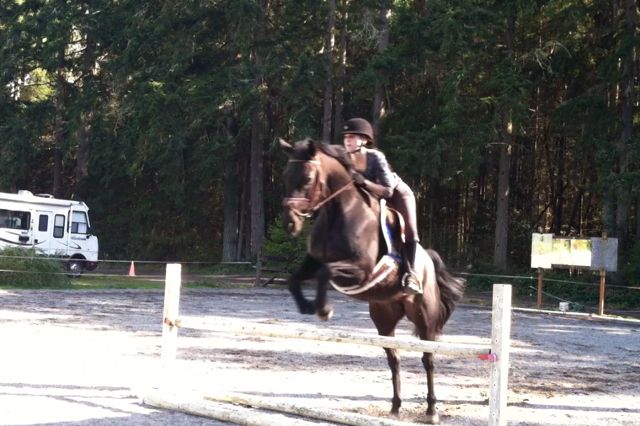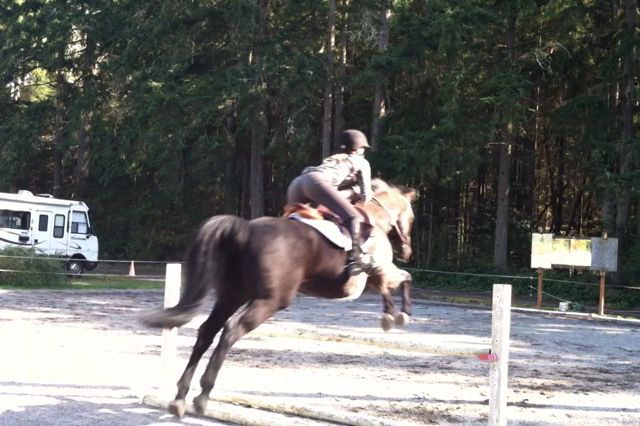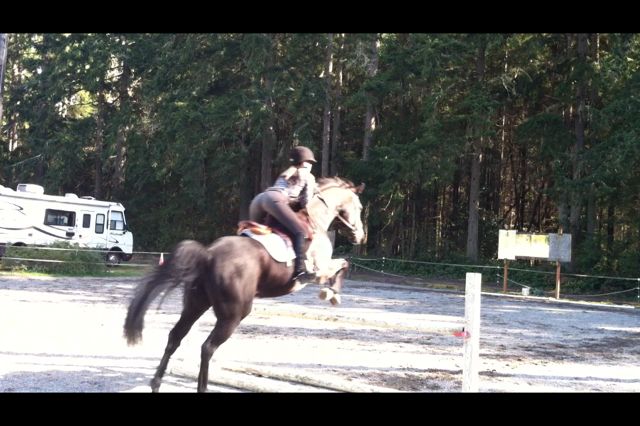 Flat photos
---
Non jump photos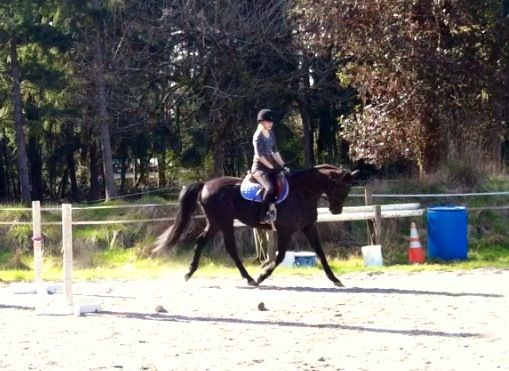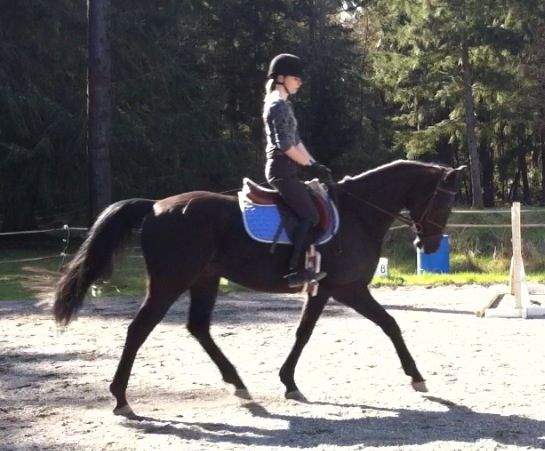 Don't mind me being on the wrong diagonal and looking down haha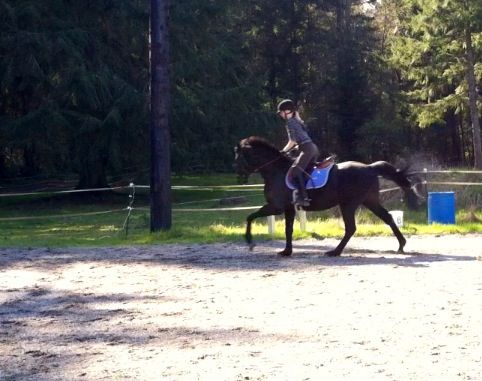 Coming off a jump...
Really like this photos, wish it was more clear!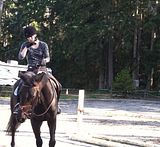 Whew, all done... We have the same expression lol
in your first post, fourth photo, i have a couple things... number one, of course, is that you've jumped ahead and you're laying on his neck. Secondly... you gotta' be careful with spurs when you're jumping. I never jump with spurs on as i toe out over fences. You can tell he's a little uncomfortable with the whole thing, as he's got his ear turned around to you. This tells me he's not focusing on what's happening ahead of him on the landing, or the next fence in your line (should you have one), instead it tells me that he's concerned with where you are.
All of that being said... i think he's moving off your leg nicely. I think he's got a lovely expression and I like to see that you're looking up and ahead in most of your jumping shots.
---
Life seems mighty precious, when there's less of it to waste.
Thank you, amazingly he is very dull to the spure and they are baby spurs non the less I agree. I think once I open my chest more I will be able to support more with my calf without turning my toes out :/

I'll be very interested to see how it goes tomorrow afternoon in my lesson, hoping to get video or photos so compare lol
Bump bump, would love to know what others see and have to say!
I'll give you a friendly bump. No critique from me. I'll happily borrow your lowered heels, correct hip angle, flat back, and nice release.

I love love love that first trot pic in the flat pics you posted. Horse is moving nicely over his back, tracking up, your contact is perfect and position is great.
---
You just have to see your distance...you don't have to like it.
I love your horses movement, he looks well balanced! Not to mention, he is a flashy guy.
Like Oxer said, the 4th photo you are jumping ahead, wait for him to jump to you.
I'd like to see your toes in, which helps you have your WHOLE leg on and supporting. The jumping pictures that were taken infront of you and your horse are awkward photo's to critque, so I wil not bother lol.
Now, I must say, you have lovely EQ. I like how you are not hovering in your seat and closing your hips, you are supportive with your seat and open with your hips, love it!! The only things I can say is it seems like you are watching your horses head more vs looking where you are going, head up! And I would like to see your hands a tad bit higher and elbows bent a little bit more.
Great job, you two make a good pair, looking forward to see more pictures!
---
~A Cowboy's Chance~
1977-2011
Rest in Peace
---
Thank you guys!
Oh my! Our jumping lesson today! Holy freaking cow!!!
My hands where higher, way more fluent, more together and soft, rhythmic!
Did a oxen spread, a bounce and a longer combo then there jumps right in a row!!
Ill go into it more later after some dinner and a shower!
You will want to hear about this lesson, I promise!
Ill be posting it my new spring journal, in my signature
Thanks again!
Okay so I'm sitting in trainin and it's break so I'll talk about my awesome jump lesson.

We will start out with "I love my trainer, I lovely trainer, I love my trainer!"
Had a good warm up, figured out that when I am going to the left I just get way to involved withy hands, I almost start coutner flexing him even though I don't realize it al! Thus why my left lead is NOT there...I forgot to use my leg...when I shoved my hands into his mane and cued with the inside leg...hello left lead canter...wow did I stupid and felt horrible for little O!

So we did a lot of grid work and then added in another jump...I needy make more jumps lol but we put the barrels on there sides and put a PVC pole up and it was placed for going across the diagonal, up towards C on the left lead...if that makes sense

Oh my holy hay...is my body out of shape from jumping my shoulders...what shoulder blades? My lower leg...can we just tie them into place...anyhow about achiro and massage apt for after each jump lesson!? Holy hay! My body is out of whack and hurts!

We put my stirrups up more to get my butt out of the saddle my, allowing my chest to stay open easier cause won't want to throw the reins and lay on his neck, honestly in the picture I posted of my doing just that haha but his striding was off...pobably because I was over powering with my left aids and HANDS.

We where able to get so much accomplished in this lesson and I really had so much fun!

So I know what I have to work on...and all I have to say is I hope get less sore the stronger and better I get with my body haha

Ollie was had so much fun as well!
He was so sweaty by the end of the ride!
I will be working on my position and left lead tomorrow after training (last day! Whoo!)

Ill hopefully get photos and video this weekend, haha see I told you I moderne likely won't get pictures or video of this lesson, too bad cause I would have loved to see my body!
My barn mate is an incredible rider... but she was having trouble with the really big fences and losing her leg. So she tied her stirrups to the girth with bailing twine. She rode like that for a few months and soon enough her leg was trained pretty well to stay under her, even over the really big stuff. I don't advise doing that... I just thought it was quite an interesting way to train your leg to stay put! Anyway it sounds like you had a pretty good time schooling your pony, and yourself for that matter!
---
Life seems mighty precious, when there's less of it to waste.