Chances Conformation!
---
I KNOW these arent the best pictures Its almost impossible to get her to stand square! Either she stands under her self or parks out which accually makes her look gorgeous haha anywayssss
If u cant tell I did cut her tail :o *gasps*
I tried my best with these pictures lol
Hope you can tell me something :P
Be as mean or as nice as u want about it I guess well here u go.
Yes a mouth full of grass
back legs o.O
trying to walk away with my friend :P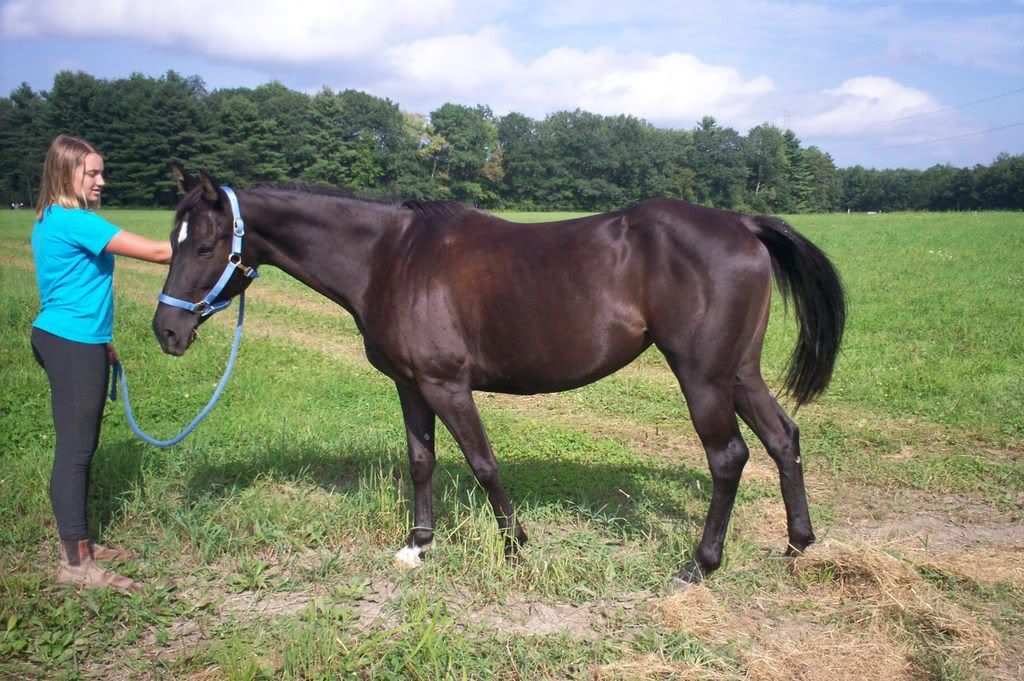 idk what you can tell from this.. but i guess here u go
well good luck haha :P
also could u tell me where u think she needs muscle o.O
ooo and to show how much shes improved while me being her loving owner hes the oldest picture I have!
lol yupp
aww she's sooo pretty

She toes out alot in back, and at least one foot in the front (probably both though)
She has a thin neck, but with more muscle it would look really nice I think
Something about her neck/chest area I don't like...possibly neck doesn't tie in good, but not sure
Mucling in front (besides neck) looks good, but definately needs more muscles in her hind-quarters
Needs a tiny bit of work on her topline also

What I do like about her conformation is the way her front legs are shaped. ......and her face!!!

Why did you cut her tail?!?!?! hehe
She's sooo pretty...I loooove that face of hers!
ya shes deff toed out but i think it could be the way the ferrier is trimming her feet. idk


What kind of stuff can I do to get her neck to get more muscles ??

she needs more muscles in her back end are you sure??

lol she has like ginormic butt muscles loll

any ideas to get her muscles in her hind as well??

I LOVE her head/face as well! My favorite thing about her!
She looks a little butt-high, & looks like she has a short back.
She has a very sweet face, & kind eye! :)
---
Ride more, worry less.
it might just be the way the pictures are angled...but to me it doesn't look like she has much muscles in her hind-quarters...but if you say there is, I'm sure there is

Collecting properly, head on the vertical and hind-quarters enaged. Alot of long and low work...if you are comfortable just ride her in a halter and lead rope for reins. Use the lead rope only to do emergency stops and see if she'll keep her head down low. Alot of flexion...circles, turns, anything where she is using her neck.

For the hind end, try some trotting up hills, or collection work.

Yeah her head is like beautiful *drool* lol
poptart shes butt high cause shes still growing


and yup she has a short back thats why shes english lol western saddles JUST fit her lol
it's hard to say what she is...in one pic she is up hill but in another she is down hill, all i can say is that she look's 100% better then what she did at the old barn and 100 % happier too! her coat is really shinney and much better looking!! chances neck is a little too thin but with a lot of work it will gain muscel, i love the coloer of her halter too!!!
lol I think its cause its a rolling hay feild she was standing on so idk but she is still growing.some. ill see if I can get some pictures in the barn on cement sometime lol
ya could doing a lot of flexing excersizes help?? like on ground makes her head turn a the way to her side and hold it there on both sides.
or maybe doing a lot of tight circles making her follow her head?
thanks for noticing she looks better
ya she is happier she more playful
ya we were using her show halter :P the blue one. Im gonna get her a leather one at some point.
Cow-hocked and pigeon toed.
She's a bit sickle hocked.
Awkward croup angle as well...
Nice color though.
---
"Doing what you like is freedom, liking what you do is happiness."
How old
What breed
What are you using her for (or want to use her for)?
---
Unless it weighs a ton... it's just a horse.
Draft horse motto.