Claymore, weight loss critique, year 2
---
I did this last year, and I'd like to get everyone's opinion on the progress made thus far.
For history - Claymore is a coming 9 year old gelding I got 2 years ago. When I got him he had been shown under harness, but was not saddle broke. He had been used primarily as a breeding stallion and just stood around in the pasture with his mares. He was very fat and flabby, he had some muscle but in all the wrong places. He showed signs of having foundered repeatedly. He would sweat heavily with even the lightest work. He had a massive fat deposit in his cresty, cresty neck. He looked like jello when he walked.
For the first time since I got him, I am really happy with the shape he is in now. He still has some work to go getting conditioned in the RIGHT places now, particularly in his hip and hindquarters (darn all my flat ground). But he finely has actual withers. His neck is nice and shapely, it will always be heavy, but the huge crest fat deposit is all but gone. His feet have stopped splaying out under his massive weight, and he no longer has random, intermittent joint discomfort. Muscle tone wise he was looking a lot better last fall, but I did not ride as much over the winter as I had intended to, this year. My fault! So lots and lots of schooling in a collected trot is on the agenda for this summer.
The thing is, this horse is actually only 1/4 draft. His frame, underneath all that blubber, was big, but not super heavy. It was really unhealthy for him to be so fat.
When he first got here (sorry for the poor pictures):
Here is after 1 year (and discovering he was SUCH and easy-easy keeper that a grazing muzzle was a necessity):
And here he is after 2 years (taken today):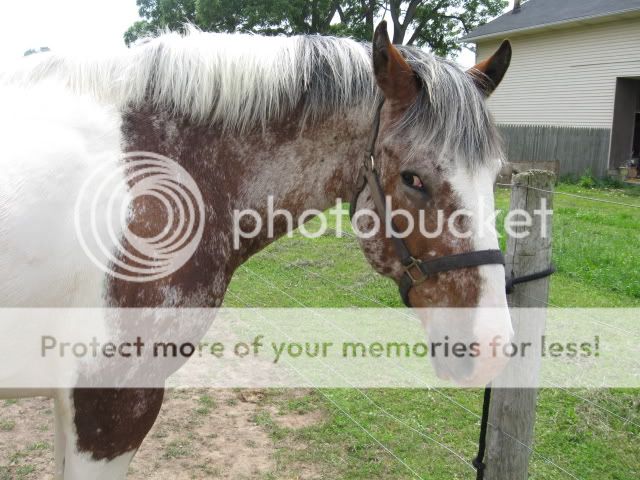 Indy, I think he looks 100% better. More muscle would always help but I know that only comes in time. I adore him!
Oh, wow. He's looking amazing!! Rather smexy if I do say so myself
. Wonderful job getting him healthier and you are more than welcome to come visit some of my hills
.
Banned
Join Date: Jul 2009
Location: In a land far far away, or so I wish.
Posts: 12,825
• Horses: 0
Poke Poke Poke! Sorry, could not resist those spots.
And I am chuckling at the evil stink eye look he is giving you in the most recent photos.


I guess I never saw the before photos before. Even his legs were fat. Wow!

What a change.

He has the draft look with the weaker back end and big chest. His neck still looks a little (not very much, just a little) cresty. I think he needs to replace some left over fat with some new muscle and that neck will look great.

He has a nice shoulder, something you could not see before he lost all that extra weight.





*pokes a spot one last time and runs away quickly.
Indy, in that first set of photos I thought, 'Goodness, he
really
needs to lose some weight!'
In your second set he looks wonderful. Good job!
As Cori stated, he definitely needs more muscle, but he looks
so
much better now.
Oh, and I think he's a purdy color.
---
You want the truth? You can't HANDLE the truth!
Cori, thanks! improving muscle will be this summer's project.
Smrobs, haha thank you, I think he's made very definite improvement. I'll take you up on the hills one of these days - but only if I can take a spin on Dobe while I'm at it!
AB, that, that right there, is why I get the stink eye. He lost all that weight from me chasing him around the pasture with my finger out.
The phrase "I'm gonna get your spots" is his cue to take off across the pasture, puffing and blowing with his tail over his back lol
SR, thanks! I've always been unhappy with his weight and kept getting the "he's a draft cross, he's supposed to be fat!" line. Heavy, yes, but not flat out blubbery. Oh, and *sticks tongue out at you* lol
Banned
Join Date: Jul 2009
Location: In a land far far away, or so I wish.
Posts: 12,825
• Horses: 0
I know I am a stickler for your avatar photo not changing because you confuse me, but I think you should change it to the shot of him walking in his new trim frame.
Wow Indy what a difference!! He looks awesome.. I think he and Peanut would be good trail buddies.. they have the same build! LOL
AB, you can really see from this terrible, terrible picture how bad his neck used to be.
And I'll change to the new picture for an avi - but will you "lose" me? lol
Dressage, haha they do, don't they! They are pretty close in age too, right? Claymore will be 9 next month. I have tried to go back and visit WA once every couple years, I'll have to bring him along next time!
---
Last edited by Indyhorse; 06-06-2011 at

02:52 PM

.
Banned
Join Date: Jul 2009
Location: In a land far far away, or so I wish.
Posts: 12,825
• Horses: 0
Wow, that neck has come a very long way too! So obvious in that photo.
I think a new claymore avatar would be OK. I love his 'does my butt look fat in this saddle ' shot but his new hard work trimmed down self should get some glory.