Collapsed Hip? Help!
---
I have battling this problem for awhile now and it's driving me CRAZY. I never used to do this - I took lessons with a Dressage coach back in 2005 and also with my aunt (hunter/jumper coach) around then and this was not a problem.
Fast forward to last winter (less then a year ago) I started lessons with the same Dressage coach again - and I have this wonky shoulder that's dropping like crazy and making me look like a hunchback. I CANNOT feel this - when someone tells me I'm even, I feel so unbalanced it's like I'm going to fall off. We took lessons with her briefly but her schedule was insane, so we stopped after a couple months.
I am desperately looking for a coach right now and it is downright PATHETIC how few of them we have - everyone I know is booked solid, and it's looking like I may have better luck finding a really good pony clubber to help me out. My aunt will be back end of November to help me out, but until then, I'm screwing my poor horse up!
I have somewhat resolved this problem by actually shortening my one stirrup in my Western saddle - these photos show me English with my stirrups the same length. I have back problems, and my chiropractor actually informed me I have so much hip tension that my one leg is several INCHES shorter then my other leg.
Any help would be muchly appreciated - since seeing how bad I've gotten in these photos, I've essentially stopped riding. I'll be letting Jynx gain some weight and doing ground work with Zierra while she's off, and hopefully losing more weight (I've lost 8 pounds in a month, YAY!) You can be as harsh as you want, I really need to know EXACTLY what I'm doing wrong here and how I can attempt to fix it, or if I even CAN fix it without a coach (I somehow doubt it as I NEED someone to tell me I'm doing it, but Shay-la has been very good at being my eyes lately, so if someone has a suggestion, she can watch from the ground). I've been riding my entire life, but I am a Western rider at heart and have only had periods of scattered English lessons in my life amongst being almost totally self taught from a young age riding Western.
Sorry for the novel and thanks in advance!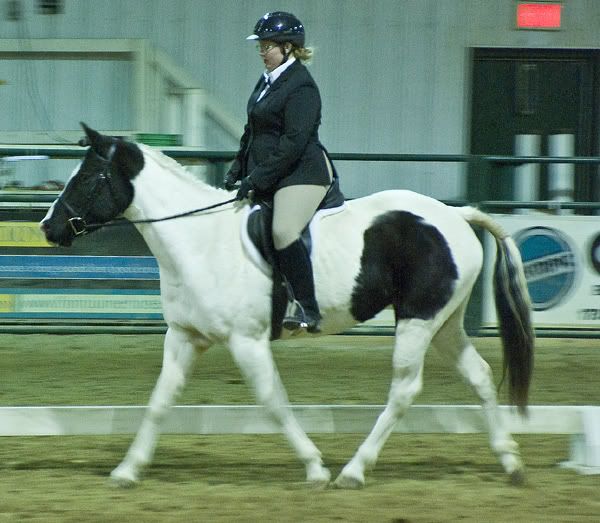 Side view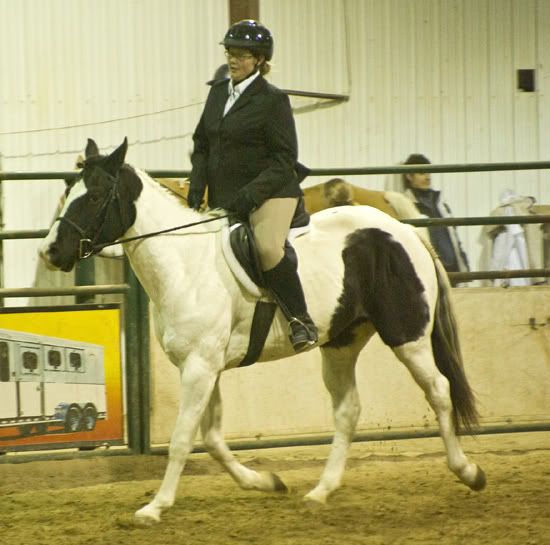 REALLY shows how badly I'm dropping my left shoulder and scrunching my hip - my comments on my Dressage test said it's actually causing me to drop all my weight into my right stirrup and screw my horse up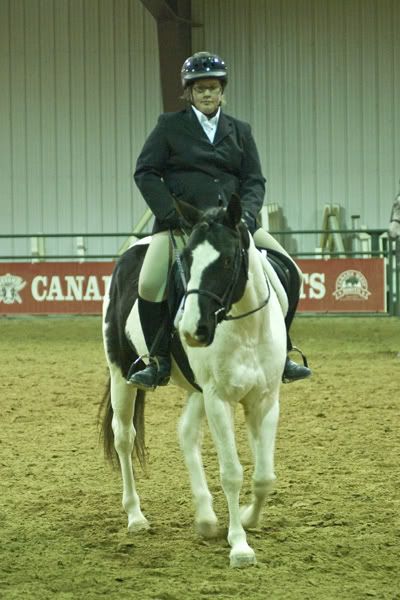 Head on shot
This is a really good photo to show how bad it was this summer while trail riding - this was before shortening my stirrup:
And this is from the same show, showing the slight improvement when I ride in my Western with a shortened stirrup:
---
Quote:
I hope God tells her to smash her computer with a sledgehammer.
Did your chiro help by any adjustments? I am shorter on my left and its also in my hip but I have been going to the chiro and he says he can fix it.
Posted via Mobile Device
Actually, no. He told me about it and was working on it, but it seemed every week I'd revert back. So he told me it was muscular, to do my exercises and that he couldn't help me anymore. I really should go get a second opinion, but I don't have insurance and I REALLY can't afford it right now.
---
Quote:
I hope God tells her to smash her computer with a sledgehammer.
I understand. I would still do your excersises as much as you can. Definetly get a second opinion. When you can.
Posted via Mobile Device
Could it be scoliosis?
---
MM,

Have you ever been checked for Scoliosis? That is a kind of twisting of the spinal column. How old are you , if I might ask? Your twist is SO obvious that I think it has to be in your spinal alignment.
Could you post some photos of how you stand and walk, when NOT on a horse?

I am going to look at the photos again, b ut this thought came to me instantley and I wanted to share this with you. Hope I did not alarm you. My son has it, friends of mine have it, it's very common.
Yikes, I never even thought of anything like that. I do have back problems - I was in a bad car accident about 8 years ago, and x-rays show my tailbone is visibly crooked and curved out from the rest of my spine. It actually came to light in 2005 when I was getting lessons in exchange for chores and had to stop because I crippled myself up so bad mucking stalls, I couldn't bend over at more then a 40 degree angle. It took six months of chiropractic to bring me around, and I was fine for years but recently it's started acting up again.

I'm 25 years old, and I feel my weight has something to do with it as well. I'm working hard to lose it, I hope to shed at least 40 more pounds by spring.

---
Quote:
I hope God tells her to smash her computer with a sledgehammer.
Scoliosis is a possibility but if that's it, I wonder why the chiro didn't say something. I don't know what kind of excersizes he has you doing, but I would be working on strenghtening my right side and stretching my left side. Maybe right sided crunches and then stretching your left side in a standing side stretch or something.
That trail pic is indeed WOW! Very unbalanced. Sorry you have such a problem! :(

I personally would suggest to do exercises on both sides working twice hard with your bad side. Like stretching, bending, using big ball, may be little trampoline. Also in english saddle instead of making the leather shorter you can look into sicker iron pad instead.
Wow, sure you didn't slip a disk in that accident 8 years ago? Those pictures scream curved spine. I have a curve, not nearly as noticeable as yours, but it's always a factor and always pulls my seat bone off the saddle on the other side to boot. It does suck. Hopefully some of the stretching exercises can help your situation.
---
You just have to see your distance...you don't have to like it.
Since the chiropractor mentioned tightened muscles, look up psoas muscle stretches. If they are contracted, they can cause a lot of hip problems.