Comformation critique/ jumper potential?
---
I would just like to know what everyone here thinks of my new boys confirmation?
I would like to jump him when he gets older and was also wondering what everyone thinks.
Info:
3 yr old standardbred
15.2 hands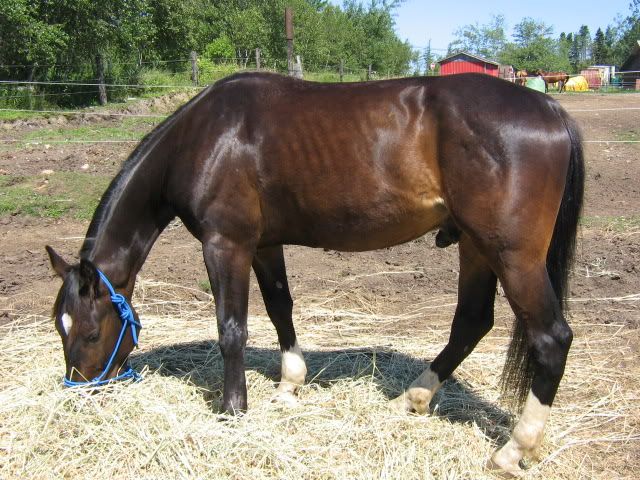 And here is a short video
MVI_6233.mp4 video by gothicangel_69 - Photobucket
Still young but the first thing i notice is that he is super flat backed with a steep shoulder and really sickle-hocked, which may affect his jumping abilities later on. Has your typical Standardbred face & though he lacks muscle now that will come with age.
---
"If a horse fails to do something that is because he was not trained to do it. If a horse fails to do something properly that is because he was not trained properly."
www.wildestheartart.com
Is there any way to build certain muscles to compensate for sickle hock, or should I give up my dream of someday jumping him? I didn't buy him specifically for jumping, just as a companion, but would like to do some form of horse sport with him and jumping seemed like it would be a fun thing to learn. If he's not built for it though, that's ok. He's my boy and I love him no matter what he can or cannot do.
Any sport you guys think I should try with him based on his confirmation? I ride western, but wouldn't mind switching to english.
Posted via Mobile Device
Depends on what you mean by jumping him.
If you want to lark over logs and crossrails when you pleasure ride, or jump courses of 2' to 3' he should be fine. If your ambition is rated hunters, jumpers at 3'6" and above, or eventing at Training Level and above, I don't think he's the right horse for the job.
I'd be careful to make sure he was very fit before starting over fences, and keep the fences fairly low; as his long back and flat loin and croup predisposes him to "jumper's bump."
Don't mean to be a smart alec here; but the sports STBs are best suited for are ones that involve pulling a carraige or doing lots of trotting.
Since they are generally sweet-natured and willing souls, you can train them to do just about anything, but pulling and driving is what they were bred to do.
If he were mine, I'd either get a harness and carriage and drive him, or do some long distance trail riding where that ability to stay in a long, steady trot would an advantage.
He looks shiny and happy in his big pile of hay :)

However, I'd have a vet look at those hocks. That was the first thing that jumped out at me, and I wouldn't just call it sickle hocked without further examination. Sometimes, an odd stance like that can be associated with injury, and by the way that the hind cannon sort of bows out under the hock, I'd want to rule out injury before doing anything with him. It could turn out to be something treatable, untreatable, or it could be a non-issue, but at least you know what you are working with.

What was his history before you got him? Did he race at all? Anyway, he looks sweet and I am so glad to hear that you have only his best interests in mind and will care for him no matter what :)
I got him from someone who had purchased him from a meat auction in the spring. Apparently he had slipped and fallen in the pasture during the winter and injured himself (bowed tendon to the front left, injury of some type to the back, and a huge gash over his eye)
I managed to track his freezemark to his breeder and found out that he did race briefly as a two year old. His registered name is Mark to Market out of Real Desire and Low Places- Jate Lobell. I have changed his name to AfterFlash though.
I have been slowely re-conditioning him from the injuries (the tendons have healed and are nice and hard)
Havn't been riding him as when I got him he was very underweight as well as knew no ground work whatsoever. The weight is comming back on nicely, but I probably wont be doing any riding for another month or so, and then just at a walk and brief trot until spring.
Here is a picture under saddle though. His back legs dont look as tucked under in this one.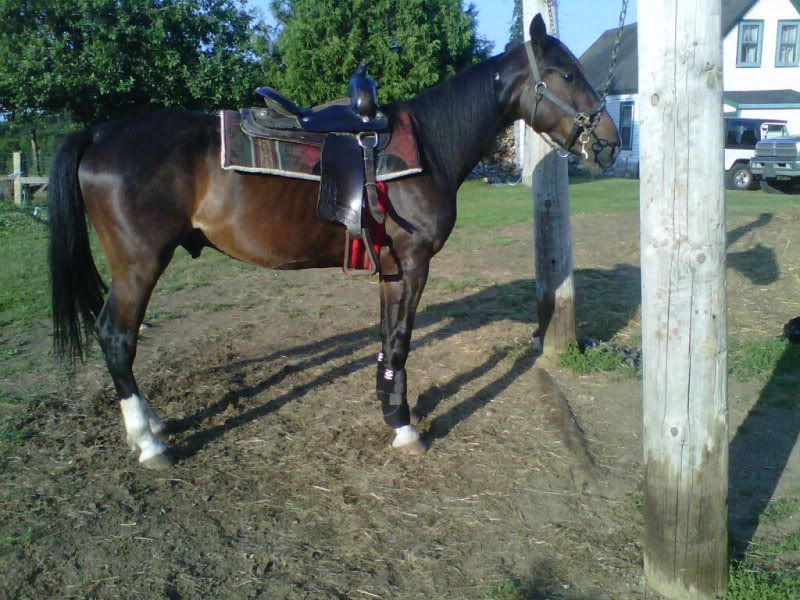 Oh, and he's also got a bit of wry foot in the back two feet, which could be making him stand funny. He is getting a barefoot trim done, and the farrier is very confident that it will be completely better come spring.
Gothic, He is looking better and better and shows the shine of a loving hand. Does he gait at all? He does have odd looking hocks, but on the good side, he has really good bone, all around, nice front legs and good shoulder.

One quick thing, in the photo of him saddled, the saddle looks like it is sitting kind of high off his whither area, as if it might be too narrow for him. Now, this is just a quick observation from a photo where he isn't necessarily squared up, so could be way off.
Can you really judge a horse's jumping potential by just conformation photos??
---
Every great dream begins with a dreamer. Always remember, you have within you the strength, the patience, and the passion to reach for the stars to change the world. ~Harriet Tubman