Confo Critique
---
Alright this is Brandi she's an 8YO QH mare by Footworks Finest.
For some reason the pictures make her look long backed, I think its because she's a little butt high, oh and btw she's like 14-14.1hh so that might be part of it. Anyways have a go.
(oh yeah, I know her feet, especially the front don't look great. I took these pictures end of December and she had just come to the barn beginning of Nov. I think so our farrier has been working on fixing that :) )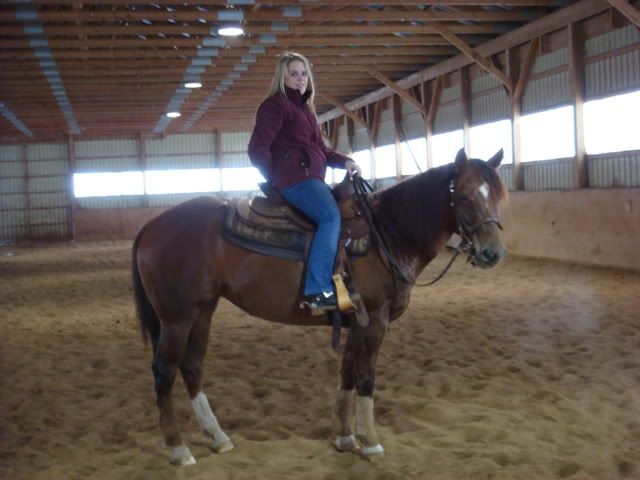 Just so you can see her undersaddle too
These next ones she isn't standing perfectly but you can get the idea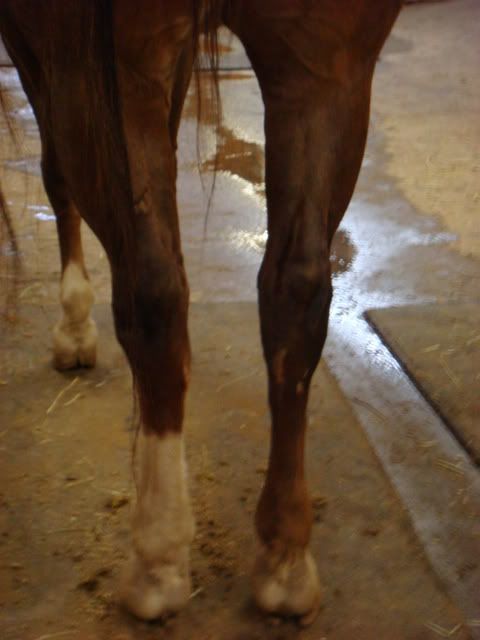 So yeah thats her. Not fully in shape either, I should get new ones
With the second one, is the floor even? Because it looks like she's on a slope, with her front half lower than the back end. If the floor is even, then she's got a seriously high butt lol. That's what stands out to me most.
She's got a really pretty face though, I love her markings. Absolutely gorgeous.
---
Satin Reign aka "Misty"... my life, my love, my everything.
The floor might actually be sloped down in the middle. I think it is.

She is a bit butt high though, but not more then an inch
---
Last edited by StylishK; 02-14-2009 at

04:12 PM

.
Banned
Join Date: Dec 2008
Location: At my house, or stable, duh!(Michigan)
Posts: 2,479
• Horses:
3
she looks toed out a little.
it looks like she stands under herself in the back, just a little bit though.
She is gorgeous and I like her a lot!

What are your plans for her?
I give her a B on a scale of A to F :)
---
Whatever course you decide upon, there is always someone to tell you that you are wrong. There are always difficulties arising which tempt you to believe that your critics are right. To map out a course of action and follow it to an end requires courage.
Quote:
I give her a B on a scale of A to F :)
Thanks ahha :). Most people say she's built pretty much how you'd want a reining horse to be built. With a few flaws. However, even with her flaws she's going to make a great broodmare
Appy: She's my reining horse for next year, I'm hoping to keep her for a long time and eventually breed her. I'm in university and she's in my moms name (eventually she'll go in mine I'm sure, she's my horse I just can't afford to pay for her so she stays in my parents name haha) but anyways, I really really want to start a breeding program around her one day. But for now she's my show horse :) :) I agree she stands underself a bit, but I think its a good thing for stopping at least :)
She's very pretty.
Yes, she is butt-high, and she has long upright pasterns. I can see why she's shod ... she has tiny hooves! She's very cute, you guys make a nice pair!
---
"'For I know the plans I have for you,' declares the Lord. 'Plans to prosper you and not to harm you, plans to give you a hope and a future'" ~ Jeremiah 29:11
Her feet need fixing too. Our farrier is working on that :)

She's more shod for reining, but I think she'll always need her fronts at least shoed because of her feet you're right.