Confo Critique?
---
I know what his faults are, but figured I would see what every thought of him.
He is a late 4yo Friesian/ Arabian Cross Gelding.
Picture is from about July I believe? Extremely out of shape, no muscle tone, he'd been sitting for most of the year.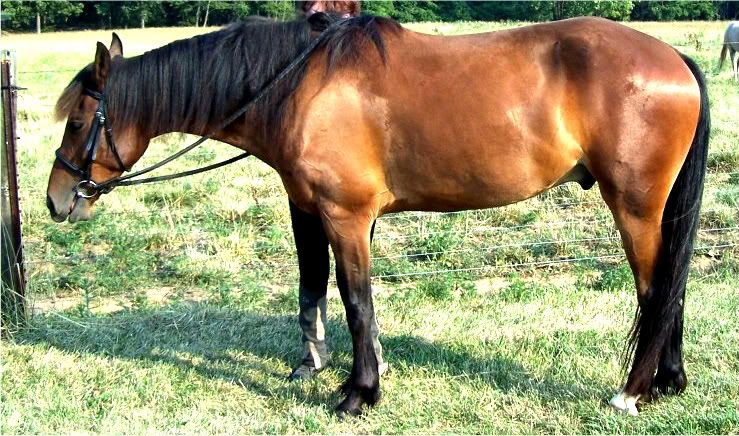 Last Fall as a late 3yo, in a bit better shape:
No recent confo pictures yet, will post some eventually.
And just a fun pic: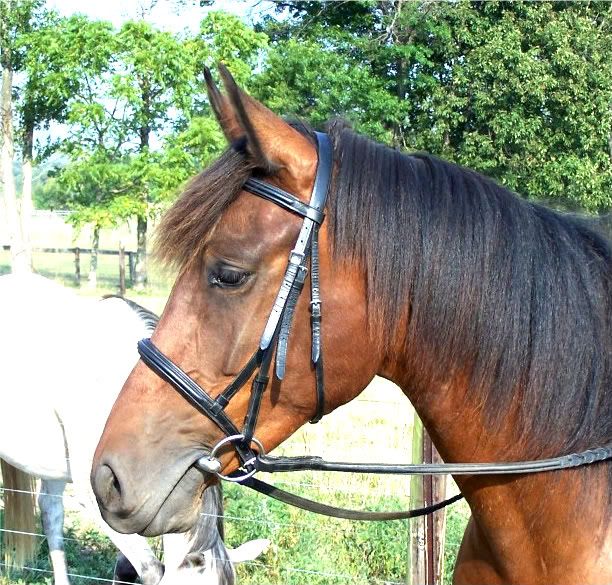 He seems to have a bit of a short back and funny looking front quarters.... he looks like he has straight hocks as well but hard to see because of his tail tho...nice kind eyes and pretty head
good luck with him
---
Cross Country- The act of hurling yourself and your equine partner at a stationary object with poise and grace while attempting to survive...

No real critique here - he's a beauty! He might be a tad upright in the shoulder, but that would be a friesian thing.

If he goes missing, don't look my way!
---
Plain Old Dee, horses Dancer and Rain
I believe in dragons, unicorns, good men and other mythical creatures!
Thank you for the replies, yes, short back, and a bit of an upright shoulder. Luckily he's a fairly smooth ride as far as friesian crosses go.
he is beautiful and you should be proud of him
---
Cross Country- The act of hurling yourself and your equine partner at a stationary object with poise and grace while attempting to survive...

Thanks you :) I'm quite fond of him, he has been a lot of fun to train so far.
I can definitely see the friesian in him! What a cutie! I cant say anything about the critique...sorry...he looks nice to me :)
---
Is all that we see or seem
But a dream within a dream?-Edgar Allen Poe
Dang he looks like a horse I showed a couple of times, but he didn't have a sock on his hind foot!!!

Over all, for the cross he is, he appears pretty solid...upright in his shoulder, and his topline is a tad weak, and he's got a scrawny hinder, however, he is young, and will likely fill in and muscle up quite a bit yet.
---
"The ideal horseman has the courage of a lion, the patience of a saint, and the hands of a woman..."
He's not bad... between the 2 photos I can put together a mental image of him which is more complimentary than either photo alone.

He is a little steep in the shoulder, but he gets away with it because it's also paired with a lovely open shoulder angle.

He has a short back, which may be a pain for finding a saddle that fits him really well... however it's a good thing because both photos seem to show that his LS placement is a little behind the hip (it's hard to tell for sure, from a photo - but if you run your hand along his spine until you reach that "squishy" spot - that's the LS joint). In order for the back to be at it's strongest the LS should be placed at the hip, or better still, in front of the hip. This is a key "anchor" for the back - which is designed like a suspension bridge - the rib cage being the major support system for the back... the less distance between the last rib and the LS joint the better.

For the cross - I really like how deep his loin girth is... again, adds strength to the back.

His hindquarter, though lacking muscle, is not badly put together - structurally speaking.

His legs look good as well.

Overall, I quite like the look of him... his faults are countered by strengths so there isn't anything that really concerns me about his conformation.