Confo Critique of Joey
---
This is Joey, my 3 year old APHA Paint. He is so funny and playful, and has the best personality. He's heading off to the trainer in a few weeks because I am moving soon. He always thinks the camera is going to eat him, so these are the best I could get.
Butt:
Right side: (I'm working on that chunk of missing mane... silly boy)
Left side: (not sure why he's sweating like that on his side)
Front, kinda: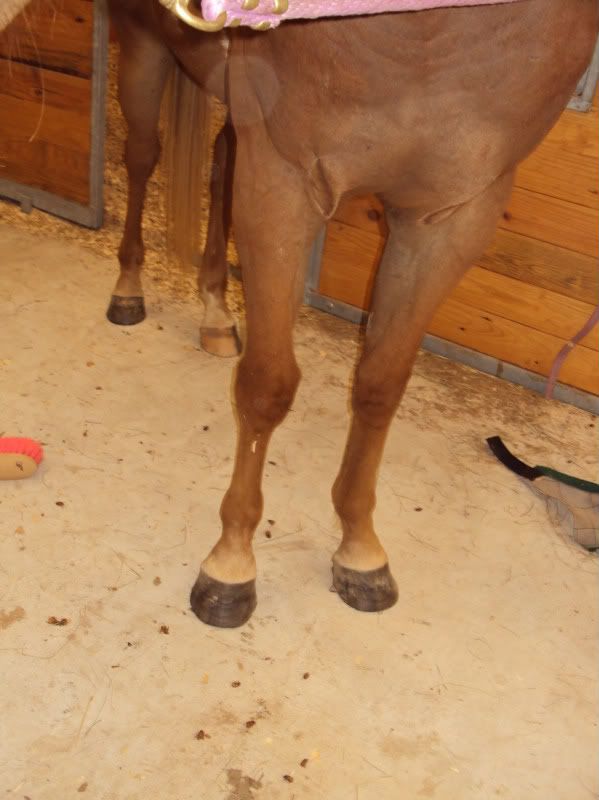 And his pretty face: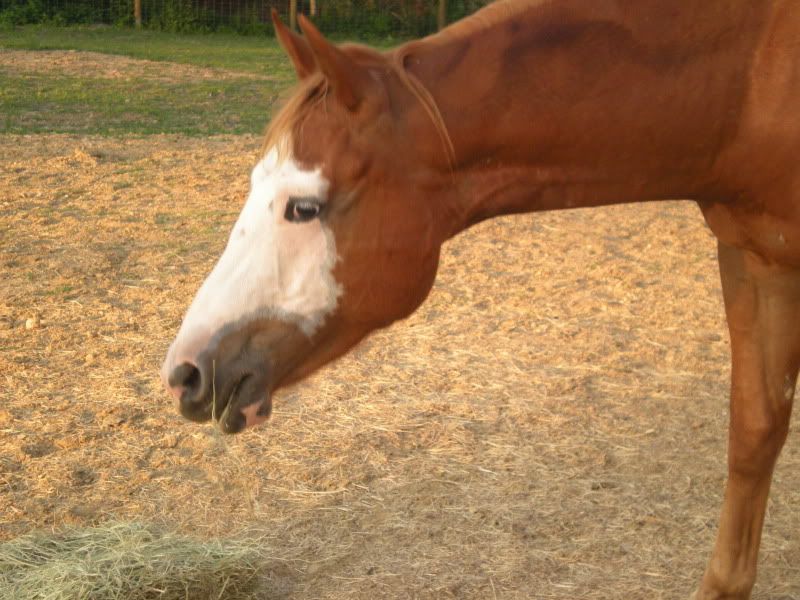 Hi,

I really like him - he is a really nice solid horse - a bit high on the croup but he will even out once he gets older. [thats what happened to my qh filly]

I think he has really strong, clean cut legs. Nice and flat at the front from what I can see. His toes though look like they turn out, however that could be just how he is standing.
He also looks a bit cow-hocked at the back but once again, it could be because he wasnt standing square.

He is really nice - so good luck with him!

---
Liz

"If you act like you've only got fifteen minutes, it'll take all day. Act like you've got all day and it'll take fifteen minutes." - Monty Roberts
Thank you! I am hoping that he evens out as he continues to grow. His front feet do turn out a bit, but I think his back legs are fairly straight. Hopefully his front feet won't affect him too much.

He's my only boy in a herd of mares - and he's just too funny. He cracks me up on a daily basis.

Thanks for the comments. :]
Wow, he is a looker. The biggest thing that jumps out at me is that he is slightly cow-hocked and toes out in the front. Nothing too bad though. He could use a bit more muscle on his forequarters but that will come with riding and maturity. I love how his neck ties in and he has a very good angle to his shoulder with a nice long, croup at a good angle too. He should be a dream to ride. His face is stunning. :)
Thank you! I have always loved his face. If you would even believe it, he has such a teacup-muzzle that he wears a 4.25" bit. I was shocked when I realized that.

He is going to be a great horse as far as I can tell. He is very willing and eager - comes jogging up to you in the pasture and always has to know what's going on. He has his mother's big, floaty trot, and a rocking horse canter. He can also buck like a rodeo bronc. o.0
---
Last edited by LeahKathleen; 07-02-2009 at

11:59 PM

.
He is a handsome guy. I woudl agree with everyone else. Poor agree, got to be around all those mares lol, he wont know what to do. I love your stalls!!! Can duchess move in? lol
---
quarter horses.....simply the best
I absolutely love his face. The one big thing I don't like is just that his butt is higher than his withers, but hopefully since he is only 3, it will even out as he finishes growing. He does have a nice big butt though, I think that he's gonna make a really nice and very flashy horse.
Thank you guys! I am really keeping my fingers crossed that he evens out. I am betting that he will - he's been all over the place with his growing.

And yes, Duchess can move in. Ha ha.

Thanks so much for the comments. :]
I'm not critiquing but I love him. I just want to hug him and steal him >_> If only I could get free board he would be mine...
Ha ha, SD - he's yours if you want him. ;]